Christian Ebbin revels in 'exhilarating' SailGP Inspire opportunity
Created: Apr 24, 2021 07:58 AM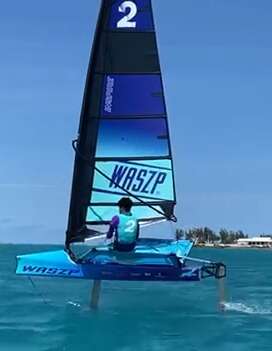 Christian Ebbin is grateful for the opportunity to broaden his sailing horizons via a partnership between SailGP Inspire and local charity Endeavour.
The promising Somersfield Academy student was among 16 youth sailors who got a rare opportunity to sail in the high-performance Waszp foiling dinghy as part of SailGP Inspire's community, education and outreach initiative.
"It was a mesmerising experience and I am so happy to be given this opportunity with SailGP," Ebbin told The Royal Gazette. "We were fortunate to get one day out on the water training and sailed for four hours in the boat."
The 15-year-old was making his second appearance in the one-design Waszp, capable of speeds exceeding of 20 knots.
"It's a fast boat and foiling is very different to and harder than regular sailing," Ebbin added. "I definitely need to work on my tacks, but that will come in time.
"I was able to track my speeds using an app I have, the feeling of hitting 18 knots is exhilarating.
"I have sailed the Waszp only once before where I did a day session at US Sail here in Bermuda last summer. I have never raced competitively and was really looking forward to it."
Joshua Greenslade, the Royal Bermuda Yacht Club sailing coach, said it was a "great to see everyone flying around for the first time".
"I know what it was like the first time I flew and it was amazing," he said. "I'm glad they were able to experience it at such a young age."
Unfortunately, the SailGP Inspire initiative was forced to go virtual due to Government's seven-day shelter-at-home restrictions in response to the recent spike in active Covid-19 cases and deaths.
Still, the limited on-water experience in the Waszp has rubbed off on Ebbin who has taken to foiling like a duck to water.
"I really enjoyed the foiling and could definitely see myself doing more in the future whether it be the Waszp, the Moth or another foiling type of boat," he said. "As we didn't get the real opportunity to compete the full Inspire programme here in Bermuda due to the lockdown, I would hope to have an opportunity at one of the other Sail GP events if possible."
Launched in Cowes, UK, in 2019, and taking place at all subsequent grand prix events, SailGP Inspire comprises three innovative pathways for young people, students and aspiring sailors: Learning, Careers and Racing.
SailGP Inspire aims to serve a leading role in helping to diversify the sport of sailing. A portion of the community outreach programme will focus on introducing diverse youth (race, gender, and socioeconomic status) to the sport, and partnering with World Sailing, National Sailing Federations, and local community sailing clubs and programmes to offer accessible entry points.
SailGP Inspire works with each host venue and its partners RS Sailing, Waszp, Rooster, MarkSetBot, World Sailing Trust, EPropulsion and Doyle Sails to offer programmes that create impact within the local community and most importantly leave a legacy.
The programme was relaunched after the pandemic delayed start of SailGP season 2 in the build-up to the inaugural Bermuda Sail Grand Prix presented by Hamilton Princess with an increased focus on inclusivity and diversity.
"Not only does doing the Inspire racing programme give you an opportunity to mingle among some of the best sailors in the world, it has a mission which I believe in," Ebbin added.
"The overall programme provides an opportunity for many Bermudians who may have not had a chance to get involved in sailing, but teaches far more than just sailing.
"The Steam [science, technology, engineering, art and maths] component is big and so many lessons learnt can be applied in your day-to-day life and school work."