Benn Smith secures podium place at regatta in Florida
Created: Mar 14, 2022 07:38 AM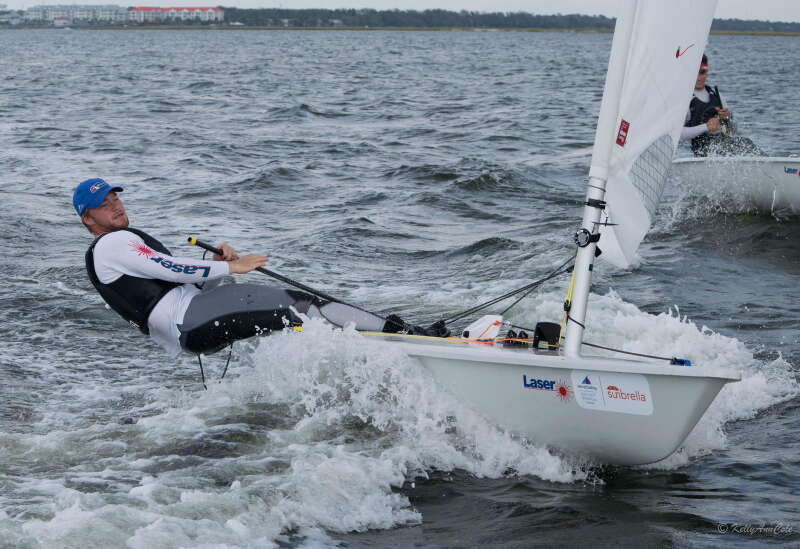 Benn Smith sailed his way on to the podium at the International Laser Class Association Midwinter's East regatta, which concluded in St Petersburg, Florida, yesterday.
The Bermudian earned a bronze medal after finishing third among the 28-strong ILCA 7 class racing fleet.
Smith managed five top-three finishes, including two first places, in the eight races contested on the racecourse located east of the St Petersburg Pier.
The 22-year-old was tied for second heading in to the final two races but ahead on a tie break. However, he ultimately had to settle for the last spot on the podium after crossing the line in fifth and seventh.
"Not a great day for me but I was able to get third overall," Smith said. "I wasn't happy with the day. But I was pretty happy with how the event went, especially the second day of racing. Getting two firsts back-to-back felt really good and felt good for my psyche."
Smith and the rest of the racing fleet had to contend with trying conditions during the final day of the regatta.
"The conditions started off 15 to 20 knots and then died to about 10 to 20 knots," he added. "The puffs were very big, it was very shifty.
"The wind was coming from the opposite direction. It was coming straight down from Tampa, and that's what caused it to be very shifty."
Smith was pleased to earn a first podium in his third appearance at the regatta.
"It's good to come out of this event with third," he said. "I think it really shows improvement over the last couple of events where I was struggling with boat speed.
"I think I made a big gain and on the level that I should be with boat speed coming in to the summer of sailing."
Overnight leader Daniel Escudero won the regatta, with Chapman Petersen finishing second, five points adrift.