Tre Maxwell delighted to fulfil surreal SailGP aspiration
Updated: Apr 30, 2022 07:59 AM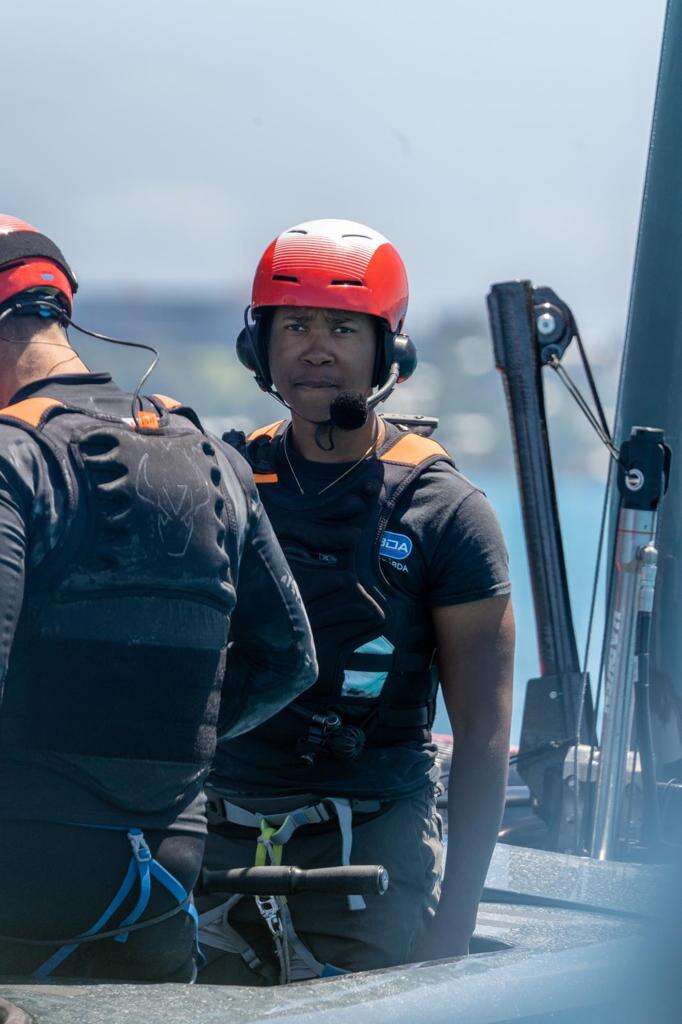 A dream of hydrofoiling through the water on the fastest sail boat on the planet became a reality for Tre Maxwell in the Great Sound last weekend.
The Bermudian received the chance of a lifetime when he was invited by Canada SailGP Team to participate in a training run on a wing-sailed foiling F50 catamaran belonging to fellow newcomers to the global sailing league, Switzerland SailGP Team.
"This was my first time in the boat and it was really crazy," Maxwell told The Royal Gazette.
"I didn't know it was actually happening. I didn't ask for this; they made it happen and not many people get to do this.
"It was really so surreal to me and I am really thankful to these guys. Everyone was super kind to me and especially the skipper of the team Phil Robertson."
The 22-year-old added: "This was really important to me and is something that has always been my biggest dream.
"Getting on one of these boats that I saw as a youngster when the America's Cup was here is something that has always been on my mind.
"I used to literally dream about this every night and have always wanted to be on these boats and also to have a Bermuda team."
Maxwell had a turn at the wheel and also grinding the main wing on the former America's Cup class that travel nearly three times faster than the actual wind speed.
"At first they allowed me to helm on the tow," he added. "It was not much wind so what they did was artificially make the boat foil. They pulled it behind a chase boat that simulated getting on the foils quite quickly.
"They allowed me to drive it when it was behind the chase boat foiling and it was pretty much the same thing as it does sailing.
"Then towards the end they wanted to try and get up on the foils again because it was a little wind, so they put me on the grinder for the main sail so I can have an idea of what it's actually like. As they get up on the foils they get quite high over the water.
"I have foiled before. But not that high, so it was something that was just a little bit breathtaking because it was so high above the water that makes no splash at all. It's just crazy."
Team Canada and Switzerland are training in preparation for Sail GP's Season 3-opening Bermuda Sail Grand Prix presented by Hamilton Princess to be held in the Great Sound on May 14 and 15.
Great Britain SailGP, led by multiple Bermuda Gold Cup winner Sir Ben Ainslie, are the defending champions.
Australia, the overall SailGP series champions, Denmark, France, Great Britain, Japan, New Zealand, Spain and the United States are the remaining teams competing.
Maxwell is thrilled to see SailGP return to the island.
"I think it's only appropriate SailGP is back because the design of the F50 is the same concept mark-up as the America's Cup boats in Bermuda that all started in Bermuda," he said.
"They were designed in Bermuda, got sailed in Bermuda so it's only fitting for the boats to be back because it is our boat and where it all started. It's just really good and I am just happy to see everyone back.
"It's just a really good spectacle for everyone that just loves events in Bermuda. It's just going to be so cool seeing these big machines going around super fast and it should be inspiring."
Maxwell was invited to work with United States SailGP Team at the Spain Sail Grand Prix in Cádiz last November as reward for his hard work ethic as a successful candidate of the SailGP Inspire Careers programme at the preceding SailGP event in Saint-Tropez, France.
Prior to being involved with SailGP's Inspire scheme, he completed the pilot Endeavour Maritime Career Springboard programme in 2018.
Maxwell is presently under contract with SailGP at least until the United States Sail Grand Prix in Chicago to be held on June 18 and 19.
"I work with SailGP now with the power boat team and I am contracted to the Chicago Grand Prix," he added. "I did the last event in San Francisco and going to do the Bermuda event and then Chicago. It is brilliant and I really love it."