Bermuda keen to build on encouraging debut in Star Sailors League Gold Cup
Updated: May 25, 2022 07:52 AM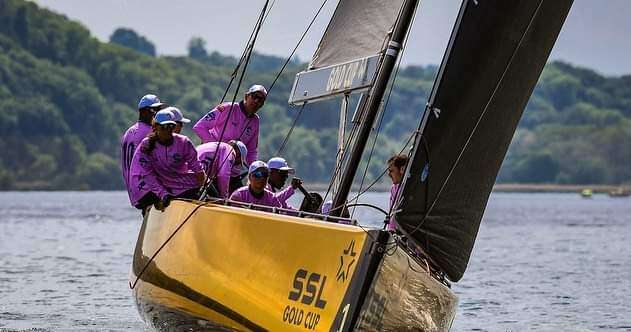 Bermuda's sailors have plenty of positives to take away despite missing out on qualification for the Star Sailors League Gold Cup in Grandson, Switzerland, at the weekend.
These are the sentiments of Charles Penruddocke, the Bermuda team manager, who said the Privateers can hold their heads high even though they were unable to secure one of the two spots up for grabs at the first-round qualifying regatta.
"The team sailed very well and showed what their potential was," Penruddocke told The Royal Gazette. "They came first twice and nobody else did that.
"It was a good example of Bermuda sailing well and they didn't give up when they were behind and they showed that they can win races."
The Privateers won the final race of the five-race qualifying series, which they led from start to finish.
However, it ultimately was not enough as they were pipped by Tahiti for the second and final spot behind winners and group favourites Antigua & Barbuda in the overall standings.
"They put on a tremendous show for the very last race in which we very nearly caught the qualifiers," Penruddocke added.
"The textbook start was terrific. They shut out the other three boats on the start line and sailed off to victory, which was very pleasing to see that spinnaker coming down to the finish line with our sponsors name, Aspen, on the sail."
Bermuda's sailors are now keen to build on the experience and come back stronger next time.
"Going forward I think it's a lot to build on," Penruddocke said. "Rockal (team captain Rockal Evans) wants to have a full debrief and look at everything from training upwards.
"It's very encouraging really that we have such a strong squad already and we want to broaden that squad during the months to come and refine our training."
Bermuda's sailors missed out on qualification for the Finals by fine margins.
"It's always a mixture when you get beaten by a couple of points," Penruddocke added. "It's always a kind of joy mixed with sadness.
"But frankly it's what they achieved that's important and they achieved a lot and they learnt a huge amount. So going forward I think there's a lot to build on and they should hold their heads high."
Penruddocke noted mistakes and bad luck which took their toll on Bermuda's sailors.
"There were mistakes and bad luck, too," he added. "A man falling overboard is probably a one in a hundred shot.
"But the mistakes caught up with us and, although they sailed extremely well, fast and intelligently, we did not quite make it.
"So the takeaways are yes; they can sail well and they can get in first place and stay there. But like all regattas there can be bad luck and there could be mistakes.
"I am still optimistic about the future. We just have to cut out the mistakes."
Vice-captain Emily Nagel, Somers Kempe, Jesse Kirkland, Peter Dill, Joshua Greenslade, Julia Lines, Dale Brangman, Will Lorimer-Turner, Thomas Penruddocke and Adriana Penruddocke were the remaining members of Bermuda's team.
The island's contingent was also accompanied by coach and former British Olympic sailor Penny Clarke.
The biennial SSL Gold Cup is a new international sporting event designed to determine the world's best sailing nation, with teams competing in the one-design SSL 47 monohull.