Young sailor Tre Maxwell inspired by prospect of Bermuda SailGP team
Updated: Nov 01, 2022 07:45 AM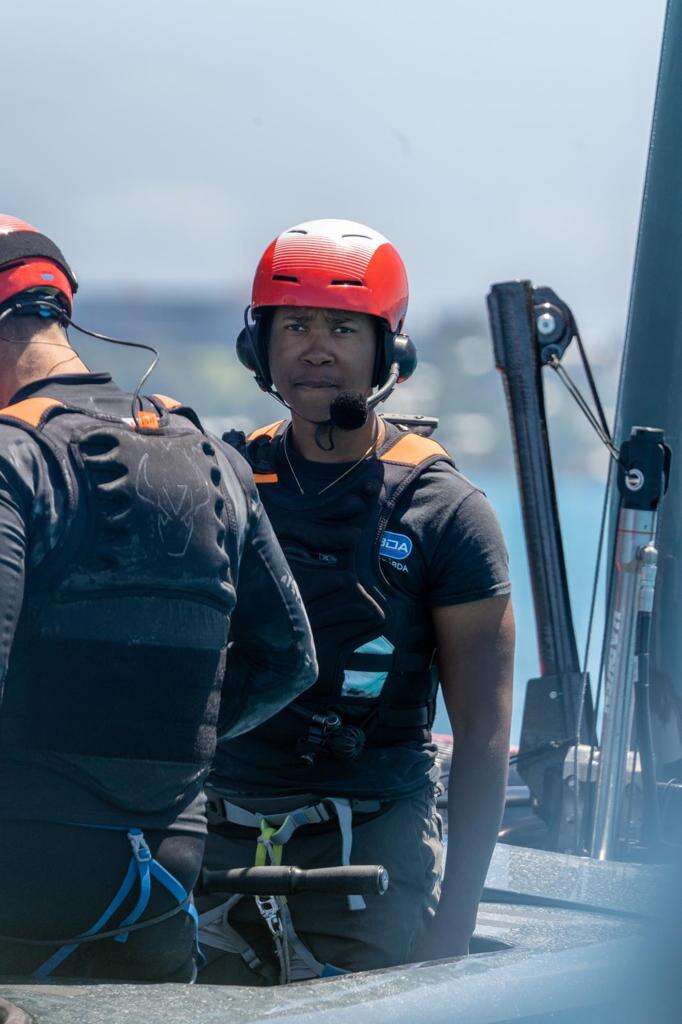 Sailor Tre Maxwell believes Bermuda representation on the SailGP circuit will unite the community and inspire youngsters.
The island has officially launched a bid to secure one of two available spots for the fourth instalment of the international sailing league, which showcases the talents of world-class sailors in wing-sail foiling F50 catamarans.
"I think the SailGP opportunity for me personally is something that's really big for Bermuda to be seen on an international stage and just having our flag up there," Maxwell told The Royal Gazette.
"It's a really big thing to bring our whole community together. One thing that I saw when I was younger with the Red Bull Youth America's Cup was that everyone behind Bermuda got up and supported that team, and I think it would be something similar to that or even better.
"I just think having our flag next to all the really big sailing nations such as the United Kingdom and New Zealand would be really cool. The F50 was designed in Bermuda, so it only makes sense that we should see our flag on one of these boats, on a pink F50 out there."
Fundraising is well under way to support the team, which will be made up of three non-local sailors among an overall crew of six.
"We are going to need professional sailors to train us because this isn't going to be possible to just jump in and get it done," Maxwell added. "Professional sailors are going to have to teach these young Bermudians how the ropes actually work because these guys have sailed them for years.
"I think we can be competitive with an overseas sailor driving it but as time goes on we are going to need to get more Bermudians involved and train more. I think we can be competitive with the right people behind it."
Maxwell has harboured an ambition of competing at this level for many years and says he would jump at the opportunity to represent Team Bermuda if it came his way.
"That's the whole reason that I joined SailGP," he said. "This is literally my biggest life dream and something I would do anything to be a part of."
Maxwell has already experienced a taste of life on the SailGP circuit after being invited to work with the United States team as reward for his hard work as a successful candidate of the SailGP Inspire Careers programme.
Before being involved with that scheme, he completed the pilot Endeavour Maritime Career Springboard programme in 2018.
"The big experience is just working literally with the best people in the maritime industry," he said. "I am working with some incredibly talented people in this field that have connections to Formula One, that have connections to the Volvo Ocean Race, America's Cup and every sporting event around the world, so that's a really big experience for me.
"Another experience is just being in a league that is intense. It's pretty similar to Formula One where it gets up and moves quite quickly and people are always on schedule, so getting that experience of being in a high-intensive, league-based sport that travels around the world is quite cool. Just being able to see every part of the world is a really big experience."
Maxwell helped to sail an F50 when he was invited by Canada's SailGP Team to participate in a training run in the Great Sound in the lead-up to the Bermuda Sail Grand Prix in May.
"There wasn't much wind that day," Maxwell said. "But just being able to be in that team dynamic and for that moment feeling like I am actually a professional sailor is something that you always dream about and what I have been chasing all this time. I'm trying to get a pink boat out there because this is what we need.
"Imagine Bermudians seeing that pink boat. How crazy would that be sailing across youngsters on a boat just like it was for me during the America's Cup?
"This is something that is really big. These guys can see this, want to do it one day and there is a clear avenue to get there. I think it's something that we need to propel our young sailors."