Nina Gotfredsen and Evan Davis gain valuable experience in overseas regattas
Updated: Aug 18, 2023 07:56 AM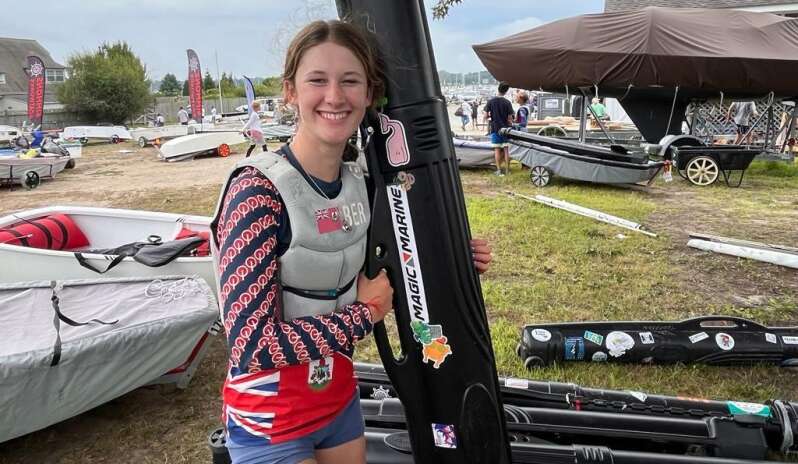 Nina Gotfredsen and Evan Davis both learnt valuable lessons in international competitions in the United States and England.
Gotfredsen, who was part of the Lake Ontario Optimist Team, finished a credible 30th out of 170 sailors at the Optimist New England Championship, in Dartmouth, Massachusetts.
She was nineteenth until the final day when the wind turned low much to her frustration.
Before she took part in the New England Championship, Gotfredsen competed in two regattas on Lake Ontario, in Canada.
As a member of the Bermuda team for this year's World Championships and the North American Championships, Gotfredsen is looking for greater improvement, as she heads into her final year as an optimist sailor.
She is eyeing a spot on the island's team for the World Championships in Argentina at the end of next year, before she moves onto a bigger boat.
"New Bedford, where the Optimist New England Championship was held, was my favourite of the regattas, as there was better competition and stronger winds," Gotfredsen said.
"The land, wind, tide and current together made it a challenging regatta but also interesting as I had to think a lot more about my strategy.
"I learnt a lot about how to sail in currents, which we don't have in Bermuda, and this helped me improve a lot over my last year's results at the same regatta.
"I liked it better because the wind was strong and the conditions very different to Bermuda. I especially liked learning about the different conditions in both Kingston and New Bedford.
"Coach Roberto [Fabini] gave us two-hour debriefs after sailing, which were so interesting and somehow were a combination of science, geography and sailing.
"The biggest lesson I learnt from the Lake Ontario Optimist Team was that I have more to learn and I can do even better. I know this because coach Roberto would pick a sailor and coach them through a practice race. That sailor would always win, including myself when he picked me."
Meanwhile, Davis was 43rd out of 84 at the United Kingdom Nationals, held at Weymouth and Portland National Sailing Academy, in England.
He was part of the multinational 8 Days A Week team, mentored by Pieter Van den Bossche. Just like Gotfredsen, Davis had his performance affected by the low wind.
Dede Cooper, secretary of the Bermuda Optimist Dinghy Association, was pleased with Davis's efforts.
"The wind dropped off towards the end of the regatta, which made it harder for him," Cooper said. "He was sailing among sailors who had gone to the Worlds so some top competition, it was good result overall."