Simons the hero as Somerset crash out
Created: Nov 02, 2015 07:00 AM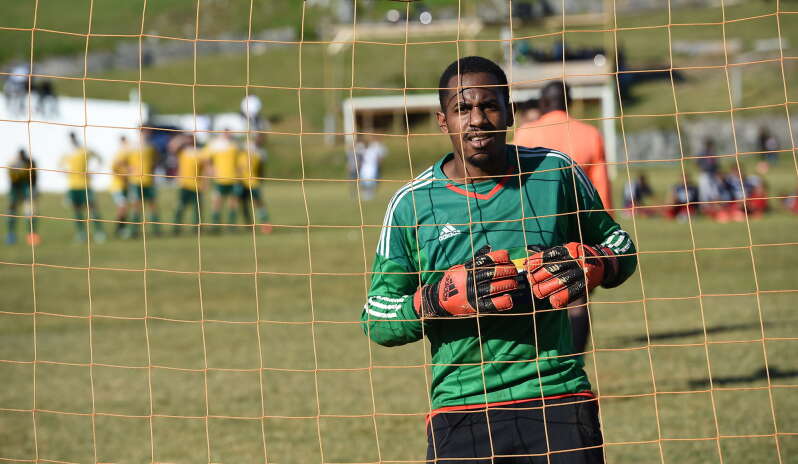 Robin Hood 1
Somerset 1
Robin Hood win 7-6 on penalties
Shaquille Bean, the Somerset goalkeeper, almost went from villain to hero yesterday at Lord's, making a blunder that led to the Robin Hood equaliser, before making two saves in the penalty shoot-out.
Ultimately, however, he will be remembered for the save he failed to make, rather than the ones he did as Robin Hood reached their first Dudley Eve final.
In contrast, it proved to be a good day for Jason Simons, the Robin Hood goalkeeper, who made three saves and scored a penalty himself to help his team to victory.
The Trojans were hanging on to the slim lead given to them in the 65th minute when Tahj Wade drove a shot at the far post into the roof of the net.
Wade wasted another good chance a few minutes later when Ayshaun Smith and Dion Stovell combined to set him up again at the far post, however he opted not to shoot first time with his left foot from a good position and the chance was lost.
The miss came back to haunt Somerset, as Antwan Russell's low effort from the left corner of the box rolled under the body of the diving Bean at the near post.
Somerset still could have won it four minutes into stoppage time, though, when an error by Chris Fosker, the Hood defender, put Dion Stovell clear with only Simons to beat. However, the Trojans striker was too slow in getting off his shot, and only got a corner for his efforts.
There were few clear cut chances in extra time as the warm conditions began to take a toll on the players. Still, Lejuan Simmons could have won it for Hood midway through the second period of extra time, but he failed to connect with a header from a free kick and the opportunity was gone.
A touch of confusion ensured late in regulation time when an official instructed the two teams that the match would be going straight into penalty kicks rather than extra time, only for that to be clarified minutes later. The clarification came too late to stop Robin Hood bringing on Marcelos Thomas with a minute to go to give themselves an extra penalty taker in case it went to kicks.
"I was more than sure the game was going into extra time, that's why I was delaying my third substitution," Lightbourne said. "I had another fast winger to bring on, but brought on Marcelos to take a penalty when, at the last minute, they said the game was going straight into penalties.
"That's why I made that substitution, but I was sure it was going into extra time because I remember winning this trophy with PHC when it went to extra time. We dug in, and our goalkeeper came up big today with a couple of penalty saves.
"You feel for Somerset but somebody has to win. We were a goal behind in the game and then a goal behind in the penalty shoot-out. We definitely rode our luck, now we look forward to the finals."
Thomas converted in the second round of kicks along with Wade for Somerset after Russell and Vanshun Blanchette scored the first kicks for their teams.
It got interesting after that as Jaylon Bather, the Hood captain, had his effort saved by Bean to his left, before Sean Brangman put his effort against the base of the post to make it 2-2 after three rounds.
Lejuan Simmons and Leo Burgess converted in the fourth round of kicks, before two saves in the fifth round denied both teams victory.
Mackih McGowan of Hood had his effort saved by the legs of Bean before Simons saved the shot from Stovell.
Even in sudden death both teams blew chances to win.
The next two rounds were all scored when Shannon Burchall and Shaquille Bean scored to make it 4-4, and Joe Pereira and Calin Maybury converted to make it 5-5.
Then there were two misses, Phillippe Froncioni blasting over the top for Hood and Adolphus Lambert shooting against the post.
Defenders Fosker and Trevin Ming netted for their respective teams to make it 6-6, then Hood put the pressure on Somerset again when Jason Simons converted against his opposite number.
The pressure proved too much for Jonathan Bean whose weak shot to Simons' right was saved as Hood celebrated the victory.
<p>TEAMS</p>
Robin Hood (4-3-3): J Simons — J Pereira, C Fosker, J Bather, P Froncioni — S Brown (sub: S Burchall, 79min), D Andrade, M Brajanovic (sub: M McGowan, 74) — T Dill (sub: M Thomas, 90+4), A Russell, L Simmons. Substitutes not used: J Titterton, A Nelson, L Simons, D Taylor. Booked: Pereira.
Somerset (4-4-2): S Bean — D Lister (sub: V Blanchette, 89), J Gooden (sub: C Maybury, 56), T Ming, A Lambert — S Brangman, L Burgess, A Trott, T Wade — D Stovell, A Smith (sub: J Bean, 89). Substitutes not used: F Crockwell, T Harvey, T Outerbridge, D Swan. Booked: Gooden, Maybury.
Referee: E Holmes.