LeiLanni Nesbeth lifts ACC title with Florida State
Updated: Nov 15, 2020 05:46 PM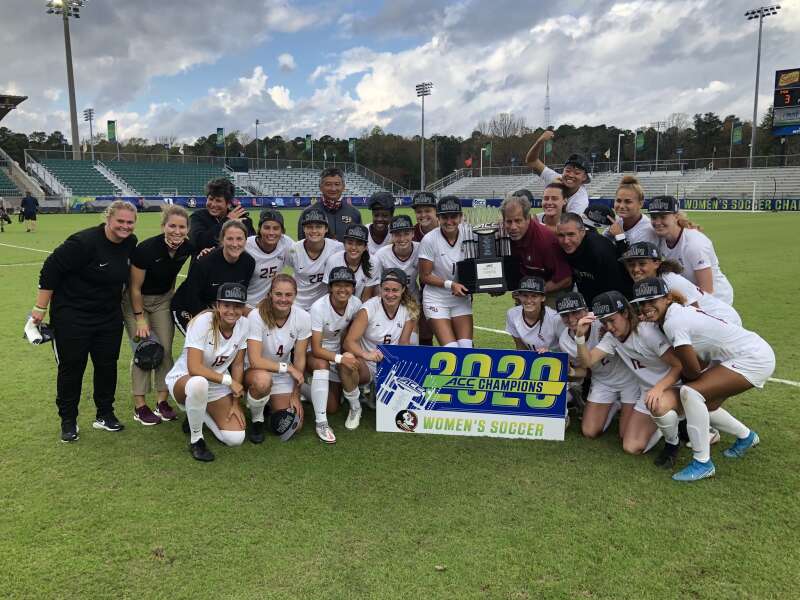 LeiLanni Nesbeth played a starring role as Florida State University captured their seventh Atlantic Coast Conference Tournament championship in the past ten years in holding off arch rivals University of North Carolina 3-2 this afternoon.
The top-seeded Lady Seminoles caught the Lady Tar Heels cold with goals in the second and sixth minutes.
The first was from an inswinging Nesbeth corner that took a deflection, then struck Clara Robbins and rebounded into the net.
If there was a stroke of luck about the opener, there was no mistake about Robbins's second, a firmly driven shot from 20 yards after taking a short pass from Nesbeth, who had broken out of midfield.
Florida State controlled the rest of the half, with a high press that gave North Carolina, the No 2 seeds, little room to manoeuvre. But in a rare foray into enemy territory for them, Robbins was their chief nemesis again, this time clearing off her own line.
The Lady Tar Heels made a point about changing their formation to start the second half, but before a new-look 3-5-2 could take effect they were three goals down.
Nesbeth, a freshman in appearance but with the poise of a senior, initiated a quick-tap free kick and ran forward into space on the right side of the penalty to receive a well-weighted return ball over the top.
The 18-year-old rode a few desperate challenges before guiding her shot past the North Carolina goalkeeper for what would prove to be a crucial goal.
At this point, the statisticians were scurrying through the records to recall the heaviest defeats inflicted on North Carolina, who before Florida State enjoyed a long reign in the ACC and had beaten them in five previous finals.
But the Lady Tar Heels refused to give in, opening their account from the penalty spot with half-hour to go when the unfortunate Kristina Lynch was ruled to have handled.
Rachel Jones sent the goalkeeper the wrong way and the Lady Tar Heels suddenly had life. They pressed hard but the next goal, a back-post header with a minute left, was too late to stop the celebrations of coach Mark Krikorian's Lady Seminoles.
Madril is a MOOD. 🔋⚡️@FSUSoccer on champ vibes 🏆 pic.twitter.com/cgFnef2cRO

— ACC Women's Soccer (@ACCWSoccer) November 15, 2020