Allan Douglas makes late switch to Somerset Trojans
Created: Nov 20, 2020 08:00 AM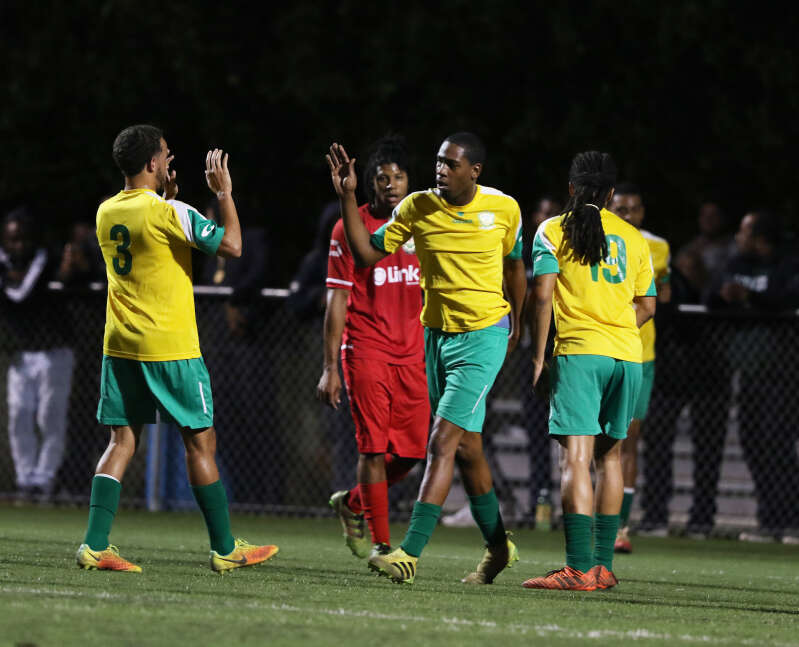 Allan Douglas is the most high-profile player to take advantage of the Bermuda Football Association's late-transfer policy by sealing a move to Somerset Trojans from Devonshire Cougars.
The striker played his first match for Somerset on Tuesday night against Robin Hood in the Player Development League and is looking forward to getting into the first-team squad under coaches Danvers Seymour Jr and Larry Smith.
"I've had some good conversations with Mr Smith," Douglas said this week. "I'm just getting to know him as a person and as a coach.
"But Danvers, I've always known him and he has always given me encouraging words. Since I've been there, he's taken to me very well."
The move to Somerset will have surprised many fans, considering Douglas plays for rival Cup Match team St George's.
"I was just looking for a new challenge," he explained. "I've been training for the past month and played my first PDL match last night, getting fit and strong. Because of Covid, it was a long summer and I didn't get to do much until mid-September.
"I normally don't have a break, but with Covid I couldn't do much, so it took my fitness back a bit."
Douglas is one of the big names in the late transfer list, leaving Devonshire Cougars after joining them as a late transfer from St George's in 2017. Coach Smith likes what he has seen in Douglas in training and is confident he can be a good addition.
"I quite like his style of football," Smith said. "He's a good player and I think he can add to that absenteeism that we have in scoring goals right now.
"We're defending well but not scoring goals and I think Allan can bring something to the plate. I think he's a very good pick-up."
Smith added: "I've always heard about Allan, but didn't know who Allan was; I thought he was just a cricketer. He's got a lot of pace and is going to be a great asset."
Somerset have also re-signed veteran forward Malachi Jones from Southampton Rangers along with midfielder Mohamed Aden from Dandy Town.
Rangers have boosted their goalkeeping department with Troy Hall joining them from Somerset Eagles. Hall moved to Eagles from Devonshire Cougars this season, but the move did not work out as he never played a game.
Players obtaining late transfers were eligible to play for their new clubs after November 15. The late transfer period closes on November 30.