LeiLanni Nesbeth advances to NCAA Tournament final with Florida State
Created: May 14, 2021 08:00 AM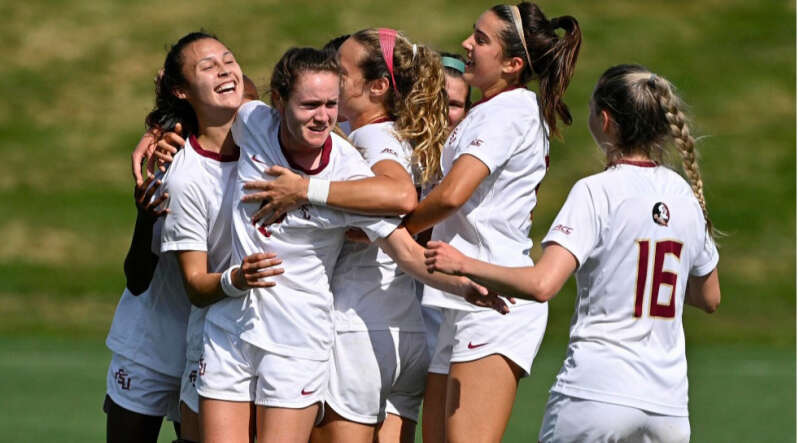 LeiLanni Nesbeth and her Florida State University team-mates reached the NCAA College Cup final last night with a 3-0 win over Virginia on penalty kicks in Cary, North Carolina.
The semi-final finished goalless after extra time, with Virginia holding their own during regulation time and coming closest to scoring in the thirteenth minute when winger Rebecca Jarret smashed a shot from the left corner of the penalty box against the underside of the crossbar.
Jarret was Virginia's biggest threat as they looked the more threatening side in the first half, forcing the No 1 seeded FSU to make their first substitution, taking off midfielder Nesbeth in the fifteenth minute.
FSU had an 8-3 edge on corner kicks in the regulation period but neither team could find the opening goal even after 20 minutes of extra tie, leaving the match to be decided on kicks from the spot. It proved second time lucky for the Lady Seminoles from 12 yards.
Virginia missed their first kick when Alexa Spaanstra blasted her effort well over the crossbar. FSU followed up with Clara Robbins scoring to the goalkeeper's right.
Diana Ordonez, of Virginia, had her kick saved by Christina Roque before Emily Madril scored to make it 2-0 to the Seminoles.
After Taryn Torres saw her left-footed shot saved by Roque, Gabby Carle sealed the win for FSU when she sent the goalkeeper the wrong way to make it 3-0.
Roque had a good night, also making five saves in regulation time.
"She sure doesn't play like a freshman does she," said coach Mark Krikorian about Roque.
"I thought that when we needed her to stand tall and have those big moments, she sure did. She did quite well with the penalties also but a couple big saves through the course of play and showed confidence and was reassuring to her team-mates.
"I thought, again, she had a very good performance."
"Just knowing that my team is behind me, no matter what, just coming out and playing the best I can and we train super-hard," said Roque when asked about the success she is having as a true freshman. "We just have to show it on the field every time and I think we'll be successful."
FSU, seeking their third national title in seven years, will play Santa Clara after the No 11 seeds stunned second-ranked North Carolina 3-1 in the late match.
The final on Monday will be televised live on ESPN2, starting at 6.30pm Bermuda time.