Bermuda coach Kyle Lightbourne fulsome in praise of retiring Danté Leverock
Updated: May 20, 2021 08:14 AM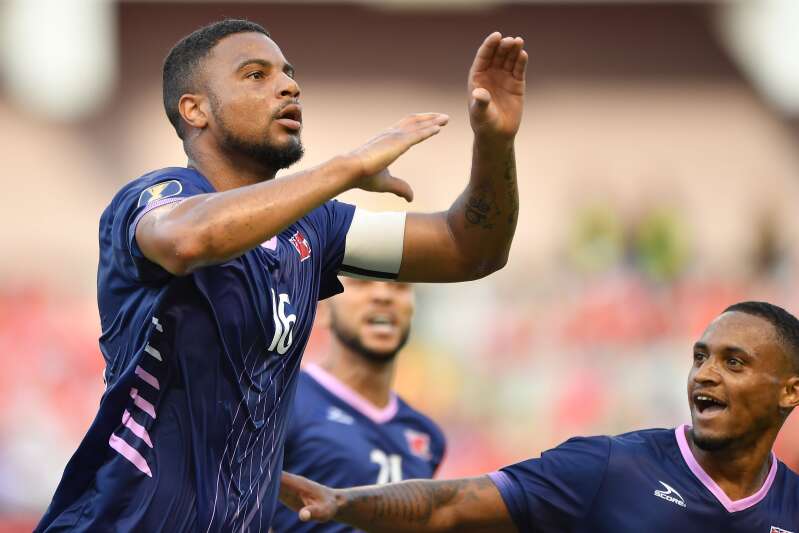 Kyle Lightbourne hailed Danté Leverock's contribution to the national team after the Bermuda captain announced his retirement from international football.
The 29-year-old, who made 23 appearances for the national team, scoring five goals in the process, took to social media on Monday night to confirm his surprise decision in a short message that thanked the Bermuda Football Association for giving him the "greatest honour" of leading the nation.
Lightbourne, who was surprised by the timing of the decision, heaped praise on the central defender who enjoyed a host of historic international highlights including leading the team out at the inaugural Concacaf Nations League and an historic first Gold Cup campaign, in which he scored Bermuda's first goal of the tournament in a 2-1 defeat by Haiti.
"Danté phoned to tell me that there were no other reasons other than he thought the time was right for him to retire from international football and I thanked him for all he has done for the team," Lightbourne said. "The timing of his decision was actually more of a shock than the decision itself.
"As a coach you are always aware of where certain players are in their lives and realistically how much longer they want to keep playing. There hadn't been any discussions previously with Danté about his international career but people's lives go in different directions sometimes.
"He is starting a new chapter in his life and I wish him all the best in whatever he decides to do moving forward.
"He has been a huge part of the national squad. I made him captain and he went from strength to strength, as did the entire team. He will have some incredible memories with Bermuda and what I will say is that the door is always open for Danté if he wants to return."
The timing of the decision will come as a major blow to Lightbourne, who is well into his preparations for the World Cup qualifying group B matches against Cayman Islands and Surinam next month.
Leverock started in Bermuda's first two group B matches, against Canada and Aruba, and scored the third goal in a comprehensive 5-0 victory over the latter on March 30.
However, ahead of facing a daunting trip to play Surinam on June 4, before taking on Cayman Islands at the IMG Academy Complex in Bradenton, Florida, four days later, Lightbourne is having to now plan for life without not only his captain, but an integral part of his centre-back pairing alongside Robin Hood team-mate Jaylon Bather.
To make matters worse, Bather will also be suspended for the trip to Surinam, who won both of their first two qualifiers, opening the campaign with a 3-0 success over Cayman Islands at home, before thumping Aruba 6-0 in Florida.
"It will definitely be a case of having a rethink ahead of the upcoming qualifiers with Danté retiring and Jaylon suspended for the first match," added Lightbourne, who revealed it is too soon to make a decision on Leverock's successor as captain.
"Not only will players have to step up to replace both of them for the first game, but someone will also have to step up and lead the team.
"I have already had a think about who could replace Danté as captain but no final decision has been made among the coaching staff just yet.
"You always look for certain things in a captain, but there are different aspects that can make a good leader. Some are very vocal while others tend to lead by example on the field."
While Lightbourne is facing the prospect of a selection headache against Surinam, he also believes it is the perfect opportunity for other players to stake their claim.
That challenge will fall to the likes of Liam Evans, Jomei Bean-Lindo, Tahzeiko Harris and Azende Furbert to try to fill the void and cement their place in the heart of defence.
"We don't particularly have any defenders in the mould of Danté, but we have others of different type who have spent time with the senior squad before," he added.
"We have some players who can operate across the backline and others who might mostly play in midfield but could also drop back if needed — it could be a case of transitioning some players if needs be.
"Whoever comes in, it is an opportunity to stake their claim and they will have to be prepared to step up and dig in for what will be a tough match."
Reflecting further on the upcoming matches, Lightbourne admitted his preference for both fixtures to be played in the United States — as the first two qualifiers were — rather than face the logistical issues of a trip to Surinam then travelling to the US in the space of four days, particularly amid the pandemic.
Surinam, on the South American mainland, is still reporting more than 12,000 active Covid-19 cases but as of yet there is no indication the match will be played anywhere else other than the Dutch-Caribbean nation's Frank Essed Stadion, the same venue where the match against Cayman Islands was played on March 24.
"Ideally I would have preferred to have both fixtures at one venue," added Lightbourne, whose squad is now back to training full time as normal, having spent a week in a sports bubble environment at the Hamilton Princess & Beach Club in preparation while the Government's mixing-of-households regulations were in place.
"I think that would have been best for everyone; however, Surinam have a chance of topping the group and so I guess they don't want to lose that home advantage.
"We can't control that; Cayman Islands had to deal with the same conditions and circumstances and now we will have to prepare for them."