Mixed emotions for Detre Bell despite superb Bermuda debut
Created: Jun 12, 2021 07:55 AM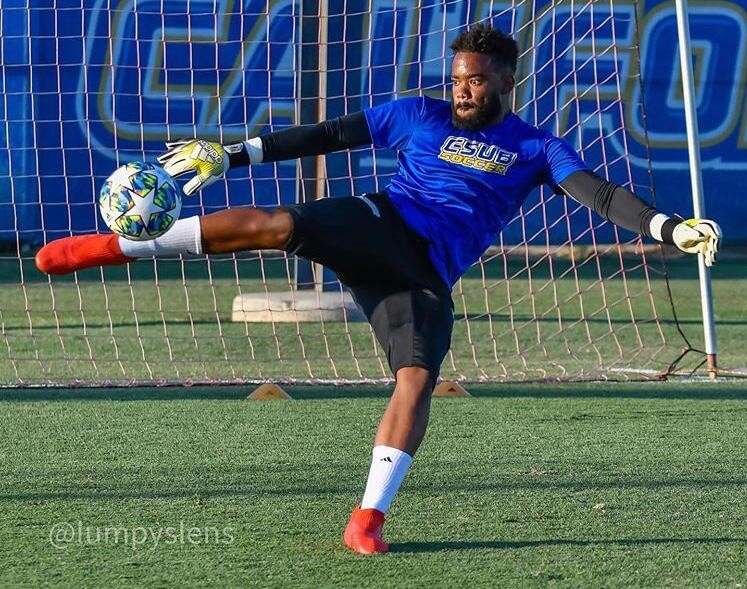 Detre Bell has expressed mixed feelings over his superb debut for the national team in their final World Cup qualifying group B match against the Cayman Islands at the IMG Academy Complex in Bradenton, Florida, on Tuesday night.
While the 23-year-old goalkeeper was delighted to make his first appearance for Bermuda at senior level, he was also disappointed with the outcome of the match, which saw Kyle Lightbourne's team come from behind to salvage a 1-1 draw.
"Making my debut was a great feeling," said Bell. "It was really a good feeling to get out there again and represent my country."
Bell was one of five changes coach Lightbourne made to his starting line-up from the one that suffered defeat against Surinam four days earlier and proved equal to the task as he made a string of saves to keep Bermuda in contention.
"I had a pretty good feeling that it would be a tight game," he added. "I knew at some point I would have to make the big saves in order to keep my team in the game, which was needed several times in the game."
However, Bell was disappointed with the result against the weakest team in the five-nation group.
"Overall, very disappointed," he said. "These are games we should be winning, but unfortunately we just weren't up for it on the day. As a group we didn't perform well, and it didn't help that Cayman were able to go ahead.
"But we can use this as a lesson in preparation for the Gold Cup, which will be even more of a challenge for us, considering the circumstances.
Bermuda will face Barbados in a one-off Concacaf Gold Cup preliminary-round fixture next month, with the winner taking on Haiti or St Vincent & the Grenadines for the right to progress to the Gold Cup proper, where United States, Canada and Martinique await in group B.
The preliminary round will be held on July 2, 3 and 6 at DRV PNK Stadium, in Fort Lauderdale, Florida.