Nahki Wells handed back captaincy ahead of Gold Cup qualifier
Updated: Jun 28, 2021 08:06 AM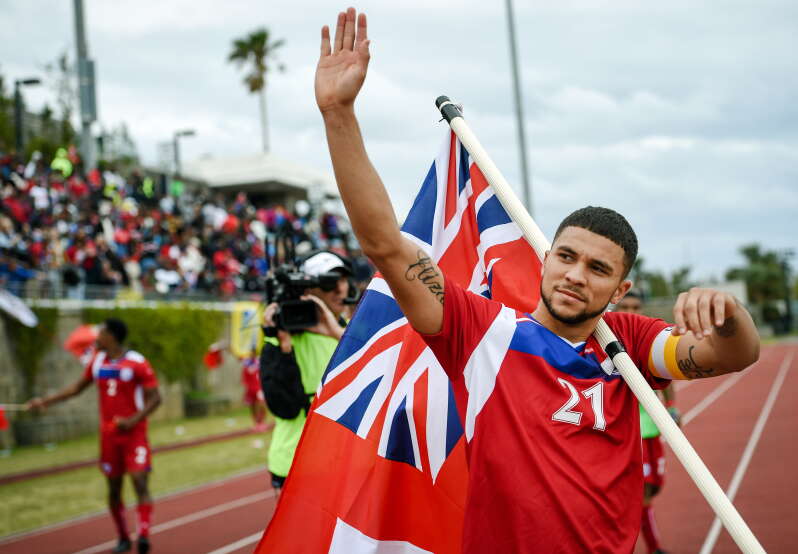 Nahki Wells says he is "delighted" to have been given another opportunity to don the captain's armband for Bermuda.
The Bristol City striker has been reappointed on a permanent basis in the role which became vacant after former Dandy Town team-mate Danté Leverock abruptly retired from international football.
Wells previously served as Bermuda captain under former national coach Andrew Bascome.
"It's been a long while since I last had the armband and I'm delighted, of course, to have been named Bermuda skipper again," Wells told The Royal Gazette. "I love to lead by example and to be a leader for the country so it's an great exciting time for myself.
"I will be looking to continue to do what I always do when I represent my country; try and lead and play to the best of my abilities and be a catalyst for the rest of the team to feed off and have a successful time."
Kyle Lightbourne, the national coach, says appointing the experienced striker was the "sensible thing" to do.
"Nahki is probably our most experienced player, in terms of the level that he plays at, and it's not a strange role for him because he has captained Bermuda before," Lightbourne said.
"With Danté stepping down I think the most sensible thing for us to do is bring Nahki in as captain. He shows a lot of leadership skills already as one of the senior players so it shouldn't be a problem."
Lejaun Simmons and Eusebio Blankendal both served as interim captain during Bermuda's remaining World Cup qualifying group B fixtures against Surinam and the Cayman Islands after Leverock announced his retirement from international football on May 17. Simmons has since been appointed as Bermuda's vice-captain.
Meanwhile, the national team are due to depart today for Fort Lauderdale, Florida where they will face Barbados in a one-off Gold Cup preliminary-round fixture on July 2 at the DRV PNK Stadium. The winner will take on Haiti or St Vincent & the Grenadines for the right to progress to the group stage.
Wells is up for the challenge.
"I'm totally excited about this Gold Cup," he said. "I know we have lot to do to get there and emulate what we were able to do. But we will all pull together as one and once again I'm very happy I get to the wear the captain's armband for my country."
Bermuda made their debut at the 2019 Gold Cup where they bowed out at the group stage after suffering 2-1 defeats by Costa Rica and Haiti before a 2-0 win over Nicaragua capped an outstanding campaign.
Bermuda's 23-player squad has undergone ten changes from the one that competed against Surinam and the Cayman Islands this month.
Among the players rejoining the national set up are Milan Butterfield, Reggie Lambe, Zeiko Lewis, Jaylon Bather, Calon Minors, Justin Donawa, Daren Usher, Kane Crichlow, Leverock and Wells.
Justin Bell, Azende Furbert, Cecoy Robinson, Jordan Outerbridge and Tokia Russell have all been omitted.
"We've got a lot of experience back in the squad and hopefully we can do something," Lightbourne said.
Bermuda's upcoming match against Barbados will be broadcast at 8pm (Bermuda time), on Fox Sports 2, FUBO TV and Vidgo as well as on Sling Blue and Hulu + Live TV for US audiences.
Extended coverage of the match will be streamed over the BFA's social-media platforms, including Instagram, Twitter, and their website. (bermudafa.com).