Football clubs still playing a waiting game
Updated: Oct 02, 2021 09:32 AM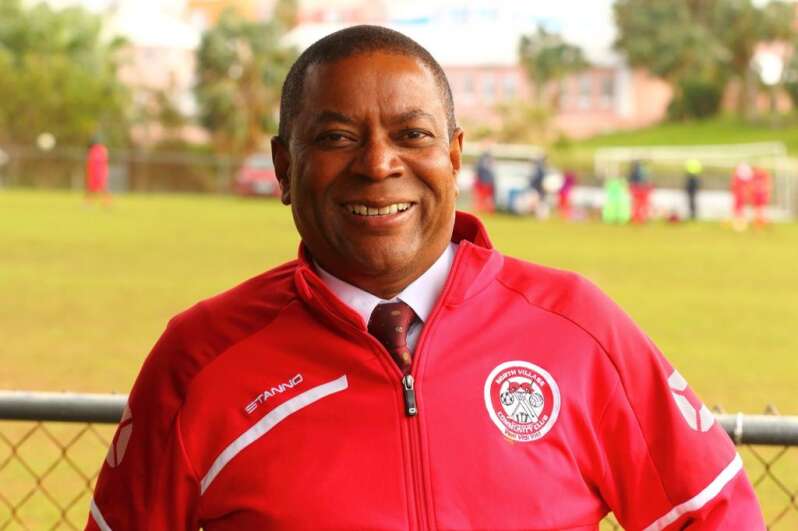 Local football clubs, like other sports groups, are keep to get started again after a recent spike in Covid cases recently delayed the start of the 2021-22 football season and forced the cancellation of the Dudley Eve Trophy and Charity Cup.
Shervin Dill, the chairman of the Club Presidents Forum, admits it has been a difficult period for the club and the players as they await word from the Government and the Bermuda Football Association on when football will likely resume.
Some answers should have been provided to the clubs at the BFA's annual council meeting last night. "We did do a retreat about a month ago at Grotto Bay and we obviously all have concerns about a policy that is going to come in place to give us some guidance on how we are going to be moving forward and how we are going to get a start to the season," Dill said this week.
"We haven't had any formal conversations on that, but I do believe we will be having those conversation at the council meeting on Zoom. We'll all be in attendance.
"The retreat at Grotto Bay went very well; it was a high percentage of participation of the clubs' presidents and secretaries. There are growing concerns but we are all encouraged and excited about this new antigen opportunity for quick-response testing. I'm sure that is a subject that we're going to be talking in depth about."
Dill admits it has been a tough time for the clubs who would have had the opening round of league games last weekend. Instead football grounds around the island have been eerily quiet, both on Sundays and also during the week as training has also ceased.
"We're very anxious to get started, but of course in the interest of safety first, we've got to find a way where we can do this without jeopardising people's lives," Dill said.
"That is the general feeling, but we just haven't met formally to discuss it. It is taking its toll, from an emotional perspective, physical perspective and financial perspective. It leaves us very off-balance.
"We were all ready to go at the start of September, but as you know protocols and policies changed and we had to cancel everything. Come Thursday we'll have some serious conversations about what we have to do to get started."
Televised matches across Europe's major leagues have filled the void for local fans, with the atmosphere returning to grounds this season with the fans back in attendance. In Bermuda, it is expected that there will be strict crowd restrictions when football does return.
"We see sports going on all around the world, and it's not to say that we're going to follow that example," Dill said. "If we can see 60,000 people to a game at Manchester United, why can't we find a way to have 200 people to a game at North Village field?"
"Understanding there has been a surge and that it is a very serious situation, so we do not want to go against any government protocols. We're cautiously optimistic but again it is frustrating and I believe we have to find a solution."
Dill added: "I'm encouraged by those quick-test opportunities and I think that is one of the ways forward. It would have been great if we had antigen testing six months ago.
"If we can find some sense of comfort in knowing that people coming out to matches are testing negative, then that's great. I think that is a way forward."
There hasn't been any competitive football played locally since early last December when the season ended just before the midway point. This season was about to start earlier this month with the Charity Cup and Dudley Eve, but those matches were late cancellations.
"We had players getting tests in the parking lot of the BFA office that morning and then the matches were cancelled," Dill recalled.
"The Friday night match would have been the Charity Cup, then next thing the second games were cancelled. Very, very disturbing!
"We have to get back to some sense of normalcy because sport is important for the emotional benefit and wellbeing of everybody. It builds camaraderie, friendship and character, and we can't do without it."
Dill's team, North Village, remain the defending champions after wrapping up a ninth Premier Division league title in the 2019-20 season when the campaign was stopped because of Covid with one round of league matches to go. Village had clinched the title a couple of weeks earlier.
Village were denied the double and the chance to go for a tenth FA Cup triumph when the season-ending FA Cup Final with Robin Hood was also cancelled.
"We're still the defending champions, and were in the FA Cup Final that was never played," he said. "But our last claim to fame was that we were league champions and FA Cup finalists.
"That's a matter for the [record] books now."
Village were involved in the last game played on December 6 last year when PHC beat them 3-1 in a Saturday match at PHC Field. Later that night the BFA announced that all Sunday matches were called off.