Clubs eager to resume training despite continued uncertainty
Created: Oct 04, 2021 07:57 AM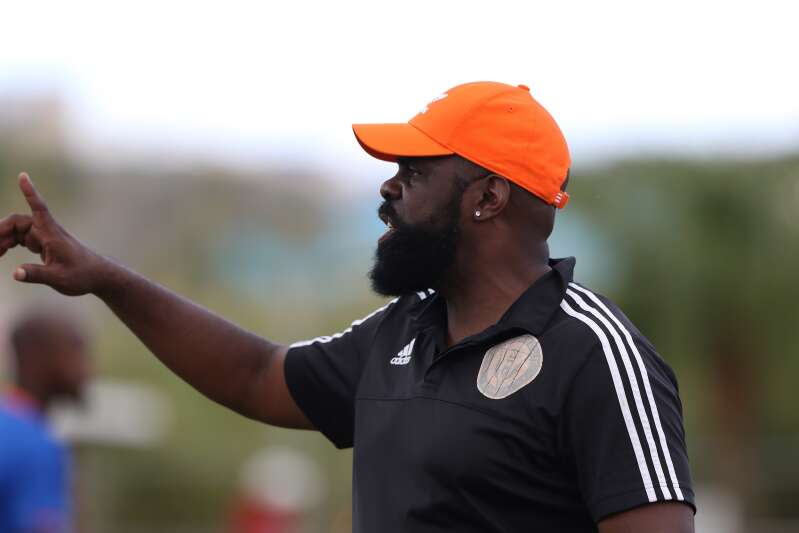 Questions remain not over only when league football will start but when clubs can return to training ahead of the season-opening matches.
Those questions were put to Mark Wade, the Bermuda Football Association president, during Thursday's annual congress meeting when the member clubs were updated on the progress of the delayed start to the season because of the recent spike in Covid cases.
Wade explained that the maximum number for groups at training will be 20 when clubs are allowed to resume training, possibly as early as this week. When asked for a show of hands, 11 clubs indicated they would intend to return to training this week if permitted.
"I'm asking for a point of clarity as there seems to be two sets of information coming to the clubs in regards to numbers for training," Richard Todd, president of the Bermuda Football Coaches Association, said to the president.
"I've heard reference of the 20 that you mentioned but in publications where comments are attributed to the minister, [Ernest Peets, sports minister] it was noted at ten. In calling the department of youth and sport, you are getting different answers.
"Secondly, is there any guidance forthcoming from the association as to when it will be deemed safe for the clubs to resume training.
"Most clubs that I know of have suspended training, and I'm sure there are a number, like the one I'm involved in that are getting requests from parents about resuming training, but are just uncertain whether it is wise and safe at this moment."
Wade responded: "The number is 20, confirmed again today by the minister and the PS [Permanent Secretary].
"To the second question, what I would say to the clubs is you should follow the government health guidelines.
"The minister did request that clubs pause for two weeks, I believe that two weeks ends this weekend [yesterday].
"From the executive perspective it is certainly safe to train but to follow the government guidelines which is 20 persons, physically distanced and also doing the protocols that were sent out including health checks, temperature checks and sanitising balls and all equipment."
Answering a question from St David's Cricket Club regarding the timing of field inspections, the president added: "We took a pause on field inspections for the reasons you did mention, and once we do have a better idea of a season start, we'll come back out and schedule field inspections for those that have not been done."
Ray Jones, president and coach of Devonshire Colts, also put a question forward on behalf of the players.
"As we look to resume training, players will have questions as players' confidence in the season actually happening is waning drastically," he said.
"Is there an appetite for us to move through the phases far quicker than we did previously so we're not looking at a December start?
"Looking at the key stakeholder, who is the player, if we start resuming training that is the first question they are going to ask."
Wade expressed sympathy for the players who are left with few answers.
"I can certainly appreciate the feeling of the players," he said.
"I can say yes, we are in a different space in that we have 65, 66 per cent of the populace who are fully immunised and the feeling that we got from the minister is that there is a commitment that football will commence in a matter of weeks, not months. That's the best politically correct answer I can give you."
Wade added "The appetite is there for football to be played, we just have to work out what is the best approach.
"Antigen rapid testing is definitely on the table and it is a subject that makes sense for you to have with your players now, that they should be prepared for testing more regularly."
The new season won't have a Charity Cup or Dudley Eve competition this season after the BFA confirmed earlier this month that those two competitions had been cancelled because of the delayed start to the campaign.