Colts show true grit to stun Village
Created: Nov 12, 2021 07:55 AM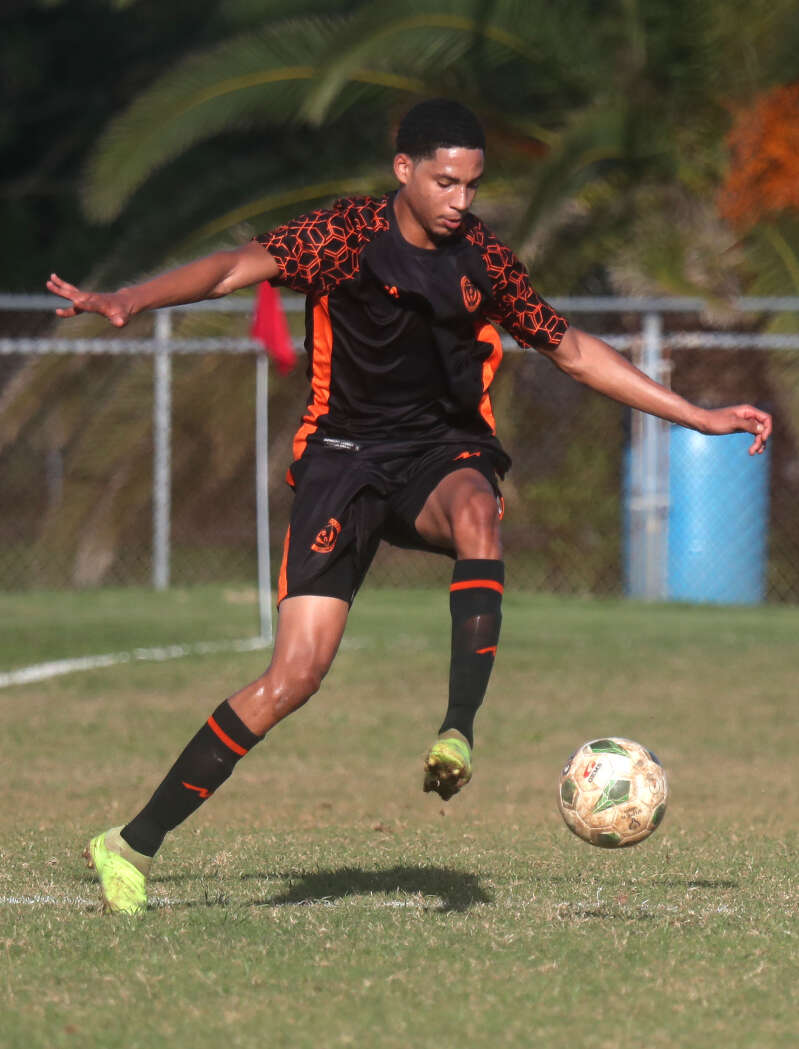 North Village 1 Devonshire Colts 2
Devonshire Colts showed they belong with the big teams with an impressive upset win over North Village Rams at Bernard Park yesterday.
Village dominated the early exchanges, knocking the ball around nicely and moving the visitors around. They won quite a few physical duels early as well. However, less than ten minutes in, Alaye Darrell was shown a yellow card for a reckless challenge on Brandon O'Connor.
The home side opened the scoring afterr 14 minutes, when Terryn Fray slipped Justin Bell into a dangerous position. The striker danced past two defenders before firing low past Jahneiko Francis at his near post.
Colts equalised five minutes later. They worked the ball forward into a dangerous area to win a throw. From the set-piece, O'Connor brought the ball down nicely before being bundled over by Darrell inside the box. Zuhri Burgess slotted home the resulting penalty.
The visitors took control of the opening period soon after, getting full backs Zuhri Burgess and Calon Minors into promising positions, and overloading the midfield areas. They took a deserved lead on 28 minutes when a poor backward header by Village defender Marcus Brangman was intercepted by striker Shaki Swan, who rounded goalkeeper Omari DeShields and slotted into the empty net from a tight angle.
Colts nearly doubled their advantage just before the break. A brilliant interchange between the attacking midfield trio of Rahzir Smith-Jones, Brandon O'Connor and Jaquari Paynter ended with O'Connor firing the final effort straight at DeShields.
The second half began with Village on the front foot, when Demetre Daniels attempted to slip a ball through to Justin Bell, but the Colts defence averted the danger. The majority of the second half was a very physical midfield battle, but the home side had the better of the half-chances. Neither side was really able to penetrate the other's defence.
The visitors had their best chance to close out the win with three minutes remaining in normal time. Another quick move between the attacking duo of Smith-Jones and Aljame Zuill linked up before the latter fired over from just outside the box.
Village had the final chance of the day when a lovely sweeping move from left to right ended with Daniels sliding in Smith, who dragged his effort just wide of the near post.
Colts head coach Ray Jones was pleased with his side's fighting spirit. "We showed plenty of determination," the former national coach said. "We stuck together and made sure we didn't concede second half."
SCORERS
North Village: Bell 14
Devonshire Colts: Burgess 19 pen, Swan 28
TEAMS
North Village (4-2-3-1): O DeShields 6 — A Darrell 5, T Fray 7, J Harvey 6, M Brangman 5 — T Williams 6 (sub: S Somner, 65min 6), V Perinchief 7 (sub: K Carrington, 80) — J Smith-DeShields 7, D Daniels 6, O Botelho 7 (sub: P Smith, 65 6) — J Bell 7. Substitutes not used: Q Lema, D Johnson, W Shakir. Booked: Darrell, Botelho, Smith-DeShields.
Devonshire Colts (4-2-3-1): J Francis 7 — Z Burgess 7, M Williams 7, C Minors 7, D Davis 7 — J Salaam 6 (sub: A Zuill, 87), F Lema 7 (sub: G Todd, 65 7) — B O'Connor 7 (sub: C Henry, 59 6), R Smith-Jones 6, J Paynter 6 (sub: D Ball, 72) — S Swan 7 (sub: K Bailey, 87). Substitutes not used: J Saunders, A Famous. Booked: Henry, Smith-Jones, Salaam, Williams.
Referee: A Francis.