Bermuda youngsters enjoying Brooke House experience
Created: Dec 04, 2021 07:15 AM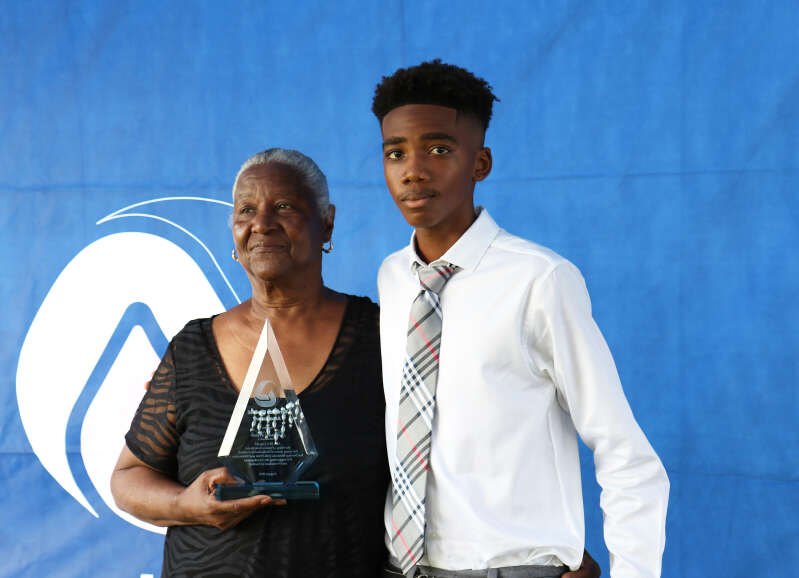 Bermuda's four young footballers at Brooke House College are settling in nicely in their first year at the school and have welcomed the experience, which entails a peek into life as a professional player, being exposed to top level European football and meeting established players.
Under-16 players Keiaron Bean, Bakari Furbert and Jutorre Burgess are joined at the school by under-15 Dandy Town player Gian Christopher. Bean and Furbert played for Robin Hood and Burgess for FC Bascome.
Corey Hill, who works as an agent at the institution, helping to recruit talent, is the father of a fifth student, Deniche Hill, who is in his third year at the school.
Hill said it has been a learning curve for the youngsters who have settled in nicely and are enjoying the boarding school experience.
"The boys have settled in well, the amount of time it takes to adjust depends on the child and the support they receive," said Hill, himself a former top footballer and cricketer. "As such their transition has been pretty much routine.
"The English weather that we all fear has just begun to show, the boys are starting to bring out their gloves, under armour and skully hats, as expected. But I'm confident they will all adjust come January, not withstanding there hasn't been any real complaints about the weather just yet," said Hill.
According to him, the boys are also playing regularly for the school, while gaining invaluable experience in a new footballing environment.
Hill also took the group to see Leicester City's Europa League matches against Napoli in September, which ended in a 2-2 draw, as well as against Legia Warsaw last week, which the Foxes won 3-1. They were also able to meet several players such as Wilfred Ndidi, Leicester's Nigerian midfield player, and Ricardo Pereira.
"All the boys are training and playing regularly, some are even playing twice a week with the under-16s and under-15s against professional clubs as well as school cup games," Hill shared.
"I can't even count the amount of games being played weekly but I do know they are all enjoying it and relishing in the experience afforded to them by being at Brooke House.
"Can you imagine being in class waiting to be dismissed to report to the bus leaving for Coventry, Wolverhampton, Derby, Leicester, etc? It's a really good feeling for these boys, coming from Bermuda."
Hill added: "They are all beginning to understand what it looks like if they want a future in the sport at any level. They are all surrounded by an abundance of talent, both players and coaches, and like I've said before there are plenty of schools to choose from in the UK.
"But if you want to develop as a player while you attend school then you must choose correctly and attend the institution that gives you the best chance of reaching your goals."
Furbert, who was a recipient of the BFA's Legends Scholarship award in Glenn "Gappa" Wade's name, said he is enjoying his first year at Brooke House College.
"It has been a good experience so far at Brooke House College, personally and as a group," said the 15-year-old.
"I am a member of the under-16 team and my Bermuda team-mates are Keiaron Bean and Jutorre Burgess. I have adjusted to the intensity and quality very well, however it hasn't been easy.
"It is very difficult coming from Bermuda; you don't have your parents behind you, you're responsible for yourself. You must find a drive to keep you going and that drive for me is being a professional football player and repaying my parents, family and giving back to my community."
Furbert said watching a live match in England was an unforgettable experience for the Bermuda youngsters.
"It has been inspiring, honestly, to watch and meet players who have already achieved my goal of being a professional player," Furbert said.
"The atmosphere has been sensational, the stadium erupts when a player scores or something exciting happens. I just picture myself on the pitch representing my family, country and everyone who has helped me along my journey."
The youngster noted that the experience has inspired him to dig deeper to achieve his goals.
"It only makes me want to work harder. I am truly thankful for the opportunity and to the person who made this happen, coach Corey Hill," said Furbert.
"He is our biggest supporter and advocate on and off the field. He fills in that parent gap and has helped us to settle into this new environment successfully.
"He is realistic with us and he does those little extras to allow us added exposure. I'm looking forward to the rest of the school year."
Hill is open to recruiting more young talent from Bermuda, saying: "The more boys I can get over here the better for Bermuda football."