Bermuda Triangle Cup set to return in 2022
Updated: Dec 21, 2021 07:56 AM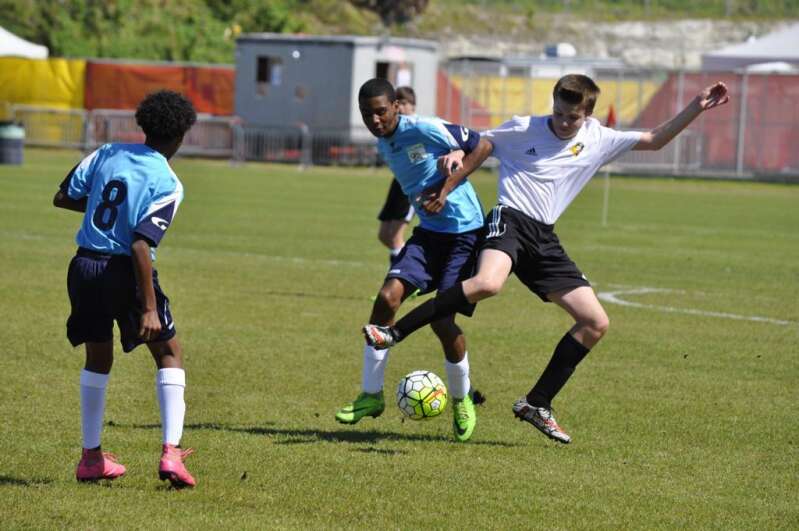 The Bermuda Triangle Cup is set to make a comeback next summer.
If all goes according to plan, organisers hope to see as many 30 local and overseas teams compete in the youth football tournament at the National Stadium from August 3 to 7, 2022.
The tournament is open to male and female players who will compete in at least three matches in the under-13, under-15 and under-17 age groups.
It will feature mainly teams from the Elite Clubs National League in the United States, which is a tier below the MLS youth teams, with the Washington Futures having already committed.
The Bermuda Football Association has also committed their national youth teams.
"We are looking to have a fantastic event," Brian Martin, the Bermuda Sports International president, under whose auspices the event falls under, told The Royal Gazette. "It's a fantastic opportunity for our young people."
Martin says the exposure to international competition will further aid in the development of Bermuda's youth players.
"Typically we just have the opportunity to play other Bermudians so our level of play has to be risen," he added. "And the only way we can do that with our youth is to get these younger international teams to come and play against them so this is the opportunity we are providing."
There will be added incentive for the participants as boarding school and college scouts will attend seeking to recruit potential prospects.
"It's a great opportunity and that's what it's about," Martin added.
"We have a lot of talent on the island and we want teams to participate. We have the registration set up for our Bermudian teams also.
"We are looking to do 20-30 teams, 200 plus people and parents. We are going to be staying at the Grotto Bay Hotel and it's a great opportunity for competition.
The event is being sponsored by the Ministry of Youth, Culture and Sport, the Bermuda Football Association and the Bermuda Tourism Authority.
The registration deadline is March 31, 2022.
The inaugural Bermuda Triangle Cup was held in 2016 at the National Stadium where local teams won all of the divisions.
The event was founded based on friendship, youth football and international partnerships via sports.
It evolved from a partnership between the Bermuda Brazilian Football School, The Argus Group and Partner Re Bermuda, who staged the BBFS International Girls Football Festival in 2013.
The last time the Bermuda Triangle Cup was held was in 2018 and featured an elite men's competition involving Canadian side Oakville Blue Devils, Bermuda's senior national team and a Premier League select.
For further details visit bermudasoccer.com/trianglecup/.