Shervin Dill reflects on varying impact of BFA media rights initiative
Created: Feb 05, 2022 07:57 AM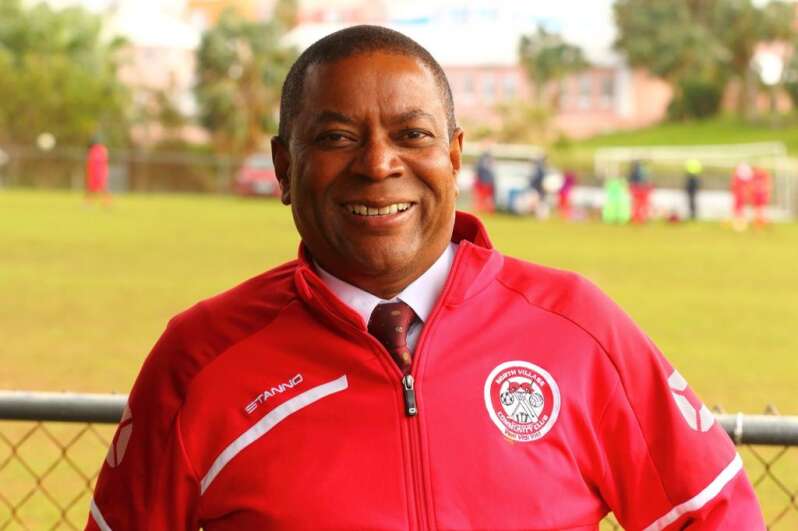 Shervin Dill, chairman of the Club Presidents Forum, thinks the media rights initiative being implemented by the Bermuda Football Association is a positive thing for the development of football, but warned of concern regarding the impact on attendances.
An article in The Royal Gazette last week revealed the BFA's plan to grant rights for the broadcasting of matches subject to the payment of the appropriate fees.
Broadcasting of matches started this season as Covid-19 restrictions further impacted attendances at games. Now the concern among the clubs is that attendances, which have already fallen drastically, is being affected even more with the live broadcasting of matches.
"When I was first introduced to it, about a year ago, after digesting it we, the majority, were in favour of it," said Dill, speaking also as president of North Village.
"The match we played against Devonshire Colts was streamed from our field and we were delighted to have it done. It proved a hit right from the beginning with spectators, who were not in attendance.
"It's good for the game of course, but it has, in my opinion, impact on the attendance as well.
"If people are able to stay at home and see the match of the day streamed then, with Covid and all the other testing and policies to do with attending the matches, it just adds another reason for them not to come out."
Dill added: "On the one hand, it is very good, the way forward for sure, but we have to find a way to encourage the fans to come out and see the game live at the facilities.
"On one hand it is going to boost the game, but then also give the fans another reason not to come out to the games.
They can watch the Premier or EPL in the morning and then watch their favourite team play in the afternoon if that is the one that's going to be streaming
"No doubt it is first class, too, you get replays, but for me there is nothing like seeing the games live.
"It's no real complaints, just another transition period that we're going through right now. It is in its first season, so we're going to wait and see how it transitions for us."
The BFA's media rights plan outlines a tiered system that grants specific entitlements and access for broadcast, still photography and technical purposes, with member clubs reserving the option of not signing the media agreement.
Dill added: "The reaction I got from talking to some of the other presidents is the impact it is gong to have on attendances. My personal view, and theirs as well, is we've seen a decline [in attendance] at games that are streamed live.
"We're hoping it is going to be able to blend, as there are a lot of elderly people who don't come out to matches and haven't been coming for years.
"But for the diehards, we're hoping it is going to encourage them to still come out and still view the game a little bit later, as you can still get it after the game is over as well."
Covid restrictions limit the number of people at gatherings like sporting events. At some matches there are almost as many players and officials as there are spectators, a far cry from years ago, when thousands of spectators would pack into grounds.
"That, as well as the Covid testing policies and the threat of antisocial behaviour, has had a detrimental impact on the attendance," Dill said. "I haven't seen quite a few of our diehard fans out to any of our matches. It's disappointing, but there are a number of reasons why.
"It's just another reason why we have to soldier on and find ways to keep the games exciting and encourage the fans to come out. It has decreased since the new policy of PCR and antigen testing at the gates.
"We've seen perhaps a 50 per cent reduction in attendance, so for us, on a good day we'll be happy to get 50 people.
"The Friendship match we played against PHC at BAA — between two of the teams who have won it the most — we had more players on the field than spectators in attendance!"
After last season was stopped in December, the clubs, players and fans are keeping their fingers crossed that this campaign goes through to its April completion.
"It looks like we're going to get through it despite Covid," Dill said. "That's something we always talked about, that despite Covid the game must go on.
"The players are up to it, and despite the threat of Covid, they are not lacking in enthusiasm, they are always ready to play. That gives me motivation to know we're in it to see this season through despite Covid."