St George's relieved to get through painful season
Updated: Apr 02, 2022 08:11 AM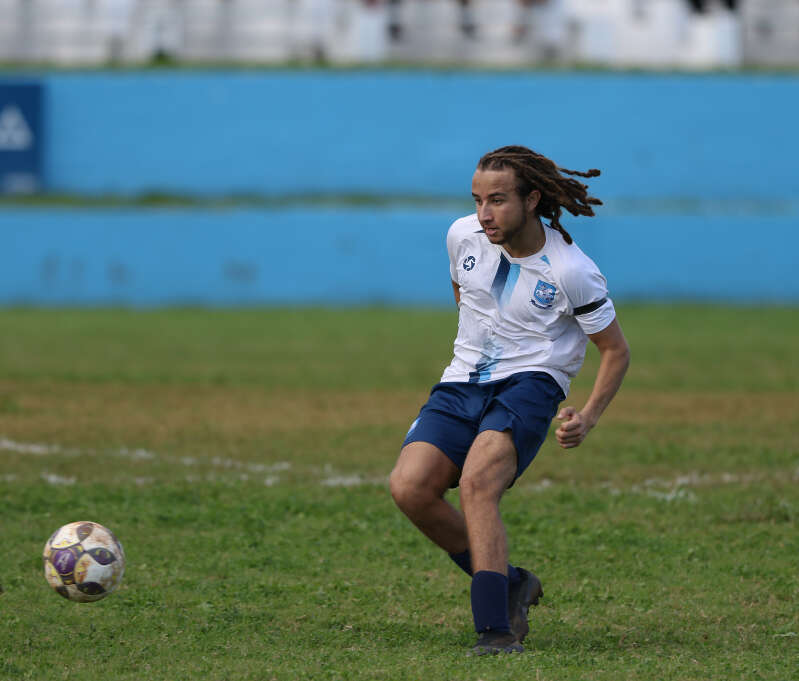 St George's will become the first Premier Division team to complete their season this weekend when they meet relegated Somerset Eagles at White Hill Field tomorrow in their final attempt to qualify for next season's Dudley Eve competition.
A couple of months ago a top-six finish looked certain for the east enders, especially after their victory over North Village on January 30. But now they are battling for the final Dudley Eve spot with Robin Hood who are two points ahead of them with two matches remaining against relegation-threatened X-Roads and Devonshire Colts.
It has been a season of mixed fortunes for St George's which were greatly impacted by the murder of midfielder Osagi Bascome in December, as well as several injuries. However, the team is looking to the end of the season with some relief.
Fortunately, for St George's a good first half meant they had points in the bag, with no real threat of relegation even with their slump in recent weeks.
"We definitely want to get three points on Sunday (tomorrow)," coach Jarreau Hayward assured. "Honestly it has been a very bittersweet season with everything we've been through.
"Our minimum goal was to not get relegated and once that was accomplished we got hit by injuries and had to deal with the death of Osagi who was central to the team and central to the community. Once we were confirmed safe and out of both cups I think all the players were just drained emotionally and physically.
"At one point we had over 20 injuries at once and players were not taking it seriously because more important things were happening in life."
For the last few weeks the team has missed two key players, Tyrell Burgess who broke a bone in his foot against Devonshire Colts, while Jarazinho Bassett suffered a hamstring injury which also ended his season.
"At the beginning of the season we definitely wanted to finish as high as possible and be in the Dudley Eve," Hayward admitted. "f we don't make it we'll just look at it as a blessing.
"I don't want to say I am overly disappointed but it's definitely bittersweet with how it was in the first half when we were really, really happy."
Several younger players are playing their first full season in the Premier Division, while others have brought valuable experience to the team, like Freddy Hall, the captain and goalkeeper, Lashon Dill, Ernest and David Signor, Jahron Dickinson, Macai Simmons and Burgess and Bassett.
One positive was the form of defender Nzari Paynter, the first cousin of Bascome and the son of former Bermuda player Neil Paynter, who has been invited to train with the national team.
"After Osagi passed we had three victories in a row but for us so much energy went into those games, people dealing with grief and mental stress," said the coach.
"People grieve differently and all those things affect how you play football. We're actually liaising with a counselling group to get the guys somebody to talk to.
"Once we realised we weren't getting relegated and that we can start again next season, it was understandable that guys took breaks and weren't as focused as other players were."
Hayward praised the leadership of goalkeeper Hall, still rated by many as the best goalkeeper on the island.
"Freddy has had a very long season, especially in the second half. He has been more of a custodian than he probably wanted to be," the coach said.
"I have to give credit to Freddy, the coaching staff and to a lot of players. Everybody contributed, but definitely Freddy in player-leadership, for sure."
Hayward, who turned to coaching after suffering a serious leg injury three years ago, is due to have surgery to remove a rod in his leg and hasn't ruled out returning to playing next season, possibly in a player-coach role.
"My spirit to play the game is still there so we'll see what the future holds," said the 39 year old who is also hoping to hold on to his coaching job next season.
"I've had the last three years off from football, I'm in the gym constantly and my leg feels strong, so I just want to get the surgery done.
"I've grown as a coach with every game and I'm a better coach that I was at the beginning of the season, though the results haven't reflected that.
I believe in myself, I'm a student of the game and I'll never quit St George's. St George's is my priority and if I'm not invited back then I'll look to continue somewhere else.
"No matter what happens I'm going to coach or play next season."