Marco Warren claims top award for second time in four seasons
Created: May 09, 2022 07:59 AM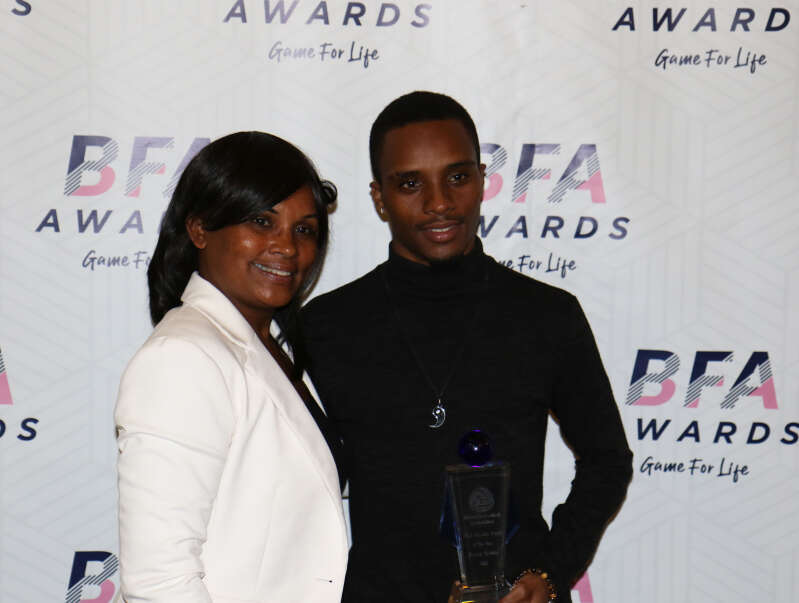 Marco Warren, the PHC captain, and Macquille Walker, Hamilton Parish's leading goal scorer, were voted the Premier Division and First Division most valuable players at Saturday's BFA awards at the Earl Cameron Theatre at City Hall.
Warren, who also won the MVP award in 2018, had something to smile about after finishing as one of the leading goal scorers in a season in which PHC finished second to Dandy Town in both the league and the FA Cup final.
The 28-year-old beat out a shortlist that included Domico Coddington of Devonshire Cougars and Dandy Town's Azende Furbert for the best player of the season award.
"It's extremely bitter sweet since we didn't win anything as a team," admitted Warren, whose cousin and team-mate, Enrique Russell, claimed the prize as top goalscorer after leading the charts with 21 goals.
"We hope to come back stronger next year to make sure we iron over those cracks. I'm happy to still represent my club, my team and my family and friends, especially my grandfather Randy Bean who is my main motivator every single day."
Warren, whose father is former North Village and Boulevard player Dwight Warren added: "To see my daddy at the games means a whole lot to me, and as a team we're going to come back stronger next year and I really can't wait.
"Coming second means there is still something to improve on, but congratulations to Dandy Town and congratulations to Devonshire Cougars who won three of the trophies.
"Winning is great but it is much better when you struggle. Next season we're really looking forward to playing those teams that have our number, and hopefully we'll have a good preseason to make sure we're ready."
Town won the league and FA Cup while Cougars denied them the Triple Crown after defeating them in the Friendship Trophy final.
Town also enjoyed a good night at the awards, with Aaron Denkins winning coach of the year, Jaiden Manders the goalkeeper of the year, Terrence Webb the defensive player of the year and midfielder Nizigh Spence the young player of the year.
"I'd like to start off by thanking the BFA for this award, my team-mates and the coaching staff and the Dandy Town fans who pushed us through the season," Spence said.
Denkins marked his first season at the helm of Town by winning the top coach's award, though he was humble in his acceptance speech, insisting his players deserve all the credit for their outstanding season.
"I reluctantly accept this award because it's about the players," Denkins said.
"It's their sport and all the coach does is help them with their dreams and their goals. So without the players I wouldn't be here. The most overwhelming thing for me is the community, I didn't know how much football meant to Dandy Town until this season.
"I got phone calls from the United Kingdom, the United States, got messages and there was a lot of support I got from the Western Stars community. Again, thank you everyone."
Manders gave thanks to two goalkeepers of different eras who influenced on his career, his father Anthony "Porky" Manders who passed away in January 2021, and Freddy Hall, the St George's goalkeeper who recently died in a car accident.
"I want to dedicate this award to my father, being a goalkeeper and him watching me, I got a lot of pointers from him," Manders said. "I'm really lost for words but very thankful.
"I also would like to thank Freddy Hall of St George's Cricket Club. I feel without him I wouldn't be up here, with the time and effort he gave to come from St George's every Wednesday to train all the 'keepers for Dandy Town.
"It is greatly appreciated and I want to thank him and St George's Cricket Club, too.
"Lastly, I want to thank our president, Devarr Boyles, he's the most involved president of Western Stars that I've had the privilege to play under and I want to say thank you to him, and thank you to everyone."
Hall was one of the goalkeepers that Manders beat out to win the award, the St George's custodian being in the shortlist for the award after an outstanding season with the east end club. Detre Bell of North Village was the other player on the shortlist.
First Division sides, Hamilton Parish and Boulevard also won awards, with Sergio Goater named the coach of the year after leading Parish to promotion as league champions, while Quinn Outerbridge of Parish was the defensive player of the year.
Ian Coke was the division's leading scorer with 20 goals as Boulevard also won promotion.
Ian Coke was the division's leading scorer with 20 goals as Boulevard also won promotion.
Tre Burgess of BAA was the First Division's young player of the year.
"I would like to thank coach [Andrew] Bascome and coach Mark [Smith] and my BAA team-mates, for without them I would not be receiving this award,"' Burgess said.
Three awards were presented to referees, with Nataha Trott, who made the Fifa list an assistant referee during the past season along with Stefan Maybury and Clinton Hayward, named the referee of the year.
Sar Smith was the youth referee of the year and Amaury Majors the young referee of the year.