An example of lessons having been learnt
Created: Jun 06, 2022 07:58 AM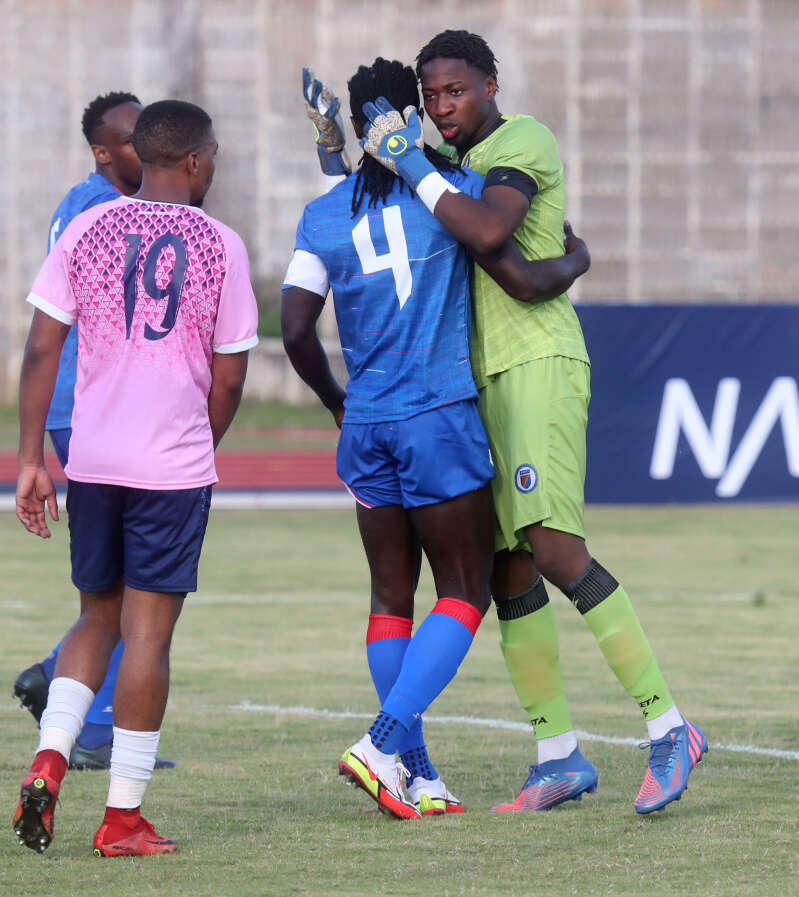 While Bermuda's play may not have quite matched the brilliance of a sunny day in June, nor produce a bevy of highlights or goals for the delight of the more than 1,800 spectators on hand at the Flora Duffy Stadium, the 0-0 draw recorded against a fancied Haitian outfit in Concacaf Nations League group B was nonetheless satisfying to coach Kyle Lightbourne.
After an opening half-hour that saw the home side threatened to be wiped off the pitch, Lightbourne's men, with Nahki Wells as their spearhead, showed themselves to be of firm fibre and resilience in withstanding immense early pressure and threatening to steal the match at the death.
"We certainly weren't the better side in the first half," Wells said. "The gaffer made some adjustments, made some changes and we were able to create more, grow into the game and, in the end, both teams got what they deserved."
Haiti commenced with an attack-minded formation, seemingly bent on an all-out assault and having little regard for Bermuda's offensive threat, as the Gombey Warriors packed the defence and midfield, wary of past attempts at being overtly aggressive against a side who had beaten them six of the previous seven times they had met, including a 4-1 thumping last year.
"From our standpoint we have to look at the team that we're playing against," explained Lightbourne. "I mean Haiti has beaten us the last couple of times, so we have to respect that. We couldn't be open and allow them to dominate the game and have them have full control of the match.
"We've learnt from that in the past. Ideally we want to win the game. We play to win and there's different ways of doing it.
"We've had some big teams come to Bermuda and, for us being brave and opening up, they've hit us and hurt us. We nullified that today.
"I said to the boys in midweek that, with us playing a bigger nation, it takes away a bit of our threat, and that's what happened.
"We have to sacrifice something, but we still had the opportunities to score. We didn't take them. The goalkeeper saved two. They cleared one off the line from Reggie [Lambe] and that's the way it is."
In full agreement with his coach was Wells, although such tactics often leave Bermuda's chief attacking weapon toiling up front with minimal support.
Wells noted that there would be times when Bermuda could look to be more attack-minded, but Haiti was not the team to tackle in reckless fashion.
"When we play a side that probably isn't as good as us on the ball, we can be more attacking," said Wells, coming off a disappointing season with Bristol City in the Sky Bet Championship in England. "We're playing a good side in our group. Haiti has proved themselves to be a more established country in our region in recent years and we have to respect that.
"At times we showed that we were the better team, particularly on the counter-attack. But teams prove themselves demanding of certain respect and Haiti has done that, so we respond accordingly.
"Today we demonstrated that we can compete and even dominate at times, and could have gotten an even better result.
"When we play against lesser countries who aren't as good, that's when you see a different side of us in terms of dictating the game. That's just the way football is at times. You can go from one week having ten chances to not even having a shot on target. I didn't have many chances today. I was involved in all of our attacks. I had one big chance, where the keeper got the better of the exchange and the same went for the other chances we got. You have to do your best to take the chances that come and we were unable to do that today, but we defended well."
Wells, who just missed scoring what would surely have been the winning goal minutes from time, said that neither team played to their maximum capability on the day, yet for Bermuda a draw was the better result, considering Haiti's status in group B.
"They are a good team," Wells said. "If you look at their team, you have to respect them. I don't think they were anywhere near their best today, but at the same time neither were we after being away from international football for an entire year and missing a few players. But we represented ourselves well today and we showed that we can compete with teams if they're a little off of their 'A' game. It could have gone either way."
Asked of having to make the adjustment from spending most of the recently completed season as a bit-part player at Bristol City to then being placed front and centre for Bermuda, Wells welcomed the responsibility.
"It's not too much of an adjustment," he said. "It's just having a bigger role to play. I didn't have much of a major role this season at Bristol, so it was stepping back into a position of responsibility, trying to be a leader and having the experience of being a key starter in recent years.
"It's just about playing. This is what I do. We are all on the same, level playing field and it's about doing the best that I can, which is what you get from me nine times out of ten."
Bermuda have entered the competition as one of the lower-ranked countries in League B, but Lightbourne and Wells have high hopes for Bermuda, with both seeing a path to the prestigious Gold Cup.
Based on a successful run, Bermuda were promoted to League A and made it to the Gold Cup in 2019, but were since relegated to League B, which has produced questions as to the quality of the existing squad, which Lightbourne and Wells would have none of.
"We played against two teams that went to the World Cup who were in League A [Mexico and Panama], and we lost on goal difference with 30 seconds left in the match, so let's put that in some sort of perspective," said Lightbourne, himself a former Bermuda team player and one-time English professional.
"A little team from a small country is doing a lot of good things. Let's not be negative because we're positive people here. Let's not be negative about where we are, where we should be or how we should be. We're up against countries with millions, while we have just a few to pick from. and I think that the players that we have served us well.
"We took Mexico into injury time before they scored the goal that knocked us out. Yes, we got relegated, but everybody had us relegated before a ball was kicked."
Wells chimed in by saying: "The team will only move forward because the core of the team are all playing at a level where they're all going to get better and improve their level. The majority of the team are under 25, with a few a little older than that. When I move on, whenever that day comes, we have Jonté Smith and a few other lads who are waiting their turn and it will just be a transition for the national team.
"I've still got so much left in the tank that I'm in no way looking at calling it a day on my international career; that's not at all in my sights at the moment. There are years and years left in my football career. Age is just a number and in five years you would be able to look back and see that I was right.
"We were promoted from League B and were able to qualify for the Gold Cup, so we're back at the same level where we started — maybe in a tougher group, having Haiti in our group now.
"Maybe League B was an easier group before they changed the format. If we can get back into League A, we will be punching above our weight. We're a small nation and it'll be a great gain to get into League A and that's our aim.
"If we do win group B, we would automatically qualify for the Gold Cup, and if we don't do that, the plan is to go to the qualifying group and do it that way. We have no plan of staying in this league. The plan is to get out of this league, and we believe we are capable of doing that and playing at that [higher] level."
On the opposite side, Haiti coach Jean-Jacques Pierre admitted his players sorely lacked finishing ability and paid the price by dropping two points.
"That's what we were saying as well," he said. "We started the game with a lot of passes and possession. We were knocking the ball about and creating chances, but we did not have the killer player to knock them in.
"We had the ability to create the situation, but we did not take advantage of them and we have to work on how to finish better.
The coach explained that not being able to have his squad together for a decent period of training and strategy played a significant part in what was demonstrated on the pitch.
"It's not easy not being able to be together and work together in practice. We need to do that in order to gel with each other and create a cohesive team strategy."