Dandy Town start season aiming for elusive back-to-back titles
Created: Oct 01, 2022 07:59 AM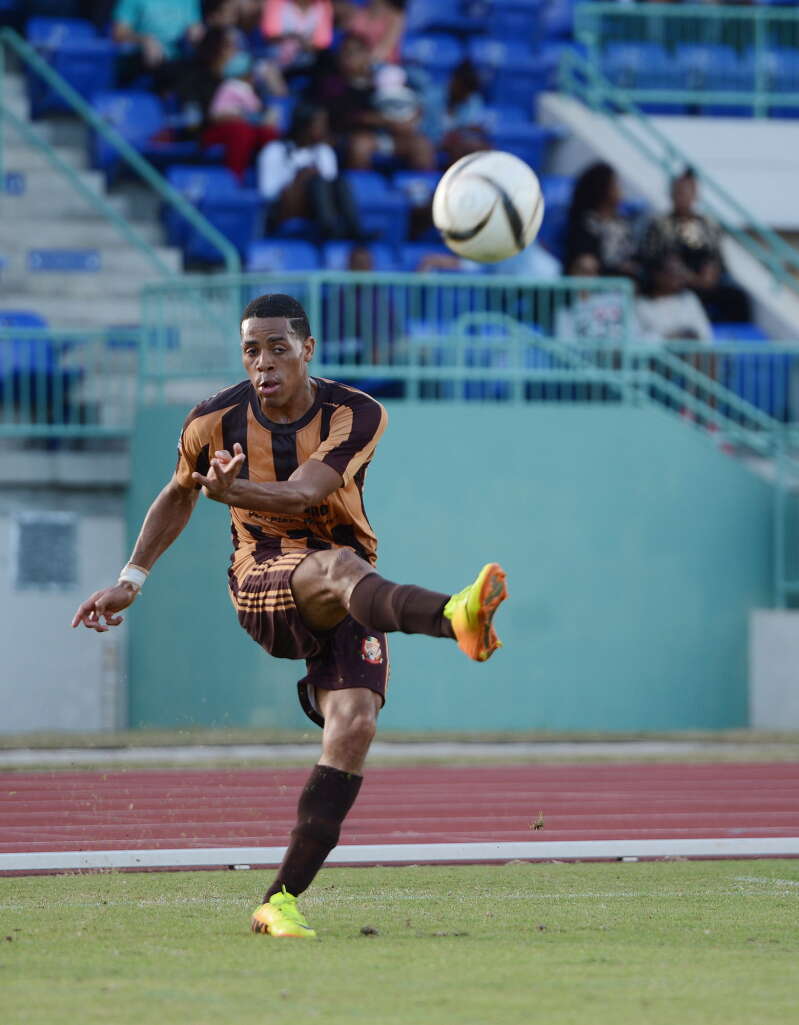 Angelo Simmons, the Dandy Town captain, says he and his fellow team-mates have an added incentive to defend their Premier Division title this season.
Town captured a ninth league title and their first in four years last term but they have never retained the championship, a feat the Pembroke club's present crop of players hope to achieve.
"We are trying to be Dandy Town's first team to win the league back- to-back," Simmons told The Royal Gazette. "Dandy Town has never done it so we definitely want to do that."
Town possess a good blend of youth and experience and Simmons is confident they can live up to their lofty ambitions.
"The team's expectation is to win every trophy that we are in this season," he said. "We have a solid roster with the new players that have come in mixing 
with the players we have from last season, so we can only get better and stronger.
"It's a very hungry group of talented and humble individuals who know the capabilities that everybody bring to the team and we want to be better every game and in training."
Simmons missed a large portion of last season through a calf injury but 
returned in the latter stages to lead Town to league and cup glory.
"It's a great honour to captain a legendary club like Dandy Town, and I am so proud to be able to still captain this team," he said. "Dandy Town has been one of the most successful clubs within the last decade. So to captain this group of players, and even before, to win three league titles as a captain is special and something I that will never forget after I stop playing."
Town has undergone a subtle change in their coaching staff as former assistant coach Jay Bean has take over from Aaron Denkins, who now overseas the club's entire football program as technical director.
"Everybody is excited we have a new coach," Simmons added. "We know what he brings; his philosophy, hard work and dedication.
"He was there last season so it's really nothing new about him. He keeps the players on their toes and hungry so we are thankful to have him.
"He is a former player at Dandy Town. He's a part of the family and hopefully he can go on and bring us success as our last coach did last season."
Town will launch their title defence against Robin Hood at Goose Gosling Field on Saturday night (9pm).
"We know teams are going to be gunning for us but the players and coaches are motivated to repeat," coach Bean said.
"We know we have a bullseye on our back so we just have to deal with the pressure, come together and do what we need to do to get over the hump.
"We are going to try to be as successful as possible. We know what the challenge is and it's now up to us to face that head on."
There is plenty of Premier Division action tomorrow with Devonshire Cougars hosting Somerset Trojans at Devonshire Recreation Club, Hamilton Parish taking on X-Roads at Lord's. All matches are set to begin at 3pm.
Meanwhile, the match between Boulevard and St George's Colts at Goose Gosling Field, scheduled for tomorrow, has been moved to Monday at 9pm, due to a shortage of officials.
First Division matches on Sunday features Somerset Eagles playing host Young Men's Social Club at White Hill Field, Devonshire Colts against Ireland Rangers at Devonshire Recreation Club and St David's facing Paget at Lord's. All matches start at 12:30pm.
•The Bermuda Football Association held the Dudley Eve Trophy quarter-final draw at the Clyde Best Centre of Excellence yesterday.
Holders Devonshire Cougars have been pitted against Boulevard, Dandy Town will take on Hamilton Parish, PHC will do battle with North Village while X-Roads will lock horns with Somerset Trojans.
Devonshire Recreation Club will host the first two quarter-final matches next Wednesday, with Town facing off with Hamilton Parish at 6:30pm and PHC taking on North Village for the second time in five days at 9pm.
The remaining quarter-final matches will be played at PHC Field on Wednesday, October 12, with Somerset taking on X-Roads at 6:30pm followed by Devonshire Cougars and Boulevard at 9pm.
Meanwhile, the BFA also announced further scheduling changes.
The First Division match between Devonshire Colts and St David's slated for Saturday, October 8, will now be played at Somerset Cricket Club (7pm) due to the unavailability of Police Field.
That match will precede the Premier Division encounter featuring hosts Somerset Trojans against St George's Colts (9pm).
The First Division match between Young Men's Social Club and Paget on Sunday, October 9, has been moved to Bernard Park with kick off at 12:30pm.
The Premier Division match between Robin Hood and North Village at Goose Gosling Field (9pm) has been brought forward from October 16 to the thirteenth due to the Dudley Eve Trophy quarter-finals.
Boulevard and Devonshire Cougars have also had their top flight contest at Goose Gosling Field (6pm) brought forward three days from October 16 to for the same reason.