Somersfield Academy wins under-13 Middle School six-a-side tournament
Updated: Nov 23, 2022 06:23 PM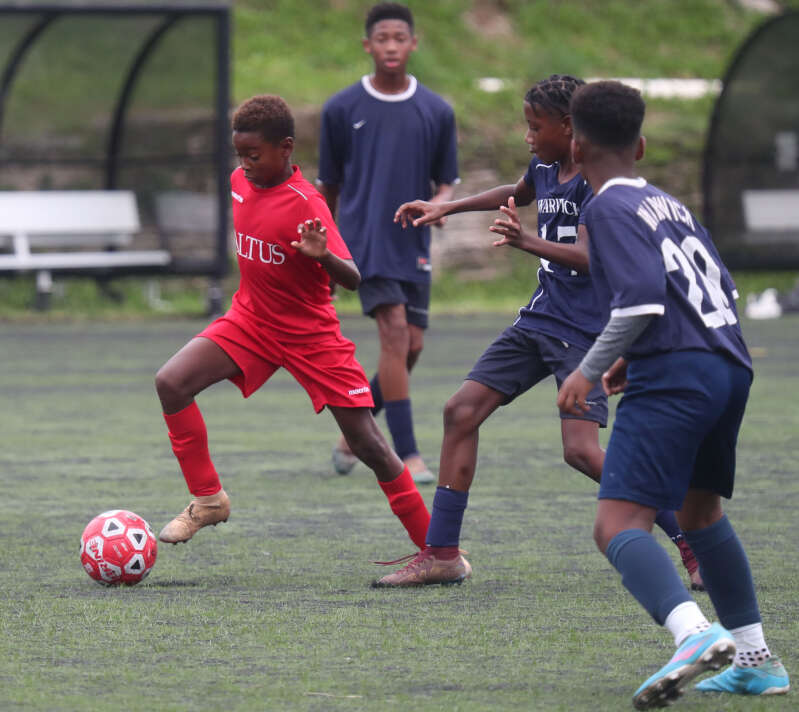 Somersfield Academy won the under-13 Middle school six-a-side tournament after a dramatic penalty shootout ended 5-4 in their favour over Warwick Academy following a scoreless match.
Somersfield had earlier defeated Pool A winners Saltus Grammar School 4-2 in a penalty shootout in the semi-final. Roman Wilkinson gave Somersfield the lead early in the second half before Kaiyuri Albouy levelled the score for Saltus to send the match into a penalty shootout.
Warwick Academy also reached the final via a penalty shootout after a 1-1 draw. Nyori Dill had given Pool B winners The Whitney Institute Middle School a first-half lead before Chavi Pacheco-Hill equalised for Warwick. The teams exchanged successful penalties before Warwick prevailed 10-9.
MIDDLE SCHOOL U-13 SIX-A-SIDE
POOL A
Dellwood Middle School 0 Warwick Academy 0
Saltus Grammar School 6 Clearwater Middle School 0
Dellwood Middle School 1 Saltus Grammar School 2
Clearwater Middle School 0 Bermuda Institute 4
Saltus Grammar School 0 Bermuda Institute 0
Warwick Academy 3 Clearwater Middle School 1
Dellwood Middle School 4 Bermuda Institute 0
Saltus Grammar School 1 Warwick Academy 1
Dellwood Middle School 3 Clearwater Middle School 0
Warwick Academy 3 Bermuda Institute 2
POOL B
Sandys Secondary Middle School 1 Whitney Institute Middle School 1
Somersfield Academy 3 Mount Saint Agnes Academy 0
Sandys Secondary Middle School 1 Somersfield Academy - 2
Whitney Institute Middle School 7 Mount Saint Agnes Academy 0
Sandys Secondary Middle School 3 Mount Saint Agnes Academy 0
Whitney Institute Middle School 3 Somersfield Academy 0