Trojans prevail over Parish in shoot-out to book semi-final spot
Created: Dec 12, 2022 07:39 AM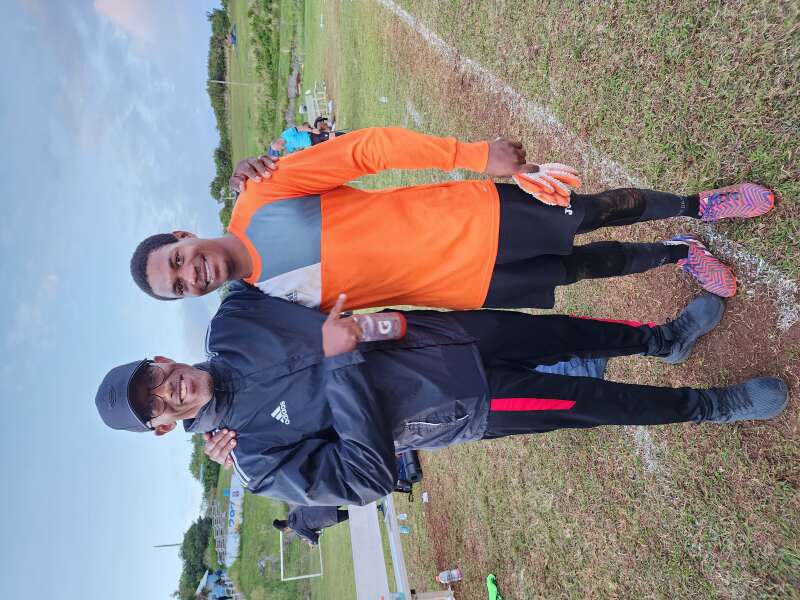 Hamilton Parish 0 Somerset Trojans 0 (after extra time) (Somerset won 4-2 on penalties)
Somerset Trojans held their nerve when it mattered most to secure their spot in the Friendship Trophy semi-finals at Lord's on Sunday.
The visitors prevailed on penalties in a scrappy affair with midfielder Jeze Butterfield converting the game winner after 120 minutes of football failed to separate the Premier Division rivals.
"I told my players a penalty is a pass, to be confident and pick your corner before you go up there," Scott Morton, the Somerset coach said.
"We know anything is expected in cup matches, so it's just important for players to keep their head, fight through it and work with what's in front of them.
"I am one hundred per cent happy to go through and playing over the holiday."
Somerset converted all but one of their penalties with goalkeeper Jade Morrissey saving Hamilton Parish forward Shayne Hollis's effort to hold his end of the bargain.
Morrissey also made a timely save late in the second period of extra time to keep eleven-times champions Somerset in the hunt for a second title of the season having clinched the Dudley Eve Trophy last month.
Parish took the match to their opponents from the opening whistle and pinned them in their own half for long spells but were unable to make the breakthrough.
After weathering the storm, the visitors began to play through their opponents with midfielder Simeon Burrows at their heart of many of their attacking forays.
Somerset striker DeAndre Wainwright had the first clear chance of the match but headed Burrows's corner wide of the post.
Burrows then had a powerful shot blocked and a confident appeal for a penalty fall upon deaf ears after going down under a challenge in the box as Somerset continued to ask questions.
Parish eventually caught their second wind and should have taken the lead when striker Macquille Walker showed the defence a clean pair of heels but only succeeded in finding the side netting after Morrissey rushed off his line to narrow the angle.
The home side also had a confident appeal for a penalty ignored after right back Jutorre Burgess was bundled over in the area.
Sergio Goater, the Parish coach, rolled the dice after making a triple of substitution at the start of the second period.
The gamble nearly paid early dividends as substitute Kneiko Richardson connected with Jordan Outerbridge's cross from the left side which was blocked by Somerset left- back and deputising captain Jaden Ratteray-Smith.
At the other Burrows blasted a rebound over the bar after Parish goalkeeper Nigel Burgess parried a shot into his path as the game opened up a bit more.
Somerset threatened again when Wainwright latched onto Burrows's through ball but hurried his shot wide with only Burgess to beat.
With extra-time looming, Walker shot wide while at the other end Burgess saved Burrows's shot from inside the area during a promising Somerset counter attack down the right flank.
Both teams continued to create chances in extra time but were again unable to capitalise on them.
Somerset captain Jaden Ratteray-Smith timed his tackle brilliantly to clear the ball off the feet of Jordan Outerbridge as he raced towards goals during the first period of extra time.
The tempo picked up in the second period with Parish central defender Mauriq Hill having a shot blocked before Morrissey made an excellent fingertip save to push Walker's effort around his near post.
Somerset should have wrapped things up when substitute Enrique Mendes raced clear. But with only Burgess to beat, the forward dragged his shot wide under pressure from Parish midfielder Quinn Outerbridge hot on his heels.
TEAMS
Hamilton Parish (4-1-4-1): N Burgess 7 – J Bean 6 (sub: K Knights, 78mins), K Wade 5 (sub: K Richardson, 46 6) 7, M Hill 7, J Burgess 5 (sub: M Turner, 20 6)- Q Outerbridge 6 – A Nelson 6, Z Burgess 5 (sub: S Albouy, 46 6), S Hollis 6, J Outerbridge 7 – M Walker 6. Substitutes not used: J Costa, C Lindo, S McKittrick. Booked: Q Outerbridge, K Richardson (substitute).
Somerset Trojans (4-4-2): J Morrissey 7 – Jaz Ratteray-Smith 6, M Nisbett-Tankard 7, Jadan-Ratteray-Smith 7 – M Joell 6 (sub: J Greaves, 78), J Gooden 6 (sub: D Swan, 93), J Butterfield 6, S Burrows 7- J Iris 6 (sub: J Shields, 112), D Wainwright 6 (sub: E Mendes, 93). Substitutes not used: M Henschke, Z Saltus-Seymour. Booked: Gooden, Wainwright.
Referee: M Dwyer.