Nine yellow cards and two reds as YMSC prevail in Shield semi-final
Updated: Dec 28, 2022 07:21 AM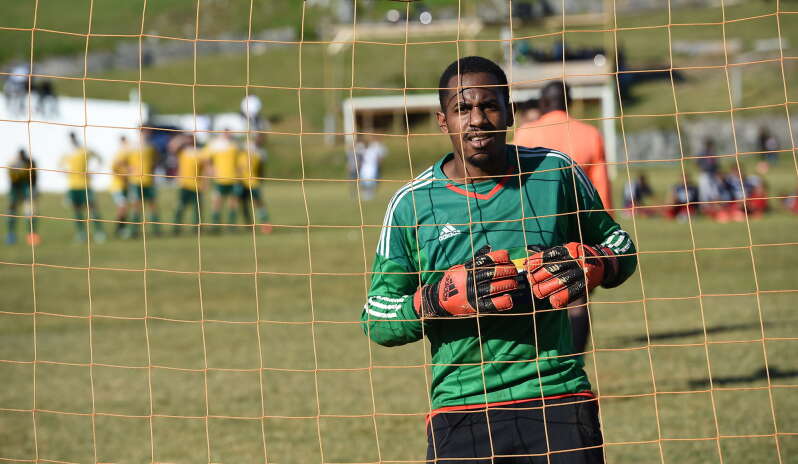 Young Men's Social Club 3 Ireland Rangers 1
Young Men's Social Club Bluebirds rose above many reckless tackles to win a bruising battle and reach the Shield Final.
Referee Tashon Douglas was kept busy throughout the match, issuing nine yellow cards and two reds to an indisciplined Ireland Rangers outfit against a focused Social Club.
The match started in a light drizzle with Social Club the first team to take control of the conditions with some short and weighted passes. They took a deserved lead when Nigel Williams made a penetrating run down the right flank before squaring to captain David Jones Jr, who laid the ball into the path of Giniko Butterfield for an easy tap-in at the back post.
Ireland Rangers responded within minutes when Social Club's Kelvon Butterfield was penalised for holding a player during a corner under the watchful eye of referee Douglas, who awarded a penalty.
Rangers' goalkeeper Shaquille Bean went from hero to villain within seconds as he scored the spot-kick to level but tussled with Bluebird's goalkeeper Kwensi Cann for the ball in an attempt to hurry the restart of the game.
Bean, having been booked earlier, was the aggressor and left referee Douglas with no choice but to issue him a second yellow card with more than two-thirds of the match to play and outfield player Daischon Chin donning the goalkeeper's jersey.
Despite the numerical advantage, the teams went into the break tied as Rangers tried to regroup from the early setback and they nearly scored the go-ahead goal when a long throw found Jahnai Ratteray whose shot was blocked by Cann. Captain Taji Wade was first to the rebound but placed his shot wide of the goal under pressure from the recovering goalkeeper.
The Bluebirds slowed the pace, started to enjoy a period of possession and they created openings, which paid dividends when defender Tre Govia mistimed a clearance from a right-wing cross to wrongfoot stand-in goalkeeper Chin and deflect into the back of the net for an own goal.
Jones Jr. then closed out the scoring as he was first to a cross to hit a low shot, which slipped through the inexperienced goalkeeper's arms to seal the deal.
Ireland Rangers then had a second player sent off when Govia was dismissed with eight minutes to play to deny them any chance of a comeback and send the Bluebirds into the final with a chance of only their second Shield victory -their only cup win coming in the 1968-69 season.
"I thought that it was a very scrappy game", stated Bluebirds' coach Michael Smith.
"We knew that they were going to come out fighting and we had to match their fight. These conditions made it slippery and sloppy but I told our guys we need to fight hard until the end. That is pretty much going to be our motto going into the finals and for the rest of the season.'
Scorers
YMSC: G Butterfield 18, T Govia 60 (o.g.), D Jones Jr. 83
Ireland Rangers: S Bean 28
TEAMS
Ireland Rangers (4-2-3-1): S Bean 4 --- S Gomes 6 (sub: R Burgess, 46min 5), J Hayward 6, T Outerbridge 6, C Jones 6 --- T Govia 5, R Seaman 6 (sub: J Ratteray, 36 5) --- C Wainwright-Basden 6 (sub: K Bean, 61 5), J Powell 6 (sub: J Simmons, 86), D Chin 6 --- T Wade 6 (sub: D Crockwell, 86). Substitutes not used: R Francis-Tucker. Booked: T Outertbridge, S Gomes, J Ratteray, T Wade. Sent off: S Bean (second yellow), T Govia (second yellow).
Young Men's Social Club (4-4-2): K Cann 6 --- K Singh 6 (sub: K Smith, 70 5), C Woolridge 6, Kelvon Butterfield 6, Z Hendrickson 6 --- B Swan 6 (sub: Keshun Butterfield, 87), N Williams 6 (sub: M Simmons, 70 5), J Johnston 6, N Edwards 6 --- G Butterfield 6 (sub: A Gardner, 73), D Jones 7. Substitutes not used: T Butterfield, Z Friesen, S Jennings. Booked: Kelvon Butterfield, D Jones Jr, J Johnston, A Gardner.
Referee: T Douglas