Bermudian stars Clyde Best, Sam Nusum and Randy Horton remember Pelé
Updated: Dec 30, 2022 02:51 PM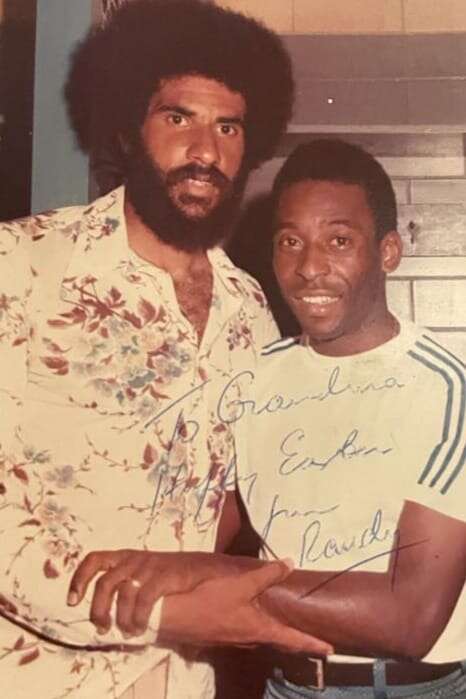 Bermudian icons Clyde Best, Sam Nusum and Randy Horton have paid tribute to football legend Pelé, who died yesterday at the age of 82 after a battle with colon cancer.
Pelé signed his contract to play for New York Cosmos at The Hamilton Princess in Bermuda in 1975 and Best got to play against him first while on a tour of the United States with West Ham United and again when playing in the North American Soccer League with the Tampa Bay Rowdies and Portland Timbers.
"Knowing him as a friend and as a person, he was just a fantastic human being as a well as a great footballer and it's sad that he has passed on," Best told The Royal Gazette.
"We're all going to miss him because he was one in a million. There will never be another Pelé and for me he is the best player ever. He will be sorely missed."
Best remembers well his meetings with the cultural icon on and off the pitch.
"I was playing for West Ham and we came over from England to play his club Santos at the time," the former striker added. "He was always my hero and to play against Pelé the first time at Randall's Island in New York was unbelievable because it was someone I had always looked up to and tried to emulate."
That exhibition game ended in a 2-2 stalemate with Pelé and Best each netting a brace.
"What I always remember about that particular game is that he scored two goals and I scored two goals and after the game he came to me and said 'Clyde, I am the king and you are the prince', and to hear that from Pelé was unbelievable."
After that memorable game, the pair crossed swords on a number of occasions with Best always keen to impress the great Brazilian.
"He knew what I could do and I always made it a point that whenever I played against Pelé I was going to score goals because I wanted him to see how I had developed from the first time he played against me," Best said.
"The second game I played against him when he was at Cosmos, I scored a hat -trick. Whenever Pelé was there that gave me an extra incentive to show him what I can do. He brought the best out of me."
Best also had the privilege of being invited to play alongside Pele with Cosmos on a world tour.
"They invited me to come and play for them which was a great experience," he recalled.
"Having played against him many times in the North American Soccer League and going on a world tour with him I got to know him pretty good. He was a nice man. He always shared and was just a humble person who loved the game and deserved everything that came to him."
Goalkeeper Nusum had the privilege of playing alongside Pele during his time at Cosmos and against him with rivals Vancouver Whitecaps.
While a huge fan of the late legend's extraordinary talents on the pitch, it was the amazing influence that he had on people and the game in the United States that struck him most.
"The effect that he had on football in the United States and to be there and watch it was probably one of the biggest honours and thrills of my life, plus he was my idol," Nusum said.
"I could not have been there in a better year to understand just how big he was to the sport. He was a great player but for me it's the impact he had on the game and everywhere we went. When I joined New York, you only had 5,000 people at a game and when he signed we sold out every time.
"Then whenever we went to play teams away, their crowd increased by four or fives times as many people. That's what made the biggest impact on me; the effect he had on other people and not just being a great player.
"Everybody wanted to see him so the crowds were bigger. In fact, the first game everybody we played at Randall's Island, we had get off the bus at the Triborough Bridge to get to the stadium. That was the only way we could get there on time because everybody wanted to see him."
Like Best, Nusum also got to know Pelé on a more personal level and he revealed that he was unable to enjoy the simple pleasures of life like his fellow team-mates.
"We interacted a lot on and off the field," he added. "Obviously we trained and played together and we spent a lot of time in the changing room."
"His life was a bit different because he could not be out in public as much as the rest of us," he recalled. "When we were travelling we would be all out having drinks and stuff and he usually had to spend a lot of time in his room because people would be all over him every time he came out.
"Socially we were out and about but he couldn't be so that was probably the part of his football memories that were not nice to have."
While saddened to see his former team-mate pass, Nusum says his legacy will live on forever.
"It's a sad day for football but he left a lot behind to still be acknowledged as the best of all time," he added.
Pelé joined Cosmos in 1975, a year after Bermudian forward Randy Horton was traded from the club to rivals Washington Diplomats.
"Pelé came to the Cosmos just as I was leaving and I always tell people Cosmos could not afford Randy Horton and Pele," Horton said.
"The first time I played against him with the Washington Diplomats was in DC and that was an amazing experience just being on the field with him. Then towards the end of his career I played with him actually.
"It was former Cosmos against the present Cosmos and it was just great being in his company and, even though he was past his prime, just seeing the way he moved around the field was amazing.
"In my view he's the best footballer ever. Pelé had every skill, the ability to be able to shoot with both feet, dribbling skills and heading ability. He may have only been 5ft 8in but he could get up in the air as if he was 6ft 5in. His technique in heading was just amazing as well as his vision to see spaces and be able to find the gaps and make the correct passes. The guy was just incomparable."
Horton also admired Pele's humble nature.
"He was a wonderful person and how humble he was I think was more important than anything else," he added. "As great as he was, he was a humble man and he also cared. I remember when the children wanted to get autographs, he would take the time to give it them and was always interested in touching people."