St George's stay in title hunt with narrow win over Somerset Trojans
Created: Feb 27, 2023 07:39 AM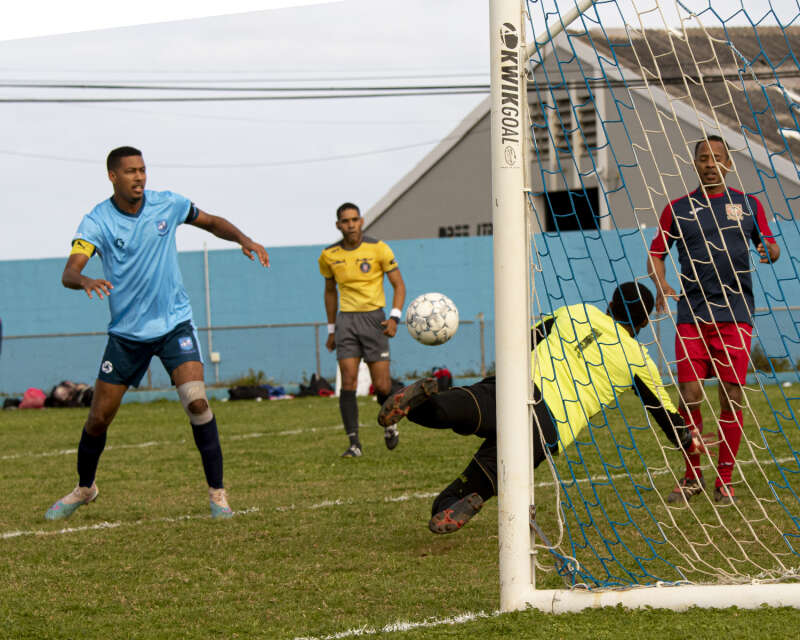 St George's 2 Somerset 1
St George's remain prime contenders for the Premier Division title after beating their arch-rivals at Wellington Oval on Saturday.
A first-half strike from Blaiz Hall, combined with a second-half goal by stand-in captain Jonté Smith, were enough to offset a 68th minute penalty by Justin Corday.
The win allowed St George's to briefly claim the top spot before PHC resumed pole position after a 3-1 evening victory over Robin Hood.
"The main thing today was that we got three points," said Smith, who led the club in the absence of an injured Kashe Hall.
"We've got ours, now they have to get theirs. You don't have points on the board until the game is over, so we may go on top for a few hours, maybe a bit longer,
"The boys worked hard today. We had a lot of players missing but other players really stepped up and performed well, creating competition for places. It's going to be an exciting finish, with three games to go and three points separating four teams, so it's going to be interesting."
After last week's home loss to Cougars, which cost them first place, St George's were in no mood to have their designs on an inaugural league championship further hindered by the lowly-ranked Trojans, who remain locked in a relegation battle with Boulevard, the pair split by three points and occupying the eighth and ninth positions.
Somerset came in anxious to add to their own success of a week prior, when they travelled east and defeated Hamilton Parish at the same venue, however they found the landlords at the Oval not nearly so accommodating.
Trojans' Justin Corday had the first clear opportunity to score as early as the third minute but fired a right-foot volley agonisingly wide of goalkeeper Allan Douglas's left upright, off of a feed from Simeon Burrows.
As would become a customary feature of the day's proceedings, St George's countered moments later, with Malachi Trott successfully battling two defenders for possession near the Somerset goal-line, before crossing the ball into the path of an onrushing Jahron Dickinson, whose goalward blast was well stopped by Yizharyah Williams, falling to his left.
Williams would find himself called on often in a see-saw first half, with the youngster forced to use many aspects of his anatomy to protect the visitor's goal.
Blaiz Hall finally found the breakthrough in the 11th minute from a right-wing corner.
Trott sent a cross to the back post, where the ball was contacted by the boot of Tyrell Burgess and appeared to be heading wide of the mark. That is until Hall, who had drifted just away from the near post, redirected Burgess's effort past Williams.
St George's continued in the ascendency following the interval, while Somerset, with Jaheim Iris a menacing presence on the right flank and Burrows seemingly everywhere in the midfield were determined to ensure such did not occur.
The west enders got their wish in 68th minute, when Douglas advanced and brought down a charging Jahkari Furbert inside the penalty area, presenting Corday the gift of a penalty, which he duly converted.
Grand deception down the right side produced the winning strike as substitute Lashon Dill drove a low ball into the path of Dickinson, who fooled the entire defence with his 'dummy' allowing Smith the easy task of slotting past a helplessly exposed Willams.
"It was nice to score and to win in my first full game as captain," said Smith, the league-leading goalscorer with 15. "It's a very proud moment.
"Kashe will come back and take over, because it's definitely his captaincy and he is the future of the club and it would be nice to get him back soon, with the run of games that we have left.
"A lot of people don't know, but I grew up in St George's. This is my boyhood club. My dad played for this team and it is an honour to captain the parish that I grew up in.
"The rivalry with Somerset goes a long, long way and it was good to get the victory today, and the next one's Cup Match."
Meanwhile, on a day when their effort and fight might have justified an equal split of the spoils, Somerset's sordid tale of woe continued, with the west enders now having lost 10 out of 15 league matches and a critical away contest against Blazers, in two weeks, looming large as a potential relegation decider.
"It was a right, old battle today," said Somerset coach Jensen Rogers, who is deputising for Scott Morton as he takes an extended break from the club with personal issues.
"We came out missing about five starters, but there was a quality within the team in how we played and I thought we did enough to share the points.
"We fought them hard all the way, but they just came up with a moment and they put it away. I'm proud of my boys. They battled to the end.
"Performances bring points and going back the last few game to the Cougars match, we've been improving, getting better and better and soon the points will come.
"Last week we beat Parish and all we can do is keep training, playing hard and I'm sure the points will come."
What appeared as the epitome of Rogers' men's season occurred during the match's dying moments when a close-range header by Zico Saltus-Seymour, destined for the low, right corner, was miraculously pushed aside by the fingertips of a diving Douglas.
SCORERS
St George's Colts: Hall 38, Smith 75.
Somerset: Corday 68 (pen).
St George's Colts (4-3-2-1): A Douglas 7 – E Signor 5, D Signor 6, T Burgess 6, G Wade 6 – J Dickinson 6 (sub: M Simmons, 88), M Trott 7, J Burgess 6 – K Wilson 6 (sub: L Dill, 64 6), B Hall 7 – J Smith 7. Substitutes not used: Blair-Paynter, C Burns, J Brangman.
Somerset Trojans (4-2-1-3): Y Williams 7 -- D Ming 6, T Ming 6, J Butterfield 6, Z Saltus-Seymour6 -- M Aden (sub: D Swan-DaSilva, 74), D Wainwright 6 (sub: K McNeil, 82) -- S Burrows 7 -- J Iris 7, J Furbert 6 (sub: E Mendes, 83), J Corday 6. Substitutes not used: A Morrissey, R Burrows, Q Watson, J Shields. Booked: J Iris.
Referee: K Johnston (USA).