Kwame Steede rues lack of killer instinct as Devonshire Cougars finish runners-up
Updated: Mar 20, 2023 08:56 AM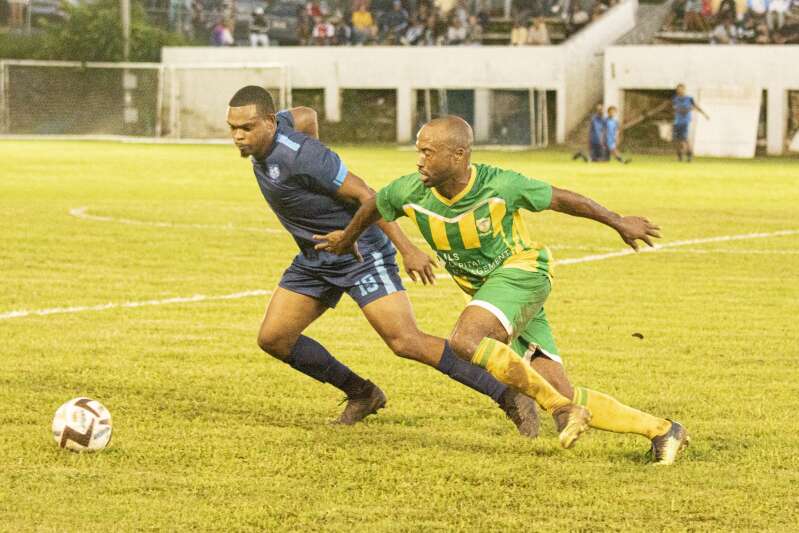 Devonshire Cougars 4 Robin Hood 1
Devonshire Cougars coach Kwame Steede was left to bemoan his side's finishing as trophyless Devonshire Cougars finished the Premier Division season as runners-up.
Going into the last match, Cougars still had a mathematical chance of lifting the title but needed relegated Boulevard Blazers to beat PHC while also making up a ten-goal inferior goal difference to the league leaders.
However, with PHC cruising to a 9-0 success over Blazers, Cougars' result became academic as they were left to reflect on what might have been .
Two goals apiece from Domico Coddington and Chris Caisey saw Cougars wrap up the season yesterday with a simple victory over Robin Hood, who drop into the First Division having failed to record a single victory throughout the campaign.
"First of all I have to congratulate PHC," said Cougars head coach Steede. "For us not to win any silverware this season is a big disappointment.
"All season our lack of killer instinct in front of goal is what has hindered us. We've missed too many chances not to put teams away, and to me that was the small margin in not winning any silverware.
"However, looking at the table we were closer to challenging than last season, so to only miss out by three points is progress and gives us something to build on next season."
Cougars got on the front foot from the whistle and found themselves 2-0 ahead in the opening 16 minutes, both courtesy of Coddington. The first featured the forward in the right place at the right time to rifle home a close-range rebound before he again beat Hood goalkeeper Detroy Smith from inside the six-yard box after being picked out by Elisha Darrell.
Smith was called into action shortly after to deny Jazario Brimmer smartly, while at the other end Shannon Burchall fired a drilled effort wide of the left post after being released down the right by Barry Gooden.
Cougars should have added a third before the interval, but Brimmer spurned a glaring opportunity, lashing wildly over from inside the area.
Any lingering hopes of pipping PHC to the title were all but extinguished at half-time as news filtered through that their main rivals were leading Boulevard 4-0 at the break and with their challenge all but over, the second half took on the look of an exhibition match with a drop in intensity from the home side.
Despite that, a third goal arrived in the 51st minute when Coddington's deep cross from the left found its way through to Chris Caisey, whose looping header back across goal beat Smith to nestle into the far bottom corner.
To their credit, Hood continued to probe forward and were duly rewarded in the 58th minute as Luke Fulton's deep free kick into the area found an unmarked Gooden to head past a hesitant Tahj Bell, who failed to read the flight of the ball.
There was to be no Hood comeback as Cougars restored their three-goal cushion five minutes later when Caisey again picked up the ball on the right side of the area before beating Smith at his near post with a driven effort.
Such was the lack of importance in the result, Cougars put goalkeeper Bell up front for the final 15 minutes of the match and he spurned three glorious chances to get himself on the score sheet.
He was not alone in his profligacy, with Caisey and substitute Nyeem Steede also wasting a number of chances in the closing stages.
SCORERS:
Devonshire Cougars: Coddington 12, 16, Chris Caisey 51, 63
Robin Hood: B Gooden 58
TEAMS:
Devonshire Cougars (4-3-3): T Bell 6 – J Fox 7, Z White 7, L Millett 7, J Thomas 7 – C Caisey 7, D Daniels 7, J Brimmer 6 (sub: N Simmons 46 6) – L Simmons 6 (sub: J Wade 30, 6), E Darrell 6 (sub: C Brangman 75), D Coddington 7. Substitutes not used: K Steede. Booked: Daniels.
Robin Hood (4-4-2): D Smith 6 – N Outerbridge 6 (sub: D Simmons 65 6), L Fulton 7, H Twite 7, S Madeiros 6 – K Naylor 6, E Outerbridge 6, L Evans 7, S Burgess 6 – R Smith 6 (sub: W Noriega 26 6), B Gooden 7 (sub: D Brangman 65 6). Booked: N Outerbridge.