Kalay Hollis playing through her grief to honour Marco Warren
Created: Jun 06, 2023 07:59 AM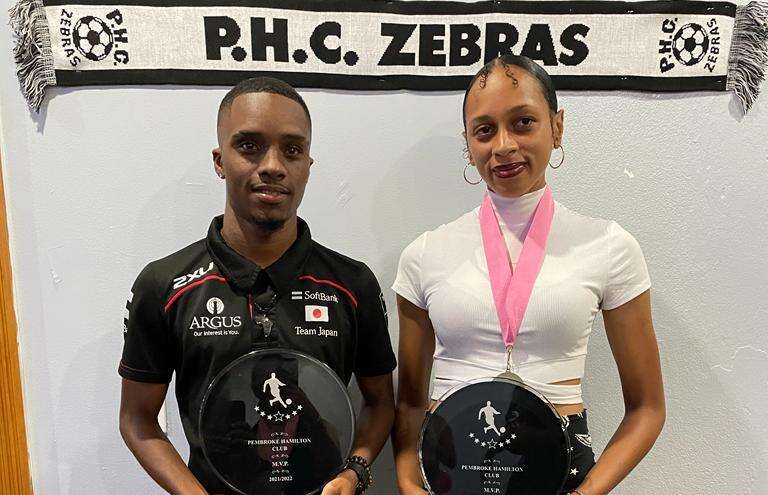 Kalay Hollis is playing through her grief as she attempts to exemplify the attributes that became synonymous with her boyfriend Marco Warren.
PHC captain Warren, 29, died on Mother's Day after a suspected hit-and-run incident in Hamilton Parish but, Hollis has continued playing for PHC's women's team through her devastating loss as she believes that is what Warren would have wanted.
"Despite the circumstances, I know Marco would have wanted me to continue to play," the defender told The Royal Gazette.
"He would have wanted me to stay on my purpose. My life going forward is dedicated to paying tribute to Marco's life, especially through football.
"Like Marco, I want to be a positive role model and skilful team player, give spectators something exciting to watch, bring about a sense of community, be impactful, inspire others through the beautiful game of football and raise our son with the same positive attitude towards life. In this regard, I hope to pay tribute to him."
Hollis's resilience and ability to maintain high standards on the pitch under trying circumstances did not go unnoticed by her club, who recently named her as Player of the Month for May.
Twitter
."I feel honoured to achieve Player of the Month, especially since this has been one of the most difficult months of my life," Hollis said.
"It's a long hard process and I take it one day at a time. My faith in God is my strength right now, and I have great support from my family and friends and lots of wonderful memories to cherish."
Hollis has also found comfort in the support of her team-mates both at club and national level.
"My PHC team-mates and national squad team-mates have all been very supportive, and I appreciate each and every one of them," she added.
Hollis, 27, and Warren were the perfect match as they shared much in common, both on and off the football pitch.
"Marco and I met at a games night at his mother's house and we immediately clicked based on the similarities in hobbies we had: fishing, football and playing Fifa," she said.
"I played and loved football before I met Marco. However, since we met, he has been an inspiration; always highlighting my strengths on the field and always encouraging me to do my best.
"He was a phenomenal player and mentor along with his Papa, Randy Bean, who helped to coach both of us."
Among the many proud moments Hollis and Warren shared in football was earning awards for their excellence together.
"Last season Marco and I both achieved MVP for PHC," Hollis said. "I also achieved MVP in the women's finals against Somerset last season.
"Marco and I both got nominated for the 41st Annual Sports Awards for Soccer and also both got nominated for the BFA Awards. Marco got nominated for MVP and I got nominated for MVP and Defensive Player of the Year.
"Those awards were very significant to both of us because we watched all of our hard work and dedication to football be recognised. We got to share those achievements together.
"My goal is to always do my best no matter if we win or lose. I continuously motivate my team-mates to do their best as well."
While she plays at the heart of PHC's defence, Hollis is able to adapt to other positions.
"I am a team player, and I play where I am needed," she said. "I consider myself versatile, but I have more recently found myself in this defensive position because I am very good at defending and making plays. I can also read the game pretty well."
Hollis moved a step closer to realising a dream of playing for Bermuda by earning a call up to the national squad after giving birth to son, Vega, in January.
"I was recently recruited by the Bermuda national team after giving birth to my son, and I am currently training with them with the hope to play in the near future," she said.
"I think that women's football has the potential to have a bright future in Bermuda," Hollis said. "We have a lot of talented players who with the right opportunity can go places."