Record numbers sign up for the big race
Updated: May 25, 2015 04:23 PM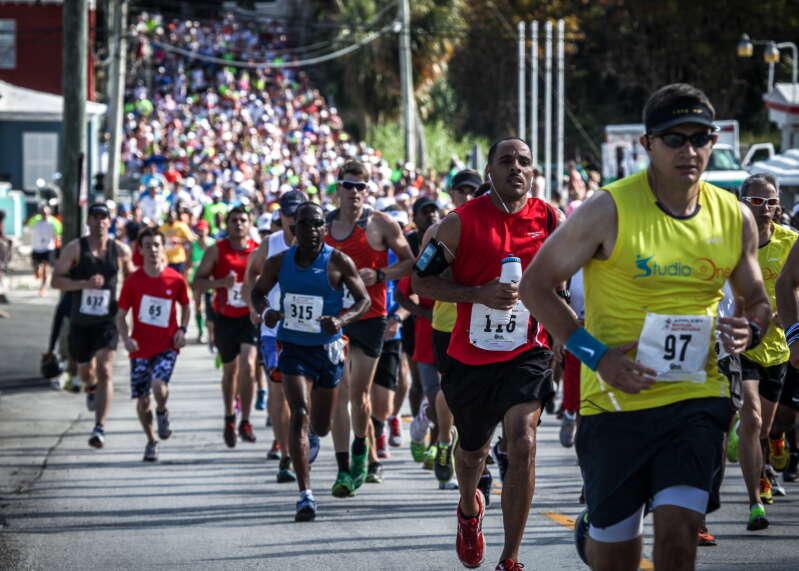 A record number of runners have signed up for Monday's Appleby Bermuda Half Marathon Derby.
By 6pm yesterday some 1,316 competitors had entered the race, surpassing last year's 1,278 participants. That number, which already equals the record number that ran in the 100th anniversary race in 2009, is expected to rise further with late registration available at today's number pick-up.
The 888 individual runners will be joined by 428 in relay teams, all taking the opportunity to run from the East End for the first time in decades.
With plenty of first-time competitors in the field, Steve Burgess, a running coach and former track athlete who has run several May 24 races, is urging everyone to take precautions on what will be a challenging and hilly course from St George's.
Burgess is advising runners to get plenty of rest, to drink plenty of fluids and be mindful of their food intake.
"In regards to food, that's an independent choice but you don't want to be experimenting, nothing too heavy on the night before [the race] that is going to stay in your system," Burgess said.
"On the flip side, for beginners, you are going to have folks who are very generous, handing you things out on the racecourse, jelly beans, oranges, bananas, various flavours of drinks, so be very careful in your selection.
"Also be careful about ice cold drinks because runners can get a head rush, though the intentions are good. You should be concerned with taking in lots and lots of water long before the actual day because nine times out of ten it is going to be hot and humid."
One of the biggest dangers for most first-time participants is getting caught up in the excitement of the day and running faster than they intended.
"To a first timer it is quite easy to get caught up in the excitement with everybody calling your name, but you don't want to go out so fast that you don't pace yourself," Burgess said. "The challenge this year is none of us know our 'way' from St George's, we're all first timers."
Burgess is one of many former middle distance runners who have made the transition from track to road, including top contenders: Kevin Pearson, Terrance Armstrong, Mike Watson, Kavin Smith, Chris and Ashley Estwanik, Lamont and Larry Marshall and Jay Donawa.
Unlike that group, however, he didn't compete in the race until much later in life. Four years ago he finished second in his age group — over 50s — in a time of 1hr 34min.
"I never took it serious, never ran it until I was 40," Burgess said. "And when I did run it, I did running commentary for VSB, running with a camera and live on the air. My regret is I waited so late, but I love it now and have done over ten."
Burgess is again running in memory of Laurie Joseph, a youngster he used to coach, who died in a road accident in 2003. "He never got a chance to run it and because he won the Front Street Mile he always wanted to run May 24, so I run it in his honour," said Burgess.
• A full list of entrants in Monday's race can be found by clicking on the PDF file under "Related Media".