Saltus claim trio of titles
Created: Feb 10, 2017 07:00 AM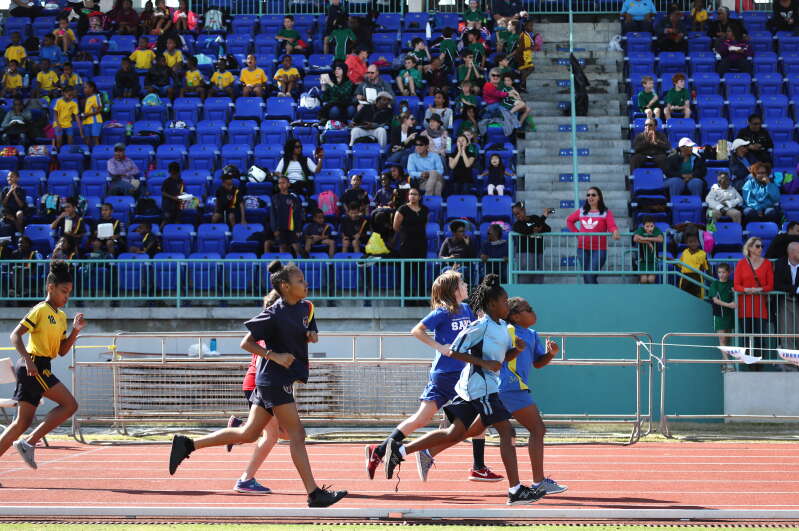 Saltus Grammar School landed three of the four team titles during the Primary Schools Cross-Country at the National Stadium yesterday.
Feidhlim Carr, of Saltus Grammar School, claimed victory in the Under-9 boys in 8min 56sec, eight seconds ahead of Masaki Kitade, of Somersfield Academy, in 9:04.
Emmer Peets, of Harrington Sound, completed the top three in 9:15. Saltus took the team title with 44 points, while Harrington Sound was second with 95 points and Warwick Academy third on 123.
In the Under-9 girls, S'Nya Cumbermack, of Purvis, was first in 9:22 while Ellise Dickinson, of Somersfield Academy, was second in 9:36 and Jaeda Grant, of Somerset Primary, third in 9:46.
Somersfield took team honours on 95 points, three ahead of Saltus while Warwick Academy finished third with 133.
Paris Mitchell Robinson, of Elliot Primary, won the Over-9 boys' race in 10:03, six seconds ahead of Bakari Furbert, of Saltus, in 10:09. Jace Donawa, of West End Primary, was third in 10:11.
Saltus won the Over-9 boys' title with 50 points, while Warwick Academy (54) were second and Elliot third on 143.
In the Over-9 girls race, Adriana Argent, of Warwick Academy, claimed first place in a time of 10:27 while West End pair Ramiah Brangman and Katerine Bean Rosario were second and third in 10:51 and 11:01.
Saltus triumphed in the Over-9 girls, with 72 points while Warwick Academy had 125 points and Somersfield Academy 133.