Manders in hot pursuit of Mallory record
Created: May 22, 2017 09:00 AM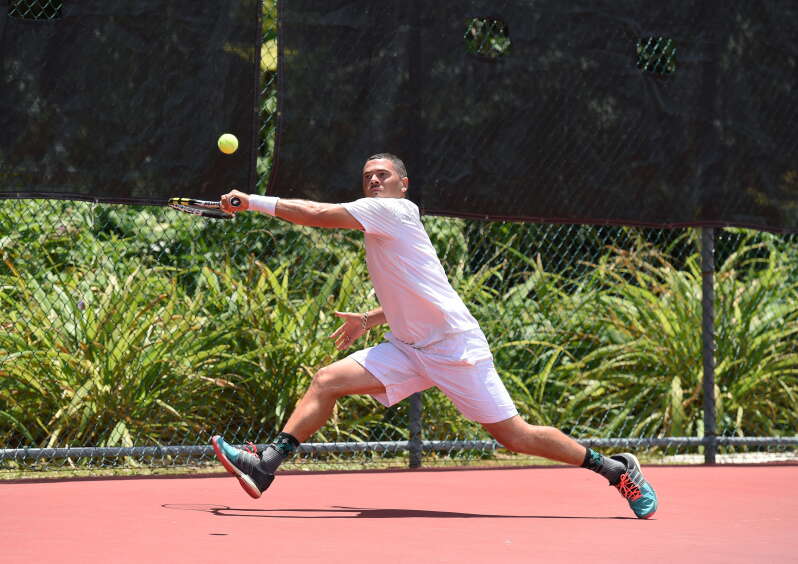 Gavin Manders closed in on Ricky Mallory's record of nine Deloitte Open titles after defeating David Thomas in the final at Pomander Gate Tennis Club on Saturday.
The defending champion won the first local men's competition of the season — the Bermuda National Clay Court Championships was postponed — after beating Thomas to move within one of Mallory's title haul.
"This was my eighth title and I'm chasing Ricky's nine — most people don't know that," Manders said. "For me to get my name up on the board more than nine times is my goal.
The 31-year-old dominated the opening set 6-1 but Thomas hit back to win the second 4-6 before Manders responded in impressive fashion to take the decider 6-3.
Manders admits that Thomas, who won the previous two meetings between the two players, made him work hard for his victory.
"Whenever you're in a final you have to be ready to go to war," Manders said. "Whoever wants it more usually takes it unless someone is having an exceptional day.
"Coming towards the end of the second [set] we were both playing really well but he was able to break me. I had to get into the mindset to start chasing his forehand around because he started to catch a groove.
"In the third my whole goal was to get a break because it's tough against his serve; the ball moves and kicks a lot. I was trying to stay focused and get a little cushion."
Manders continued his good form throughout the day to claim the triple crown at the competition.
He teamed up with Ashley Brooks in the mixed doubles to beat Thomas and Hattie Jackson 6-1 6-4 before pairing with Jenson Bascome in the men's doubles to defeat Thomas and Chris Weeks 2-6, 6-2, 10-5.
Manders, who is now ranked No 1 in Bermuda, said the competition served as ideal preparation for the Davis Cup in Uruguay and NatWest Island Games in Gotland next month.
"I love to compete and the local competitions matter to me but my priority is representing Bermuda internationally," said Manders, the head pro at Rosewood Tucker's Point.
"It's just about using the momentum to get ready for international play."
Manders has also been busy off the court after starting up his own company called Manders Tennis Management.
"Me and my team started a new company called Manders Tennis Management, and we are running the Fairmont Southampton tennis operation, with Jovan Whitter leading as the director of tennis," he said.
"We are also currently resurfacing and relining the courts at Coral Beach, with Sam Maybury leading a team."
Jahzuena Bradshaw-Douglas won her first senior title after beating Kristin Saltus 6-2, 7-5 in the women's final last Wednesday at Pomander Gate.
Bradshaw, who won the B final last year, hopes to make Bermuda's team for the Fed Cup to be held in Panama in July.
"It was really amazing to win the A final," said the 17-year-old Berkeley Institute student. "My plan is to keep training, keep working hard and hopefully I can win more and more.
"It wasn't an easy win at all and I had to really dig deep, especially in the second set when she really turned up the heat and picked on my weaknesses.
"I had to turn it around and show a lot of patience and self-belief."