Davis Cup squad prevail in relegation battle
Created: Jun 24, 2019 09:00 AM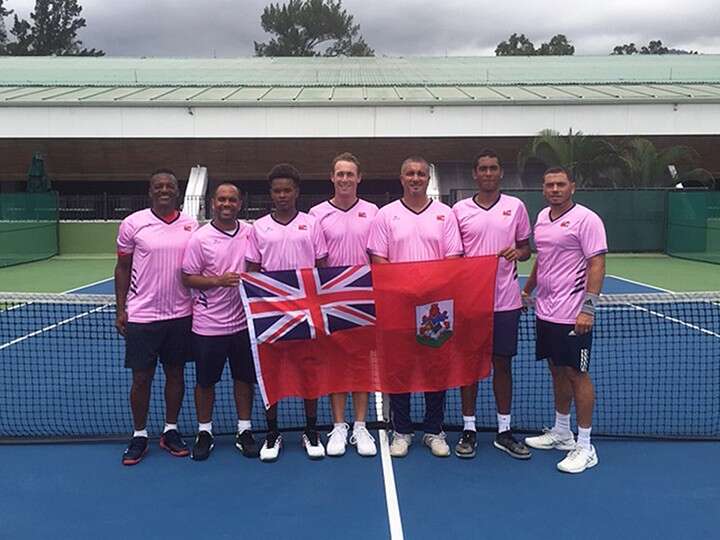 Bermuda's Davis Cup team managed to save their America's Group 3 status after overcoming US Virgin Islands in a relegation play-off encounter.
Having finished fifth in Pool B after five defeats and one win from their five round-robin encounters against Jamaica, Cuba, Honduras, Panama and Trinidad and Tobago, Bermuda had to face US Virgin Islands, who finished bottom of Pool A, with the loser dropping down into Group 4 for next year's competition.
Bermuda enjoyed the perfect start to the encounter as Gavin Manders found himself 5-0 up in the first set before his opponent Russell Armstrong was forced to retire through injury.
Needing two wins from their three matches, Neal Towlson took to the court to take on Tomas Del Olmo in the second singles match. After breaking his opponent's serve to take a 4-3 lead, Towlson went on to secure a 6-4 first set success.
Building on momentum, Towlson got another early break in the second set, taking a 5-3 lead, before breaking Del Olmo once again to take the final game and clinch not only a 6-4, 6-3 win but Bermuda's status in Group 3.
With the doubles left to play and the tie already decided, youngsters Trey Mallory and Tariq Simons took to the court for their first time together at the senior level against the pairing of Del Olmo and Nicholas Bass.
The young Bermudian pair battled intensely, both looking for their maiden doubles win at Davis Cup, however, their opponents proved to be too strong, taking a 7-6, 6-4 consolation victory.
"I'm extremely proud of the team," said Richard Mallory, the National Tennis director. "I can rightly say that I see growth from last year to this year.
"With the Bermuda Lawn Tennis Association's objective of rebuilding, we have senior player Gavin Manders who agrees with our philosophy and has taken a leadership role to help guide our younger players.
"There is also growth within the coaching staff which includes Steve Bean and former player Jenson Bascome who I see taking over as Davis Cup coach in the near future.
"Moving forward, I believe that this will be a winning formula that will help us gain promotion."