Simons and Redmond advance in doubles
Created: Oct 17, 2019 09:00 AM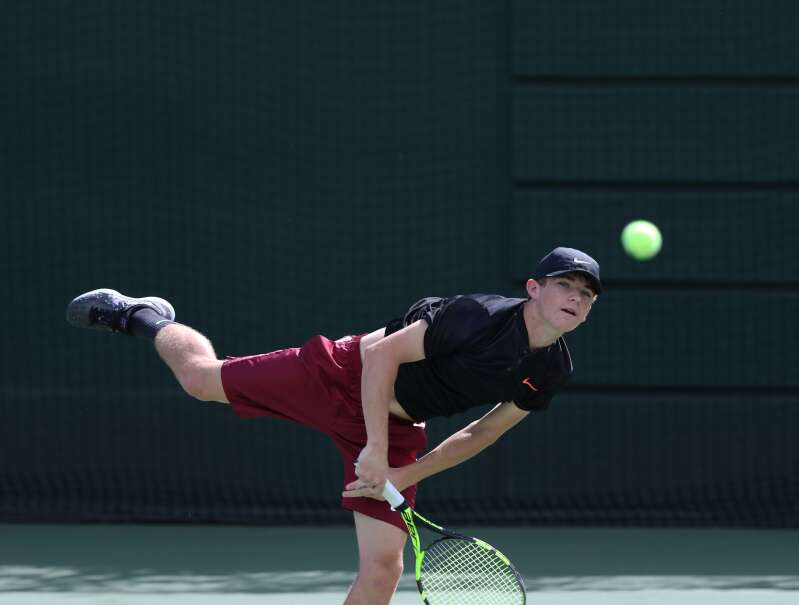 Tariq Simons had mixed results in the Bermuda ITF Junior Open Tennis Tournament at the WER Joell Tennis Stadium yesterday, losing in the singles quarter-finals before advancing with Scott Redmond to the doubles semi-finals.
Jakub Ostajewski, of the United States, who is seeded third, beat sixth seed Simons 6-4, 0-6, 6-0 in the quarters before the latter partnered with another local resident, Redmond, to advance to the doubles semis. The pair, seeded fourth, beat Jaxson Harbour, of the US and Gabriel Johnson, of Britain.
"I appreciate the opportunity to gain new points; whether it be in singles or doubles, I just love to play," Simons said after the doubles win. "From the pressure and anxiety of tournaments, the experience is always useful."
Simons, 18, admits he did feel the pressure of being the only local player remaining in the singles draw.
"I did feel it; I didn't think it would be bother me as much," he said. "Trey [Mallory] lost yesterday [on Tuesday] and I lost today, you can't always win, I guess."
Simons is confident he and Redmond can make a good push for the doubles title.
"Scott's been my doubles partner for quite a while, we played last year in this tournament as well, won in our first round and then lost in the second round to the No 1 seeds.
"When we get international players like this it's a perfect opportunity to see how we match-up, especially for those players looking to go to college. I'm looking to go pro."
Ellis Short, the No 2 seed, advanced to the singles semi-finals after beating fellow American Asariah Rusher 6-4, 6-0.
Short is familiar with Bermuda as his parents own a condo on the island.
"The tournament is very well organised; it's such a great climate and a beautiful tennis facility, so I'm very happy to be playing here," Short said.
Short will meet Pranav Ikkurthy, also of Florida, in the semi-finals today: "He trains at the same academy as me in Florida, the Evert Tennis Academy," he said of his opponent.
In the girls' competition, Catherine Denysiewicz-Slowek, of Canada, advanced to the singles and doubles finals after two semi-final wins yesterday.
She beat Mia Slama, of the US 6-1, 6-3, in the singles and then later partnered fellow Canadian Orly Ogilvy to defeat top seeds Shirley Liang, of Canada, and Olivia Lincer, of the US, 6-1, 7-5 in the doubles.
Lincer, 14, advanced to the singles final after beating Amulika Gottiparthy, of the US, 6-3, 6-0. She will meet Denysiewicz-Slowek in today's final, which will follow the boys' singles semi-final between Short and Ikkurthy, starting at 9am.
"I feel good, but I'm not trying to think about that too much, I'm just going to try to play my game," Denysiewicz-Slowek, 16, said.
In today's other boys semi-final, Samuel Reichbach will play Jakub Ostajewski at 9am.
Two boys' doubles semi-finals will take place this afternoon: Redmond and Simons will play Mark Dancuart, of Peru, and Jakub Ostajewski, of the US, while Mallory will play at the same time on court two when he partners Short against Jacob Lowen and Samuel Reichbach, of the US.
Mallory and Short advanced after beating Amil Dodds and Maxx William 6-1, 6-3 yesterday.