It's not cricket – but sibling rivalry goes to junior Manders
Created: Feb 20, 2021 08:00 AM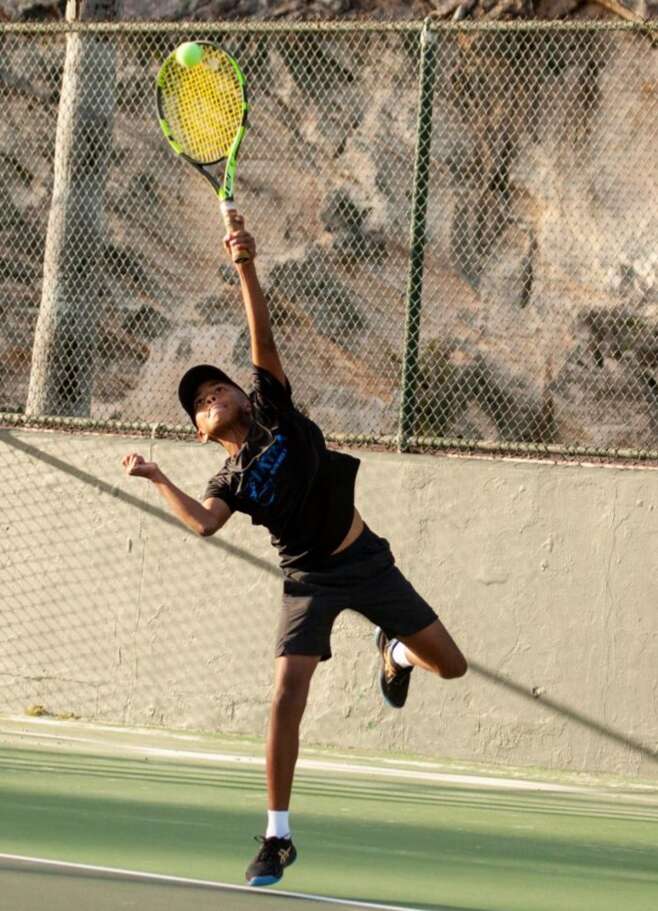 Tre Manders came out on top in a sibling rivalry with elder brother Taurean Manders for division honours at the MTM Championships last week at the Fairmont Southampton Tennis Club.
The Somerset Cup Match and Bermuda batsman prevailed 2-4, 4-2, 7-5 over his brother, himself a former national team footballer, in an evenly fought Green 1 Division final.
"It was a beautiful thing to see, a footballer and a cricketer in the final," cousin Gavin Manders, the tournament director, said.
Although the siblings have earned a reputation in cricket and football, they are far from strangers to the tennis scene.
"They played a little bit back in the day when we were growing up just playing around," Manders added.
Tre, 26, has made significant strides on the tennis court lately.
"Tre played his first tournament through all the Covid-19 events that we have had in about the past eight months or so." Manders added. "Initially he was only playing during the events — about four or five times."
Former Bermuda midfielder Taurean, 35, serves on the coaching staff at the FAB Academy at Bisham Abbey in Buckinghamshire.
"Snapper [Taurean] just came back, so he played in this tournament," Manders said.
Meanwhile, Jayden Lambert (Green 2), Denzil Hollis (Elite B), Sebastian Pukke (B Final), Vincent Boisvert (under-14 boys), Jaden Jones (under-12 boys) and Annika Wriedt (under-12 girls) claimed the remaining titles.
The tournament capped a hectic week of activity at the Southampton tennis facility which also hosted the MTM Mid-Term Camp over the school half-term break.
"It was another great week," Manders said. "We had over 80 players within the different divisions.
"We focused in on most of the recreational divisions this time. We split the B Division so we had an Elite B, a regular B, a Green 1, a Green 2 and then all the ranked junior divisions.
"We are getting more creative with the amount of divisions because it gives a wider range of different levels for people to play in, which means a larger percentage of people are leaving happier within the level they played at."