Tyler Butterfield finishes fifth in Cancún
Updated: May 05, 2021 08:05 AM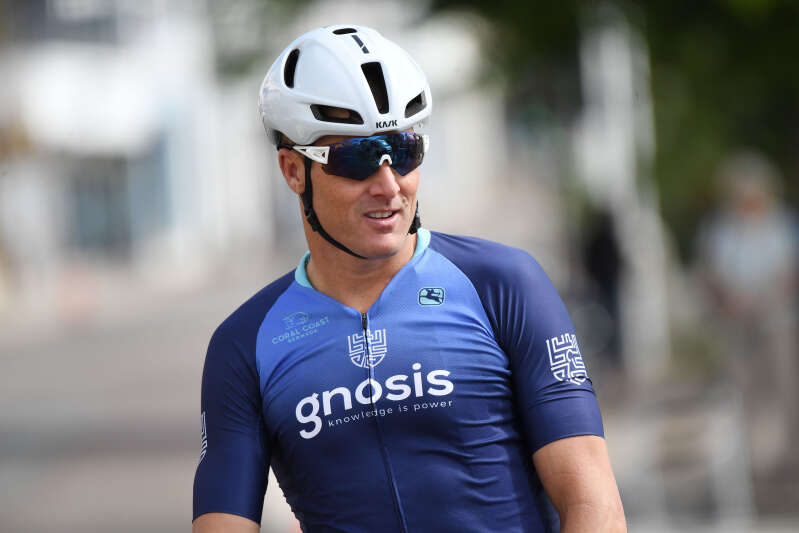 Tyler Butterfield clinched an impressive fifth-place finish among a highly competitive field racing in the Challenge Cancún 113-kilometre triathlon in Mexico.
Taking on the Pro Elite Division course, which consisted of a 1.9km swim, 90km bike and 21km run in Playa Langosta, on the northern side of the Cancun beachfront, Butterfield crossed the line in a time of 3hr 57min 21sec, slightly less than 11 minutes behind winner Javier Gomez, a five-times World Triathlon champion and Olympic silver medal-winner.
Despite conceding to struggling with the challenging conditions, the Bermudian triathlete was encouraged with the result, especially considering his perceived lack of preparation prior to the event.
"It was a brutal day, hot and humid like a hot Bermuda summer day," the 38-year-old told The Royal Gazette. "Competing in those sort of conditions was always going to be tough. I came into the race for training purposes after a bit of an easier few weeks training.
"April was meant to be a bit of a down month to spend more time with family and get a few weeks back in Bermuda.
"With that in mind, I have to be happy with fifth given my fitness, but it definitely puts a bit of fire in the belly for the rest of the season.
"You can't compete with the best unless you're doing the training work and living a professional life day in and day out.
"All in all, it's great to get a race in, especially in hot humid conditions. Hopefully it's a building block towards the big races at the end of the season."
It was two of Gomez's Spanish compatriots who led the way after the swim discipline with Victor Benages exiting the water just two seconds ahead of David Fajardo.
Gomez was a further second behind, ahead of a pack that also included Joaquin Pereda Charles, of Mexico, the United States' Andy Potts and Flavio Morandini, of Argentina.
Butterfield found himself lagging a little farther behind, just under three minutes adrift of the leader in a group along with Robbie Deckard, Jaime Gonzalez Buganza, Elliot Bach and Michael Weiss.
By the 16km stage of the bike discipline, Potts had gained a one-minute lead over Gomez, with the pair more than two minutes ahead of nearest rivals Benages, Ruedi Wild and Charles.
Having suffered mechanical issues, Gomez seized the advantage from Potts and by the 50km mark the Spaniard's lead stood at 40 seconds, with Bach more than a further minute adrift.
Despite the earlier setback, Potts continued to reduce the deficit and by the 67km mark he managed to not only pass Gomez but hold a 30-second lead.
Approaching the final transition that advantage stood at just three seconds with the leading pair more than two minutes clear of third-placed Wild, who was a further 51 seconds ahead of Bach. Meanwhile, after a cycle of 2:05:46, Butterfield had climbed up into seventh place ahead of the run discipline.
Just moments after dismounting, Gomez passed Potts, and by the 7km mark his advantage stood at 20 seconds over his nearest rival and more than three minutes over Wild.
It was an advantage that Gomez never relinquished from that point, blitzing the run in 1:14:40 to cross the line in a winning time of 3:46:36. Having passed the fading Potts, Wild finished second, just over four minutes adrift of Gomez, with the US competitor completing the podium, a further 36 seconds behind.
Michael White clinched fourth place in 3:54:20, with Butterfield making up two positions on the run to cross the line in a well earned fifth.
In the women's race, Romina Palacio, of Argentina, took the top honours in a winning time of 4:34:32 ahead of Annie Kelly, of the US, and Mexico's Palmia Álvarez.