Danielle Raynor leads Phoenix Heat to another big win in Winter League netball
Updated: Nov 29, 2021 07:53 AM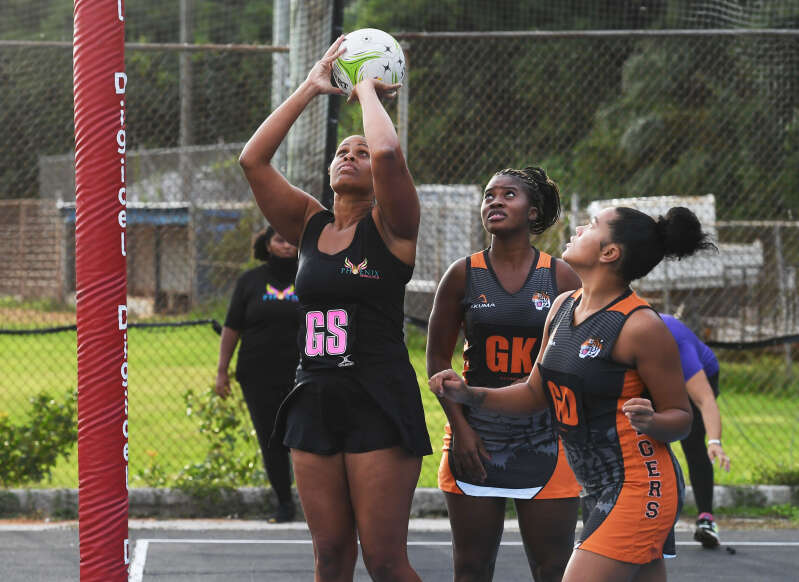 Danielle Raynor continued her hot scoring form, as she led Phoenix Heat to a strong 54-26 win over Storm, while Lindo's Tigers bounced back from a defeat last week, to register their first win of the Bermuda Netball Association Winter League.
Jahtuere Trott's 21 goals provided the tonic for the Tigers's 59-22 win over Docksiders, who despite being disappointed with the result, would have been thrilled to finally get on the court at the third attempt.
However, it was Raynor who again grabbed the headlines at Bernard Park, helping herself to a steady diet of 37 goals to lift the defending champions to their third consecutive win in the campaign.
She received support from Ebonie Burgess who added 14 goals while Keizhari Knight, three goals, also got in on the action.
Raynor, who closed the last full campaign with 274 goals, the most in the competition, was following up on the 49 goals she scored last week against the Tigers.
Nabiilah Nasir, who bagged 215 goals to finish third in the scoring charts in the last campaign, scored 11 goals in a losing effort for Storm, with Sonja Townsend 10 goal and Zakiyah Durham, five, also troubling the scorers.
Kiante Lightbourne was named the Heat's most valuable player, while Debre Evans and Jade Johnson were singled out from the Storm team because of their defensive efforts.
Meanwhile, after missing their first assignment of the season three weeks ago and seeing the following fixture called off because of persistent rainfall last week, Docksiders finally managed to properly get their season underway on Saturday.
However, an all-round effort from Lindo's Tigers, who also saw Jahkenya Trott (18 goals), Nissiah Berkeley (nine) and Apryl Jackson (11) finding the hoop, proved too tough an introduction for Docksiders, with the Tigers claiming a 59-22 win.
T'Yanna Hayward scored 12 goals for the Tigers, while Charlie Evans supported with 10.
Peta-Gaye Scott was identified as the Tigers's most valuable player, while Briar Dansfield was named as the Docksiders's MVP.
In the under-17 competition, MVP Amayah Burt scored 30 goals for the Storm, who turned the tide on Phoenix Heat at this level, winning 36-24. Makaylie Smith and K'xiyae Gibbons both scored 12 goals for the Heat. Gibbons was the Heat's most valuable player.
North Village Lady Rams and Phoenix Embers both got wins in the under-14 competition after stopping Storm Thunder and Rangers respectively.
The Lady Rams left the court 35-1 winners in a lopsided contest, which saw Ra'eesah Robinson leading the way with 23 goals, while Makaylie Smith did most of the damage for Phoenix Embers with her 18 points carrying them to a comprehensive 36-6 victory.
All scheduled matches in the under-11 category were called off because of rain.