Danielle Raynor sets ambitious targets, reflects on lack of international opportunities
Created: Dec 01, 2021 07:42 AM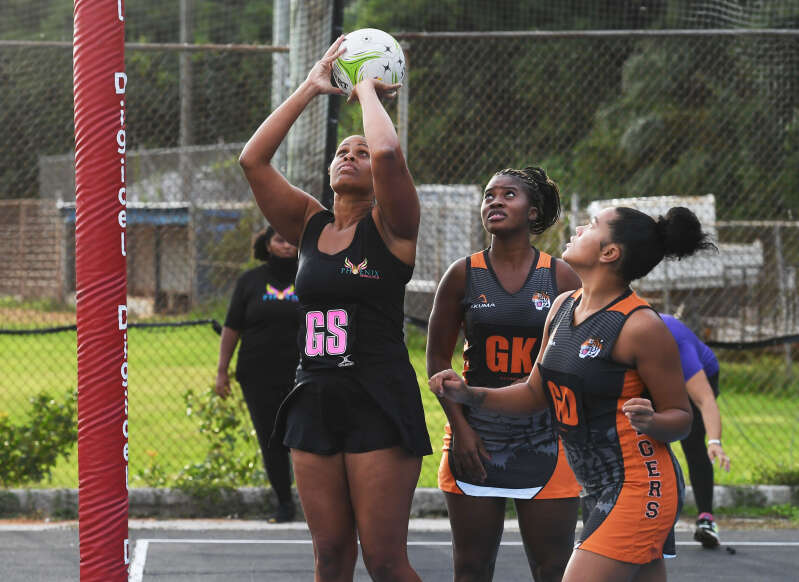 After years of dominating defenders on the local netball circuit, hotshot goal-shooter Danielle Raynor is determined to continue her reign at home even as she admits to being disappointed that she has so far not been able to prove her abilities consistently against the world's elite.
Raynor, who has already tallied 86 goals in her first two assignments in the Bermuda Netball Association Winter League, is this season hoping to lead Phoenix Heat to a successful title defence and is looking to better her single game goals record of 54 along the way.
The 36-year-old ended the 2019-2020 season, the last full campaign before Covid-19 disrupted local netball, with 274 goals, 35 more than Docksiders's Jess Reid. Nabiilah Nasir from Storm, was third in the goalscoring charts with 215 goals.
Her performances locally have certainly raised discussion about whether or not she is deserving of an opportunity in one of the international professional leagues, such as the Super League in England and the ANZ Premiership Netball competition, which is based in New Zealand.
"Playing professionally overseas has definitely been an objective. I would have loved it for sure, but I don't feel like we got enough international exposure for that to happen. So if Bermuda was able to travel (and compete) more, we would be able to be seen by international coaches more because that's how it happens usually," Raynor told The Royal Gazette.
For now, Raynor's stomping ground will remain within the border, but she is determined to take her game to the next level and has set for herself and her team, a number of ambitious targets.
"Fitness wise, I'm not there yet, I'm working on it. I'm not back to where I was but shooting is like muscle memory. You don't really forget that, so once you start, it just clicks," she said. "So yeah, I have no doubts that I will be able to just keep getting goals as long as my team continues this great work."
She also has her crosshair set on the 54 goals she scored against Docksiders in 2019.
"Another personal goal would be to exceed that and then as far as the season goes, I want to finish as top goal scorer and help the team to defend its title. There are also some different techniques that I want to work on this season," Raynor said.
Raynor, who has been playing the sport since she was eight years-old, has gone on to dip both hands and feet in netball on the island, serving also as an administrator, being the sitting second vice president of the BNA, and has also coached and officiated.
"I just love it," she offered.
Raynor listed a recent international series against the USA as a major marker for her so far in her career.
"I would say the highlight was when we beat the USA in 2017. It was a well contested series for us and so that was definitely a highlight," Raynor said.
Meanwhile, with the Heat already going two-for-two on the season, Raynor expressed satisfaction with the overall performance of the unit so far.
"At this point I am pretty pleased with the team's performance, we have only had about two training sessions because it has been raining so much and this was our second match.
"Our MVP for the match on Saturday came from the defensive unit so it shows that our defence is working and we are working well," said Raynor in reference to Kiante Lightbourne, who walked away with MVP honours in the victory over the Storm.