Warwick Academy swimmers make a splash in Florida
Created: Dec 17, 2021 07:50 AM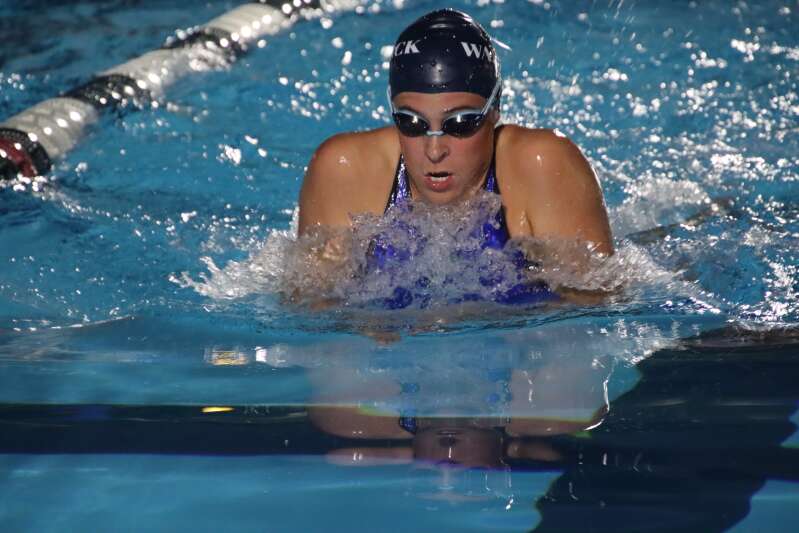 Warwick Academy's swimmers were back in action in an overseas meet when a seven-member girls team reached several finals at the recent Speedo Winter National Championships in Plantation, Florida.
The team, made up of captains Taylor White and Tayla Horan and also including Daria Desmond, Bella Howes, Adriana Argent, Marleigh Howes and Elanna Fulton, finished eighteenth out of 43 girls teams.
"It was really good to be able to return to competition for the Warwick Academy swimmers," coach Ben Smith said.
"After having to skip the event in 2020 the team was excited to be challenged at such a high-level meet. Last season saw three swimmers graduate to NCAA Division One universities without having the chance to do our normal overseas events."
Some of the highlights for the Warwick Academy team included Tayla Horan reaching three finals in the 17 and over age group, finishing sixth in the 500 metres freestyle, tenth in the 50 breaststroke and ninth in the 200 freestyle.
Marleigh Howes, who joined the programme in September and was competing in the championship for the first time, reached four finals and finished eighth in the 50 backstroke, fourth in the 50 freestyle, seventh in the 100 free and tenth in the 100 back.
Taylor White reached three finals and placed fourth in each of her events, the 500 free, 200 back and 100 back.
Bella Howes reached the finals in two events in the 15-16 age group placing seventh in the 50 freestyle and seventh in the 50 breaststroke.
Elanna Fulton, who also joined the programme this September, qualified for the 13-14 50 metres backstroke final where she placed fifth.
"All of the girls performed well with the team having swimmers in the finals every night," coach Smith said. "The competition was very strong this year and it was great to see the depth of fast swimming in the events.
"We were very pleased with the results of these young ladies and look forward to seeing them continue to improve. The programme was set up to give swimmers exposure to school swimming and to provide an alternative to having to leave the island to attend school and swim.
"Their strong effort at the championship has shown the continued progress of the programme."