Erika Russell targets continued dominance for netball champions Phoenix
Created: Mar 17, 2022 08:04 AM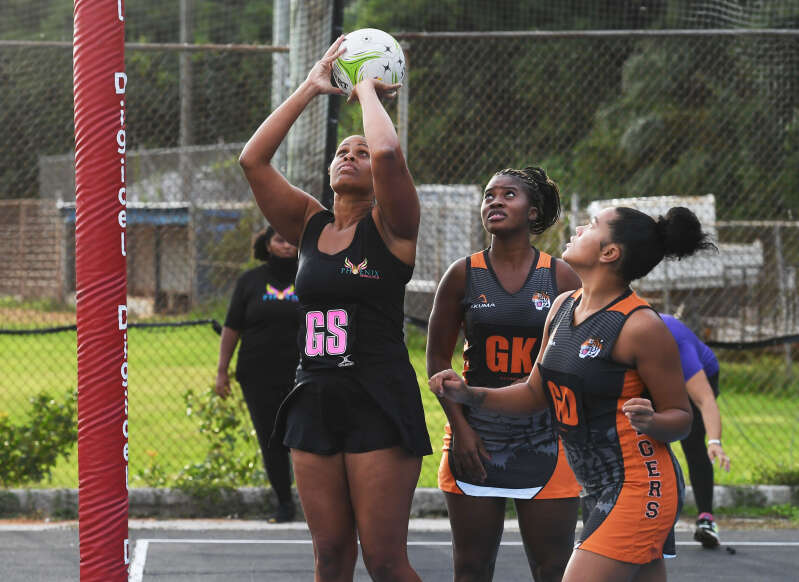 After leading her team to yet another Bermuda Netball Association league title, Phoenix Heat coach Erika Russell pointed to the experience within the squad as the difference-maker in a Covid-hampered season while calling for greater participation in the sport.
"I would love to see more teams. It would be fantastic for the senior division if we can get more teams out but you know the netballers would be footballers and now women's rugby and basketball are picking up and it's really hard to get those numbers out but I would love to see how we can figure out a way to get more girls involved in just playing the sport," said Russell.
Heat finished the campaign unbeaten in their eight league games and won Saturday's single elimination Fast5 tournament to underline their dominance in domestic netball.
The team has won the league title each season since the 2013-2014 campaign including under their previous name, Lady Bluebirds in the 2013-2014 to 2015-2016 seasons.
The league was suspended last year due to Covid-19 restrictions.
"I would say for this season in particular it's the experience obviously. The season on a whole being condensed with the regulations on game restrictions and play restrictions, our preseason was non-existent really but the players have been playing for quite a bit of time, they know each other so it was really experience that kept us competitive throughout," Russell told The Royal Gazette.
"We knew we were the number one team coming into the season so we had to be prepared … but I think it came down to experience."
That experience was clear to see as Heat topped every category, scoring the most goals with 414 ‒ exactly 100 more than second-placed finishers Storm Seniors ‒ while conceding the least, with their defenders limiting opponents to 154 goals.
Heat tallied 24 points with Storm ending with 16, the same as third-placed North Village Seniors, who had an inferior goal difference. Lindo's Tigers were fourth on 12 while Docksiders closed out the standings on three points.
Storm topped the under-17 standings with 16 points, seven more than Village and Phoenix Fire.
Top goalscorer Danielle Raynor, who helped herself to 209 goals and Ebonie Cox, who scored 153 were two of the chief architects of Heat's success. Darrika Simons from Village was second best with 159 goals but Russell was quick to point out that their triumph was the result of strong team play and commitment.
"We can definitely highlight Danielle (Raynor) who is a prolific goalscorer but not just that, she gives back to the game. You will see her down there trying to help any programme, she is our netball ambassador. We are grateful for what she does for the team, she must be really inspiring for the other players.
"Ebony Cox in goal attack was one of the best scorers but she is also feeding Danielle so that speaks to her scoring. We added Kiante' Lighbourne in defence and she is amazing to watch, she is everywhere. A lot of time the attack gets the praise but our defence with Karlandra Smith, Stacia Ming, Chelzea Somner, they have been doing it," said Russell who also highlighted Ayanna Wolfe, Dominique Richardson, Eshe Grant, Zakiya Douglas and Antionay Tankard.
"I am very impressed and super proud of the team and its leaders, the core group of players and those we added along the way have come in and really elevated play so it has been great," Russell said.
The coach admitted that the Covid-19 restrictions affected the team's level of play but credited the support staff including coaches and scoring/umpiring personnel for their support.
In Saturday's action at Bernard Park Storm beat Docksiders 50-22 with Nabiilah Nasir scoring 21 points and Zakiyah Durham adding 17 for Storm. Darrika Simons scored 28 points for Village in their 42-32 win over Lindo's Tigers.
In the Fast5 tournament, Heat defeated Tigers 39-18 and Storm 32-17 to take top honours. Storm had earlier beaten Village 37-18 while Tiger's had beaten Docksiders 26-1 in the opening contest.
Under-17 league champions Storm secured the double after winning the Fast5 tournament with wins over Phoenix (10-7) and Village, who they defeated 14-7 and 16-0. Village stopped Phoenix 7-5 in the other Fast5 game.
In under-14 league play, North Village Red overpowered Village White 21-5, while Phoenix Embers beat Storm Thunder 27-3.
Phoenix Sparks beat Village 13-2 in the under-11 category while Storm stopped Rangers 9-4 in the other game.
Meanwhile, Russell says she is determined to see the club continue building towards their objectives.
"For Phoenix I would love for us to keep building. We have a team in each division, I would love see that continue to sustain itself and for the level of play to improve and possibly take it international. We have travelled before to play but we would love to get our young girls out there but we will see what happens," Russell said.