Top seed Faraz Khan suffers shock Bermuda Open exit
Updated: May 06, 2022 08:00 AM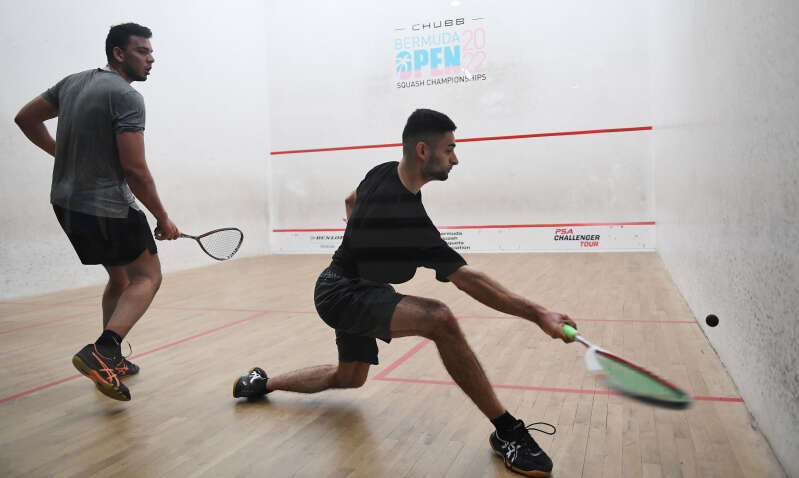 Seif Shenawy pulled off a stunning upset by toppling No 1 seed Faraz Khan on day two of the Chubb Bermuda Squash Championships.
The Egyptian won the second round match against his American opponent 11-6, 5-11, 15-13, 11-9 on court No 2 at the Bermuda Squash Racquets Association to secure his spot in the quarter-finals.
"I feel like I should be disappointed. But I am not going to be disappointed because winning or losing is not the most important thing," Khan told The Royal Gazette.
"The most important thing is what we can learn from winning or losing. So if I can learn something from this then there's no reason to be disappointed.
"Congratulations to my opponent and good luck to him for the next round."
Shenawy, who beat Bermuda champion Noah Browne in the first round, was unavailable for comment last night.
Khan's early exit means the top seeds in both the men's and women's draws will not be crowned champions as women's No 1 Hana Moataz, of Egypt, is among a host of withdrawals due to Covid.
Meanwhile, Bermuda's hopes of glory in the women's draw were dashed after the trio of Emma Keane, Eilidh Franklin and Hailey Moss were eliminated.
Franklin was the first to bow out after losing 11-4, 11-4, 11-1 in her second round match against Kenzy Ayman, of Egypt, earlier in the day.
"She [Ayman] didn't really have any weaknesses that I could capitalise on," Franklin said.
"She was fast and powerful and saw me and everything coming from a mile away. So she really attacked everything and didn't give me many opportunities, which was very, very clinical."
Keane, the national champion, then went down 11-1, 11-5, 11-2 to No 8 seed Diana Garcia, of Mexico, in her evening match.
"It was difficult to get in to the match," Keane said. "She [Garcia] is very talented and plays at a pace that I am not exposed to as much as I would like to be, but I did everything I could to keep up.
"I think the second game definitely there were a few points where I really felt I was in it. I felt like I was controlling the rallies a bit more; putting the balls where I wanted them to go, moving her around for a little, and the scoreline definitely reflected that particularly in the second game.
"Then by the third game had a bit of an adrenalin rush from the second and unfortunately my lungs and legs are just not used to that pace that she put me under, and I suffered unfortunately because of that."
Keane added: "She [Garcia] is 107th in the world for a very good reason and it was an incredible opportunity.
"I would have loved to get a few more points. But I am just so glad that I put everything out there, gave it my best shot and really no regrets at all."
With Franklin and Keane having bowed out, the island's hopes were left in the hands of Moss.
However, the 16-year-old Saltus student also found the going tough in a 11-3, 11-2, 11-3 loss to Scotland's Georgia Adderley, who replaced Moataz as the No 1 seed in the women's draw.
"She [Adderley] was definitely trying to run me a lot, so I was getting really tired," Moss said. "But I think I played well.
"I was quite nervous but it's kind of inspiring so I can eventually be up in that level and to actually be able to compete with them.
"I would like to go to the next level and play other PSA tournaments around the world."
Second round
[1] Georgia Adderley (SCO) bt Hailey Moss (BER) 11-3, 11-2, 11-3
[4] Rory Stewart (SCO) bt Andrew Douglas (USA) 11-4, 11-6, 5-11, 11-5
[4] Grace Gear (ENG) bt Katriona Allen (SCO) 11-5, 12-10, 11-7
[3] David Baillargeon (CAN) bt Matias Knudsen (COL) 8-11, 11-5, 11-6, 11-6
[3] Karina Tyma (POL) bt Lojayn Gohary (EGY) 10-12, 11-4, 11-2, 11-6
Seif Shenawy (EGY) bt [1] Faraz Khan (USA) 11-6, 5-11, 15-13, 11-9
[2] Nadia Pfister (SUI) bt Ingy Hammouda (EGY) 13-11, 11-13, 11-8, 11-7
[8] Diana Garcia (MEX) bt Emma Keane (BER) 11-1, 11-5, 11-2
[8] Tom Walsh (ENG) bt. Ricardo Toscano (GUA) 11-2, 11-8, 11-4
[7] Kaitlyn Watts (NZL) bt. Julia Le Coq (FRA) 11-8, 11-5, 11-3
[6] Alex Haydon (AUS) bt Arisha Khan (USA) 11-2, 11-1, 11-1
[6] Juan Camilo Vargas (COL) bt Josue Enriquez (GUA) 11-4, 11-7, 11-3
[5] Robert Downer (ENG) bt Joseph White (AUS) 11-7, 6-11, 11-6, 11-7
[5] Kenzy Ayman (EGY) bt. Eilidh Franklin (CAY) 11-4, 11-4, 11-1