Golden girl Dame Flora Duffy delights home crowd with storming win in WTS Bermuda
Updated: Nov 08, 2022 07:54 AM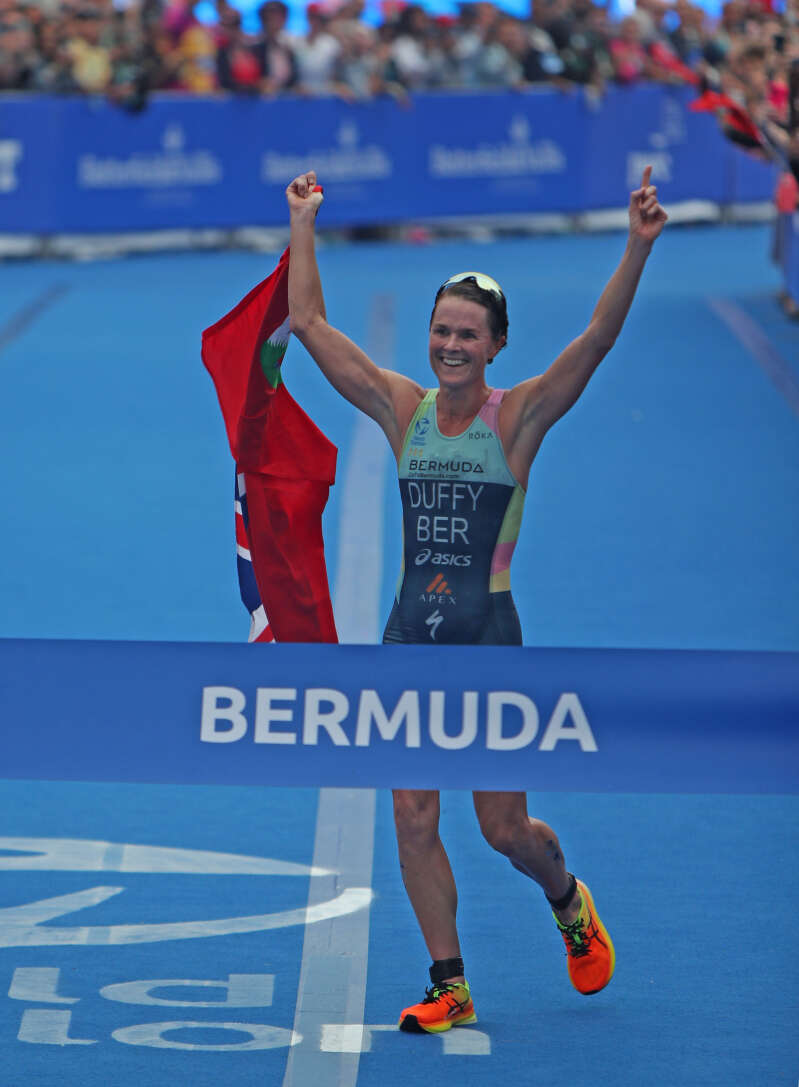 Dame Flora Duffy maintained her quest for a record fourth World Triathlon Championship Series title with a storming victory back on home soil.
Racing in Bermuda for the first time since her dominant victory back in 2018 and this time as Olympic Champion, the 35-year-old did not disappoint the thousands of expectant fans who had lined the course, sprinting clear of her rivals to win by a comprehensive margin of 1min 39sec over American Taylor Knibb, with Britain's Beth Potter completing the podium.
Having won the penultimate race ahead of the final in Abu Dhabi, Duffy finds herself firmly in contention to retain her title, sitting in second place on 3,856 points, just 69 adrift of leader Georgia Taylor-Brown, who opted out this weekend.
With gold in the United Arab Emirates capital counting for an increased 1,250 points, the incentive for Duffy is clear, with victory in the final race guaranteeing her the crown regardless of where her British rival finishes in the showdown finale on November 25.
"Honestly I think this is a little bit more special than in 2018 because I was under a lot more expectation to have a race like this today," said Duffy.
"In 2018 I managed to pull off that victory without any real major expectation whereas I knew everyone was going to come out and see me back here as Olympic champion so that made it even more special.
"I was hoping for a good day here and the race played out perfectly. The crowd was incredible and it was just such a special day.
"It sets me up great for Abu Dhabi. I needed to win today to keep that title chase open; thankfully I did and so we will see what happens in three weeks."
Reminiscent of her 2018 performance, a powerful ride provided the platform for victory as Duffy raced away at the start of the 40-kilometre bike course, only to be joined by Netherlands' Maya Kingma, who ultimately faded on the run to finish sixth.
"When I got on the bike I was having flashbacks to 2018 and it was really funny that it looked like it was happening again," added Duffy, who was thankful to be able to ride in unison with Kingma and crucially stay clear of the chasing pack, led by the charging Knibb, who was fresh from being crowned Ironman 70.3 world champion.
"I was really grateful that Maya joined me; she's a great rider and we've been in breakaways a lot before so I felt comfortable and confident riding with her. I much prefer having somebody with me. On these sort of courses it's great to have a little bit of a rest and have someone else's wheel to ride behind.
"I wasn't really sure where my running was at so I just went for it, pushed it and looked what sort of gap I had after the first lap. After that I was able to settle into my rhythm and the crowd really helped along and push through.
"Today they were just incredible, the crowd really turned up. The conditions weren't ideal but everyone was still out there and cheering me on. It gave me goosebumps and I really had to try to keep my composure for that last five kilometres before allowing myself the opportunity to celebrate and soak it all towards the finish line."
Exiting the 1500-metre swim in 20:15 in second place alongside Italy's Bianca Seregni, Duffy shot through the first transition and immediately looked to put distance between herself and the chasing pack on the start of the bike course.
Having been joined by Kingma on the second lap, the pair created a lead of more than 40 seconds by the third lap.
As weather conditions continued to deteriorate, Erica Hawley, the other Bermudian in the field who was comfortably within the second chase pack, had her WTCS Bermuda debut cruelly ended when she skidded out and into the barriers. Visibly distraught, the 24-year-old was taken away for medical treatment. She was one of ten athletes who did not finish the race.
Despite the best efforts of Knibb, who had opted to leave the chasing pack in attempt to close the gap to the leaders, Duffy and Kingma continued to hold a comfortable lead of more than 30 seconds over the remaining laps.
Exiting the final transition that advantage stood at 43 seconds, as Duffy seized her moment to break clear on the first lap of the 10-kilometre run.
As Kingma faded, Duffy powered away and by the penultimate lap the lead had widened to almost 90 seconds. With the title seemingly all but secured, attention turned to the battle for the remaining podium places, as Knibb and the fast-finishing Potter chased down Kingma.
Having put in a devastating performance on the run, Duffy was able to canter down the finishing carpet, soaking in the adulation of the home crowd as she crossed the finish line in 2hrs 1min 26sec with Bermuda flag in hand.