Impressive Smith brothers, Manning and Gordon, gear up for Carifta Games
Updated: Nov 12, 2022 10:56 AM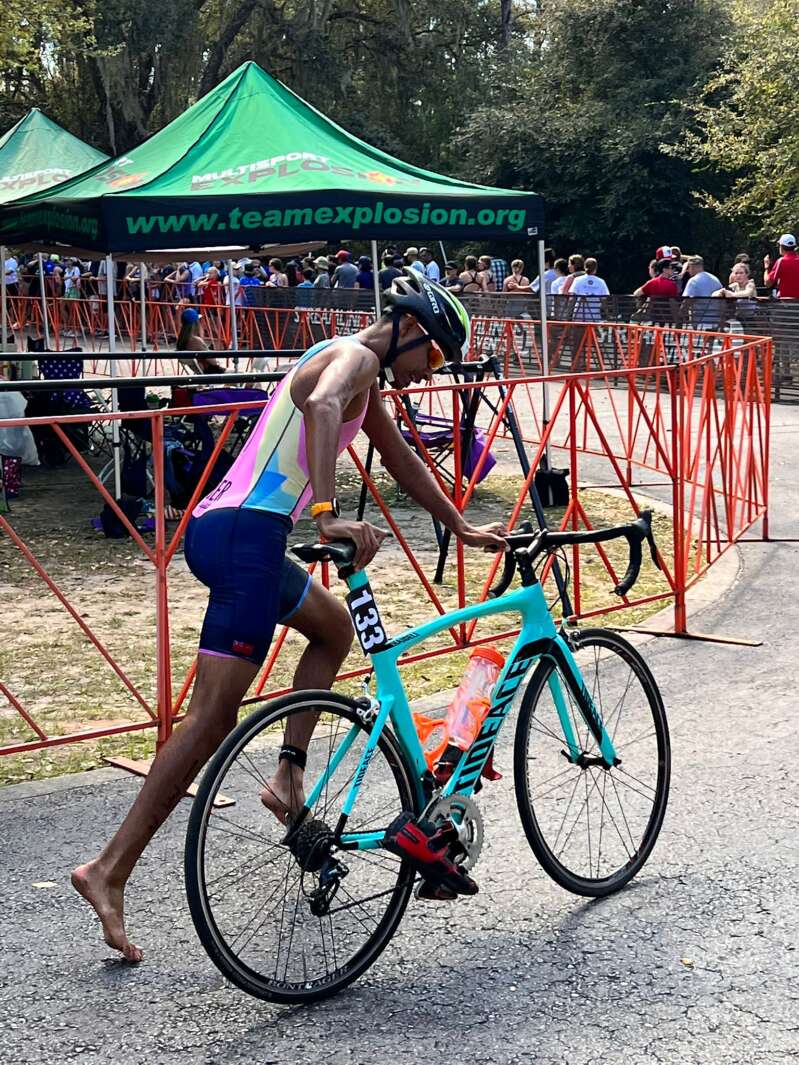 It must be hard to be brothers competing in the same sport but Manning and Gordon Smith have found a way to co-exist in harmony.
The Somersfield Academy students will be representing Bermuda at the Carifta Games in Clearwater Beach, St David's, this weekend and when they spoke to the Royal Gazette on Wednesday, their nerves were just beginning to show.
Manning, 16, who will be taking part in the sprint relay, said: " There is a little bit of nervous anticipation. This is the first triathlon I've done in a long, long time as I've spent most of this year sick or injured. I'm not sure if my fitness is quite where it needs to be but other than that I'm looking forward to it because I get to show off to people from other countries.
Gordon, 14, added: "I'm also pretty nervous because I'm going to be competing in front of a good majority of the island and this is my first international event for triathlon. I'm not sure how it's going to go and I am a little worried because the people that I train with are way faster than I am."
Manning has had one shot at representing Bermuda internationally but was disappointed by the finish and his expectations for this race have been somewhat lowered.
"Just finishing it would make me happy," he said. "Last time I did an international event I got lapped out of both races and I can't say that it inspired me to do better, it inspired me to stay out of Florida.
"They said it would be an expectation-setter for Carifta, which is the big one. I went in not expecting anything much and then got lapped out both days. My age group was 16-20 and everyone else there were top of the line and racing to get their pro cards. I think there were only two or three others my age racing and I beat them so I have that to console myself."
Like his brother, Gordon is an impressive young man who speaks well but he does not have high hopes for himself.
"I don't know how many participants there are going to be but I'd be happy with top 20," he said. "Just seeing the calibre of our own athletes, I can't really imagine what the others are going to be like on raceday."
Being teenage boys, you would think that there would be plenty of peer pressure to draw their attention away from the water, the bikes and the running track but the company they keep is far from what you would expect from youngsters about to perform on the international stage.
"So my friend group are the kids who do robotics, they don't go outside," Manning said, while Gordon "hangs out with whoever I feel like at the time. Actually, the kids in my grade who are athletic are the ones I try to stay away from."
But Gordon is one of the athletic ones in his grade and is taking part in the full triathlon for his age group at the Carifta Games, with some recent advice from a visting coach making a difference to his performance.
"Recently a coach came over from the States and he gave me a tip on how to run more efficiently and my stride has shortened a good bit and my cadence has gone up and that gives me a little more energy in the run."
Both teenagers admit to being inspired by watching Flora Duffy and are thrilled that Bermuda is gaining recognition through the exploits of a world-class athlete
"It's a small tiny island and some people don't know that we exist or think that we live in grass huts and we've got someone out there who is actively being better than everyone else at a pretty widespread sport," Manning said.
Aside from Flora Duffy, the Smith boys are influenced by extreme sports with mountain biking the focus for Manning, who will be heading to England next year to learn at the Boat Building Academy in Lyme Regis.
"I look up to Emil Johansson and Max Fredriksson, who are current leaders of slopestyle world as well as Sam Pilgrim who does free riding," he said.
"I deal with boredom especially poorly. I cannot handle it and their are a lot of things that make be bored, generally sitting still and focusing on one thing. My pure fantasy is that I can grow up to do mountain biking as a career."
Gordon is much the same. "I look at the same general area but not to the same extent," he said. "I look at people like Travis Pastrana, part of Nitro Circus, and Ryan Williams. He does big jumps and bigger tricks."
While the Smith brothers may not make it to the podium this weekend, being around them is a joy, so for those watching at Clearwater Beach on Saturday and Sunday, be sure to give them some encouragement.