Dame Flora Duffy on verge of more history in Abu Dhabi showdown
Updated: Nov 25, 2022 12:35 AM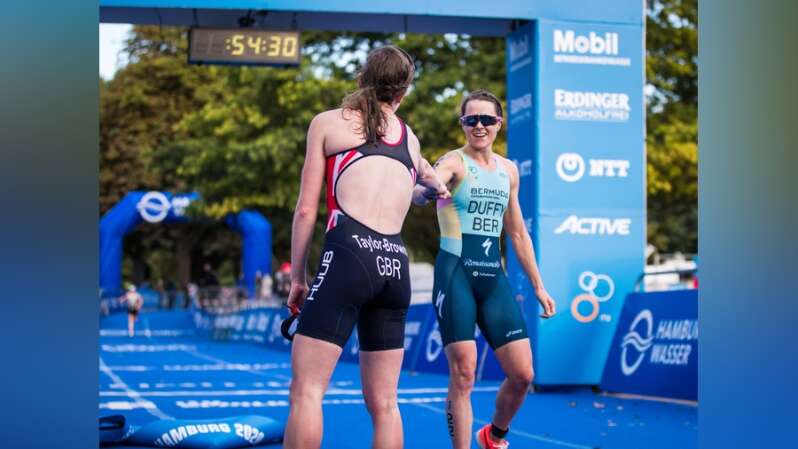 Dame Flora Duffy is used to making history after winning Bermuda's first gold medal at the Olympic Games, but she is out to prove herself possibly triathlon's greatest ever athlete in Abu Dhabi on Friday.
Duffy is in more or less a straight shootout with Britain's Georgia Taylor-Brown in the season finale and victory would mean a record fourth world championship title after victories in 2016, 2017 and 2021, pulling her clear of Australian Emma Snowsill, who won three world crowns between 2003 and 2006 when the champion was decided in a single race.
The 2020 Olympic champion could hardly be approaching the stunning showdown in greater form after her imperious victory in the World Triathlon Series Bermuda, in which she blitzed her rivals with a superb show of power on the bike and in the run to come home nearly two minutes clear of her nearest rival.
Spurred on by a vociferous and loyal home crowd, Duffy's huge performance banished any thoughts that some niggling injuries, including a minor achilles problem, would prevent her from again being able to peak at the right time of the season.
But the 35-year-old's victory on home soil was achieved against a field absent Taylor-Brown, who opted to stay at home and prepare for the test in Abu Dhabi knowing that whatever happened in Bermuda, she would enter the final race with a lead over her biggest challenger.
Taylor-Brown has a 70-point gap over Duffy going into the title decider, which is due to start at 5.06am Bermuda time on Friday, and the 2020 champion is looking to achieve a world championship without an asterisk to her name as her victory two years ago came in a standalone race with the triathlon season curtailed as a result of the Covid-19 pandemic.
Unsurprisingly, given their proximity in the standings, Duffy and Taylor-Brown have been evenly matched through the course of the season with both winning three races. Alongside Duffy's demolition of the field in Bermuda, she was victorious in Abu Dhabi and Hamburg with Taylor Brown coming out on top in Yokohama, Montreal and Cagliari. She is marginally ahead in the standings as a result of her next-best finish being a second in Leeds, with Duffy's coming when third in Yokohama.
Duffy's victory in Abu Dhabi last year would normally be a positive going into this race but this year's event will have an unfamiliar feel as the usual Yas Marina Formula1 circuit has been replaced by a more technical test on the peninsula's roads, which should suit Bermuda's hero given her proficiency on two wheels.
With the bike coming after a 1.5km swim and before a 10km run, the Abu Dhabi winner will become a worthy champion and for Duffy and Taylor-Brown, it is pretty much a case of winner takes all, but as long as Duffy finishes in the top four and in front of Taylor-Brown, she will claim the title. If she finishes fifth or worse, she will need to finish at least two places ahead of the Briton.
Given the unpredictable nature of triathlon, it would be folly to believe that only Duffy and Taylor-Brown will be in with a shot at Abu Dhabi glory as all of triathlon's major stars are in attendance.
Cassandre Beauregard, the only other female winner on the World Triathlon Series, heads a huge women's field that features Beth Potter, who finished third in Bermuda, and Taylor Knibb, second in Bermuda after making up a bunch of ground on the bike following a disappointing swimming leg.
In the elite men's race, Briton Alex Yee would have been disappointed with a fifth-place finish in Bermuda after winning at the Commonweatlh Games and in WTCs Cagliari. He still has a shot at becoming world champion but must finish at least two places ahead of series leader Hayden Wilde if he is to win his first championship.