After 24 hours and 104 miles, Fabrizio Alvera is Bermuda's Backyard Ultra Champion
Updated: Dec 06, 2022 07:47 AM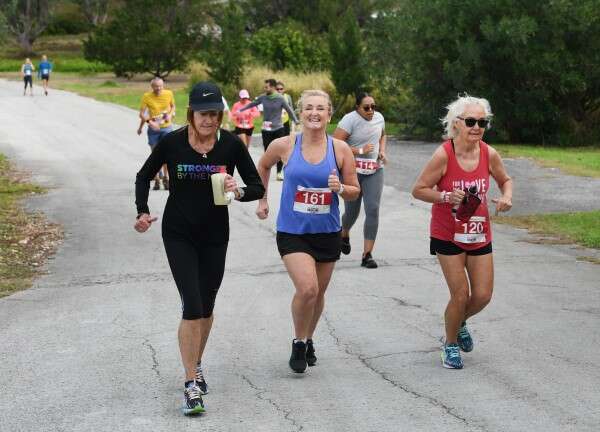 "It is a personal battle with yourself, your mind will quit long before your body."
After more than 24 hours of racing and an incredible 104 miles covered there was just one man left standing to be crowned Bermuda's first Backyard Ultra Champion.
In what proved the ultimate test of perseverance and resilience, 56-year-old Fabrizio Alvera overcame not only the field of 60 competitors but his own limitations.
"What a day!" said a surprisingly sprightly Alvera, who has previously completed marathons both at home and overseas including in London, Boston and New York, but never anything of this magnitude.
"My initial goal was just to take it one loop at a time, that was it, I never set out to go for 24 hours.
"I wanted to do a couple of laps in the night time but never did I think I would be able to go through the night. I felt comfortable and so I just kept going, next lap then the next lap.
"When I saw 100 miles on the board, I just thought what an unbelievable accomplishment. If you would have told me I would run 104 miles in one day I would have told you that you were crazy.
"I wouldn't call myself an ultra-runner. I've done marathons before but I'm not a long distance like this normally. However, I knew it was not a race on time but against yourself and so I just tried to go until I couldn't anymore.
"There's no secret, you just have to keep going one loop at a time. When it is a race against yourself, its only about your heart and your mind."
The epic challenge commenced a day earlier as the shriek of the starting whistle pierced through the howling winds coming off the shoreline of Clearwater Beach on Saturday morning with the competitors setting the gauntlet of pushing themselves to the limit in a race unlike any other on the island.
While some set off on the 4.167 mile loop course across beach, road and grasslands at running pace, others opted to take a more leisurely stride, but all with the same goal in mind, making it back to the start line before the race clock hit 60 minutes, with the second lap, and every subsequent one thereafter, starting each hour on the hour.
"It's not about speed because the fastest person is not necessarily going to win, it is more to do with a combination of strategy and toughness to get through the event," said Andy McComb, the Bermuda Backyard Ultra race coordinator.
"Irrespective of how fast you run, as long as you get that loop done in an hour you can choose to go again and you're still in the race. This is not your normal race; it is all about being the last person standing.
"That element of all starting together is a real leveller, everyone starts each lap in the lead. It's interesting because there is a real spread of people. I think for most who compete it is about pushing your limits and achieving something that perhaps you thought was not possible."
As each lap elapsed and the gruelling hours took their toll the numbers in the field began to dwindle.
By nightfall and approaching 40 miles completed that starting number had been reduced to 11, which fell further to seven by the 50-mile mark.
Having run through the night and with the sun rising over the course, there were just two runners left as Alvera and Jason Williams approached their 23rd lap having clocked 92 miles.
One lap later and with both men surpassing the 100-mile mark, the question remained whether either had the energy or mindset to keep going.
As the clock approached the start of the 24th hour and the next lap only Alvera took to the starting box as he waited patiently to see if Williams would join him. After what seemed like an eternity, Williams conceded, leaving his only remaining rival to complete one final solo procession lap.
Crossing the line to the cheers of the hardy volunteers who had remained throughout, Alvera finally brought an end to his gruelling personal journey after running 104 miles over a span of 24hrs 44mins 29secs to deservedly take the honours and be crowned the champion.
After finally realising his ambition of hosting the race, McComb believes the organisers, as much as the competitors, will have learnt valuable lessons from the inaugural event with the foundations now laid for ambitions plans of further growth in the future.
"For all of us this has very much been a learning experience," he added. "We've seen these sorts of events being put on in different countries over the world and that people do learn from and improve over the years.
"We have the vision of making this a more international event with overseas competitors visiting to take on the Bermuda backyard."