Dennis Mbelenzi and Stephanie Hodge find marathon glory on return to island
Updated: Jan 17, 2023 01:23 PM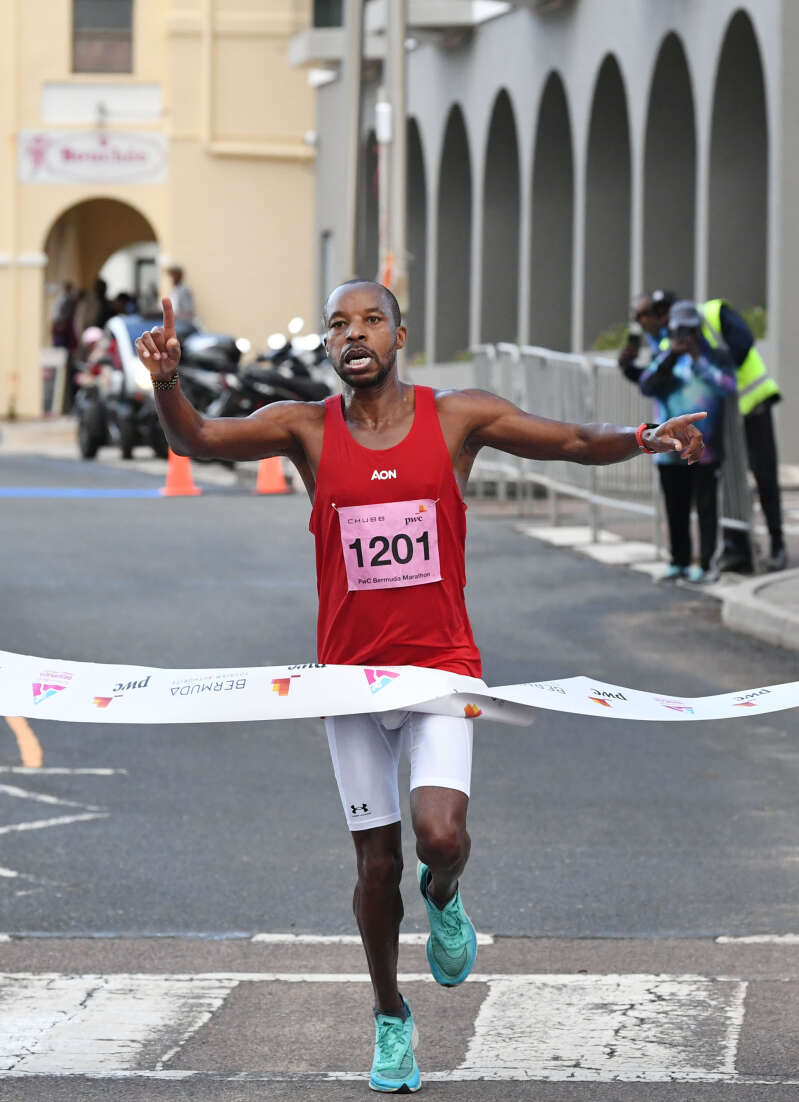 Former Bermuda resident Dennis Mbelenzi enjoyed a memorable return to the island after winning the PwC Marathon.
The 41-year-old, who lived on island from 2007 to 2019 before moving to the Canadian province of Nova Scotia, became a firm favourite among the island's running community after only taking up the sport in 2016 and he clinched victory in a winning time of 2hr 29min 55sec.
American Bryan Horseman, who set the course record of 2:28:52 the last time the race was run in 2020, was this time forced to settle for second place in 2:37:03, with Poland's Wojciech Kopec completing the podium after crossing the line in 2:43:08.
"It's the biggest win in my running career and to have won my first Bermuda marathon is particularly special," said Mbelenzi, whose most notable finish before yesterday was second in the Bermuda Day Half-Marathon Derby.
"I'm so happy to have won and I've visualised this moment for the past week.
"I have to thank the spectators because when I'm running, Bermuda is home for me. I felt like a local runner because people were shouting my name. I love running here and just feel so welcomed by everybody."
Reflecting on the race, Mbelenzi admits he was surprised with the ease of his victory, in which he was able to pull clear of his main two rivals after the five-kilometre mark and canter away solo to the finish line.
"They were the two runners [Horseman and Kopec] I was very worried about because both are younger than me and with much faster personal-best times," he added.
"At best I thought I might finish third but from early on I knew I was feeling comfortable. I tried to get the guys to help with the pacing but they weren't interested and so I decided to try and make it a little hard for them and open up a gap by pushing it after the five-kilometre mark.
"Although I was cramping for much of the second half of the race, mentally I knew I had it and thankfully I held on. I'm just so happy to have executed my race plan the way that I did."
Meanwhile, Canadian Stephanie Hodge continued her long affinity with the event after being the first female over the line in 3:29:12 in her seventeenth Triangle Challenge. She also finished inside the top ten overall, with her time good enough for ninth.
Faith Geraghty, followed slightly more than six minutes later in 3:36:04, for eleventh overall with Giselle Yeung rounding out the top three females when finishing fifteenth in 3:42:54.
"I'm delighted and it was just such a wonderful day," said Hodge. "We had the best weather and it was just stunning running the course this morning.
"I stuck with a group of male runners and tried to stay consistent and balanced with my pacing. I went out moderately because I was worried about blowing up and thankfully it worked out perfectly.
"Coming back here and competing is such a special thing for me on a personal level. I was 24 when I ran my first marathon here and so this event has just become a part of my life.
"I was so impressed with the island when we first came here and so we fly over every January for this race because it is just so gorgeous running here. If I can't live here then at least I can keep coming back and running in this race.
"We'll see about next year, I'll definitely be over here for a holiday and maybe I'll also do a race, but perhaps just the half!"