Golden Sam Williamson leads Bermuda's three-medal charge at Carifta championships
Updated: Apr 17, 2022 09:00 AM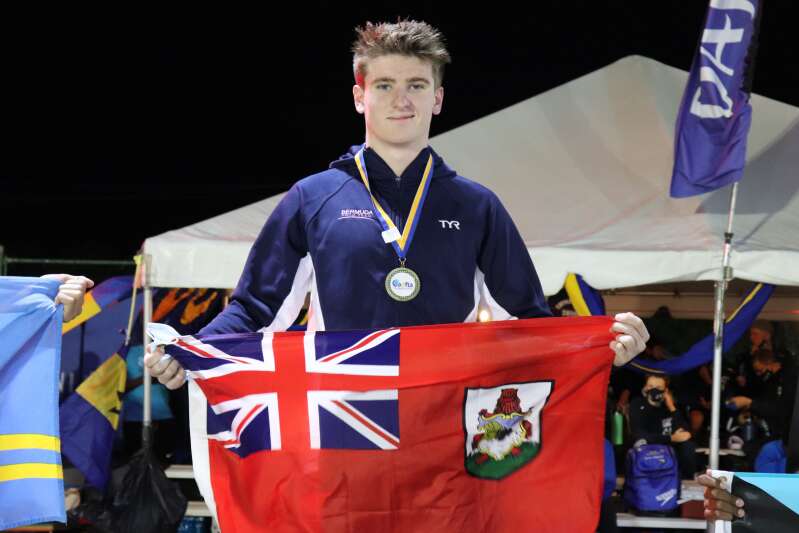 Bermuda got off to a flying start after capturing three medals on the opening day of the Carifta Swimming Championships in Wildey, Barbados, yesterday.
Leading the charge was senior team member Sam Williamson, who secured the island's first medal after winning the boys 15-17 200 metres breaststroke in 2min 25.44sec at the Barbados Aquatic Centre in Wildey, just east of the capital Bridgetown.
Violet Smith built on the solid foundation by earning the silver medal in the girls 11-12 50 metres backstroke with a time of 33.24sec.
The boys 15-17 4 x100 metres freestyle relay team of Finn Moseley, Flynn Watson-Brown, Brandon Adkins and Sam Williamson kept the momentum going by claiming the bronze medal in 3:38.65 to cap a fruitful day for the island's contingent.
"It was awesome to start off the Carifta Championships with Sam Williamson doing the 200 metres breaststroke," Ben Smith, the Bermuda coach, told The Royal Gazette.
"For the first three laps, it was quite a tight race. Then on the final lap it was 'go time', and you could tell he just dropped a gear with the intention of coming back with the gold medal. It was really exciting and it put energy through the team."
Smith added: "Right after that, having Violet Smith come really close to getting our second gold medal by coming up with the silver medal was obviously another awesome experience for the team.
"In the 15-17 boys freestyle relay, Sam Williamson put in an extra burst in his last 15 metres to make sure we got the bronze to finish off the night.
"It was electric. The team is excited and we are looking forward to what we are going to do in day two."
In all, Bermuda's swimmers qualified for 11 finals during the opening day of the championships.
Williamson, who is making his final Carifta appearance, has now amassed 11 medals in individual competition alone, including six gold.
He also set the boys 11-12 records in the 50 metres breaststroke (32.42), 100 breaststroke (1:13.04) and 200 breaststroke (2:36.67) in Nassau, Bahamas, in 2017.
The championships, which run until Wednesday, are being held for the first time in two years, having been cancelled in 2020 and 2021 because of the global pandemic.
Elijah Daley, Taylor White, Myeisha Sharrieff, Arabella Newport Derbyshire, Imojen Judd and Marleigh and Bella Howes make up the rest of the island's 12-member team.