Mix of 'veterans' and newcomers named to 22-strong CCCAN squad
Updated: Jul 07, 2022 09:48 AM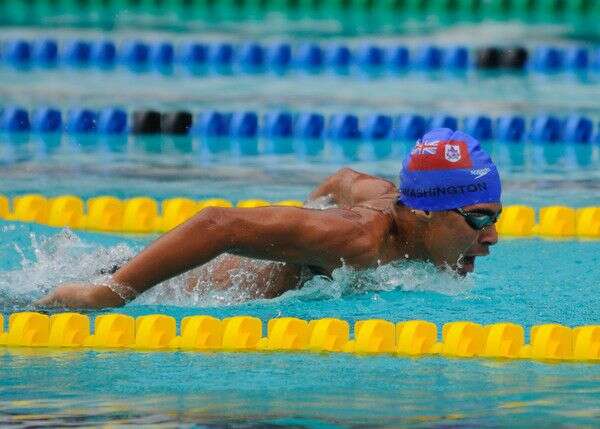 Bermuda's top young swimmers will return to Barbados today to compete in the Central American and Caribbean Amateur Swimming Federation Championships.
A 12-member squad won 19 medals at the Carifta Championships in the Caribbean republic, finishing sixth among 18 countries.
Now a 22-member group will compete against countries from the wider region from tomorrow to July 13.
"After reaching the AAA qualifying standard that was set by Bermuda, the strong team of youngsters was selected," national coach Ben Smith said. "We are happy to have a good mixture of veteran swimmers and first-time selections.
"The newcomers are Adriana Argent, Elanna Fulton, Tayla Horan, Ava Pedro, Nathan Burrill, Thomas Cechini, Conor Hupman and Seth Samuels. This new group will have the guidance of swimmers that have performed at multiple Carifta and CCCANs, and have brought back medals on several occasions."
Smith expects the Bermuda swimmers to put on a good performance against some strong competition. "This year will be a very strong field, with Mexico bringing a large and fast contingent," Smith said.
"We are looking forward to the swimmers rising to the challenge and hope to see personal-best performances. We have several relay entries this year, which always adds a greater level of team spirit and can help to give the points for the team standings.
Competition will begin on Saturday and finish next Wednesday. "We hope that the event will be on live stream and on Flow Sports so that Bermuda can root for our swimmers," Smith added.
Bermuda squad
Girls: Adriana Argent, Elanna Fulton, Tayla Horan, Bella Howes, Marleigh Howes, Imojen Judd, Arabella Newport Derbyshire, Ava Pedro, Myeisha Sharrieff, Violet Smith, Taylor White.
Boys: Brandon Adkins, Nathan Burrill, Thomas Cechini, Elijah Daley, Brian Desmond, Connor Hupman, Caleb Ingham, Finn Moseley, Seth Samuels, Jesse Washington, Flynn Watson-Brown.