Madelyn Moore and Emma Harvey bow out but proud of personal bests in semi-finals
Updated: Jul 30, 2022 08:09 PM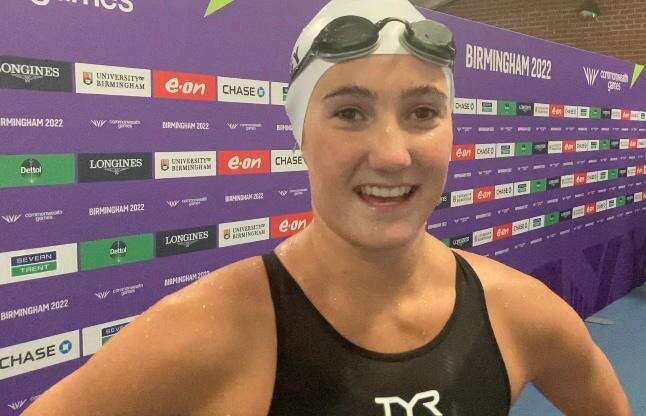 Bermuda swimmers Madelyn Moore and Emma Harvey were left delighted after achieving personal bests in their semi-finals at the Commonwealth Games.
Moore clocked a time of 25.72sec in finishing seventh in the 50 metres freestyle, bettering her time of 25.85 in the heats, while Harvey touched the wall in 1min 3.82sec to also finish seventh in the 100 backstroke, an improvement on her qualifying time of 1:04.17.
While neither did enough to progress, both were full of pride with their performances on debut at this level.
"I'm really pleased with that swim," said Moore, who finished fourteenth overall. "It's my first Commonwealth Games and to reach a semi-final is a really big deal for me.
"I was just trying to keep the nerves at bay and do what I've been training all year to do.
"This has been a big boost for me. I love my 50-metre events and I have two more in this meet, so I'm excited."
Those sentiments were echoed by Harvey, who admits she has renewed confidence, having surprised herself by reaching the semi-finals.
"I'm really, really happy and just really proud of myself," said Harvey, who was thirteenth overall. "It's been a tough couple of years, so to come out on the biggest stage and post my lifetime best makes me really happy. It was an amazing experience and I'm just really happy.
"As a lot of girls experience, you plateau, and that with Covid was really tough. Once you have your confidence killed, it can take a long time to bring it back up again.
"I'm someone who usually puts a lot of pressure on myself and gets nervous, but tonight I just looked up in the crowd and tried to take all that energy, and I think that allowed me to have such a great performance.
"I wasn't expecting to make the semi-final because my best events are the 50 fly and 50 back which are coming up next. I'm really excited for the 50 back in particular.
"My first 50 metres of the race tonight felt great and so I'm just really excited to see what I can do."